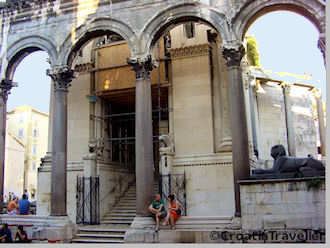 Diocletian's Mausoleum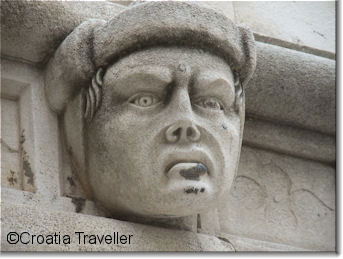 Sculpture on St James Cathedral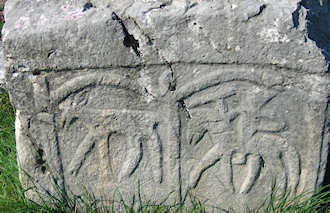 Stecak in Dubravka
For a small country, Croatia has no shortage of UNESCO-certified World Heritage Sites. According to UNESCO, "Heritage is our legacy from the past, what we live with today, and what we pass on to future generations. Our cultural and natural heritage are both irreplaceable sources of life and inspiration". Following are Croatia's contributions to UNESCO's World Heritage Site list:
Diocletian's Palace in Split
Emperor Diocletian built it in the 3rd century but it was rebuilt and reconstituted many times since then displaying nearly every possible architectural style from the Romanesque to the Baroque. See map below .
Dubrovnik
Hit once by an earthquake in 1667 and then again by the bombardment of 1991, Dubrovnik still has preserved its architectural harmony.The entire Old Town is under UNESCO protection. See map below .
Plitvice Lakes National Park
For the sheer beauty of the lakes and falls plus as a habitat to rare bird and wildlife, Plitvice easily qualifies as a source of life and inspiration. See map below .
St James Cathedral in Sibenik
Built entirely of stone (no wooden supports) and adorned with 71 sculptured friezes, this 15th-century cathedral reflects a marriage of Italian and local styles. See map below.
Trogir
From the Hellenistic street plan to the graceful arrangement of Renaissance, Romanesque and Baroque houses and churches, Trogir displays a pleasing architectural unity. See map below.
Stari Grad Plain
Just outside Stari Grad town on Hvar Island, this plain became a World Heritage Site in 2008. Generally ignored by visitors, this region has been farmed continuously since the Greek era and the geometrical division of the land has remained intact for 24 centuries. See map below .
Euphrasian Basilica in Porec
It's the sine qua non of religious architecture with outstanding Byzantine mosaics from the 5th century. The mosaics as well as the entire basilica complex are extraordinarily well-preserved. See map below .
Stecci
Croatia's newest contribution to the World Heritage Sites list comprises two places: The Church of St. Barbara in Dubravka, Konavle in southern Croatia; Velika and Mala Crljivica in Cista Velika, northeast of Split near Imotski. The sites feature medieval tombstones that date from the 12th to 16th centuries. The limestone blocks are elaborately decorated with carved motifs representative of local art and spirituality. See map below .
Questions? Comments?
©CroatiaTraveller 2005-2017 All rights reserved