Staying connected while on holiday is so important and can be such a pain. Comparing data plans is confusing; who knows what a megabyte of data is? Sure, there are plenty of WiFi connections around but I certainly don't want to spend my vacation hanging around hotels and coffee shops just to catch up on my email or update my Instagram feed. Not to mention positioning myself to capture an unpredictable connection.
Fortunately, there is an easy, low-cost solution: RoamFree Ninja.
What is RoamFree Ninja?
RoamFree Ninja is a personal WiFi hotspot device that fits in your pocket and allows you to connect to the internet no matter where you are. Lounging on a beach? No problem. Bored on a bus ride? Get online. RoamFree Ninja works with the top Croatian service providers to insure you get coverage throughout the country.
This simple device insures you the best possible speeds, 3G nearly everywhere and 4G in populous places. Plus, for a flat rate, you get a whopping 15GB daily. Trust me, it's enough. AND, it can be used by up to 10 users on all possible devices making it unbeatable value for families.
How to get a RoamFree Ninja?
Simple. Go to roamfree.ninja and order your device, selecting your arrival and departure dates. The device is delivered to any hotel, marina, camp, private apartment or airbnb rental before you arrive along with a prepaid envelope for convenient and worry-free return. Delivery is free and takes only one to three business days. Or, pick it up at one of RoamFree Ninja's convenient locations.
Once finished, just place the device into your prepaid return envelope and drop it off at reception or any post box.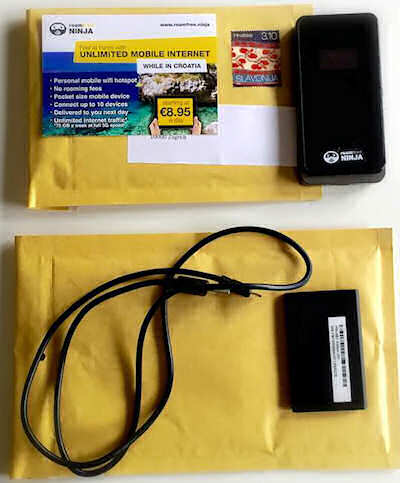 In a hurry? Special plans? For an additional fee you can request international delivery or next day delivery in Croatia.
Read what others say:
Great service and easy to use, and it also works in Neum Bosnia when driving up from dubrovnik to the croatian mainland, which is a surplus! The portable wifi arrived right at our apartment in Dubrovnik the day before our rental, so we can use it right away, and we just dropped it off at the airport post office box when we leave. Would recommend renting from ninja for our next trip to Croatia!

I was using RoamFree Ninja for my entire stay in Zagreb and it is an amazing thing. I was able to access Internet with my phone and laptop anywhere and anytime. This kept me connected and I was able to run my business and communicate with customers and partners without any problem or interruption. It is a great way for the guests of Croatia to keep themselves online and I would recommend it with pleasure to anybody visiting Croatia.
RoamFree Ninja: simple, convenient, cost-effective. Order now at roamfree.ninja
Questions? Comments?
©CroatiaTraveller 2005-2017 All rights reserved