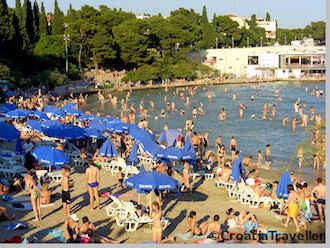 Bacvice beach & entertainment complex

Split's Bacvice neighbourhood is about 1km southeast of Split's bus station and is well-loved for two major features: nightlife and the beach. The woodsy Bacvice (pronounced batch vitz uh) neighbourhood edges a small, protected cove with a sandy beach. At the head of the cove is a large, modern complex with an assortment of dining, drinking and entertainment options. There are several hip restaurants, a trendy cocktail bar or two and a cinema.
As the Bacvice entertainment complex is well-separated from the residential area, you don't have to worry about noise keeping you up at night. Staying in Bacvice is a good choice if you'll be taking day trips from Split as it's an easy walk from the bus, train and ferry terminals.
Five-star hotels in Bacvice
Hotel Park--classy with a sprawling park-terrace and a great restaurant. Spectacular after a 2015 overhaul.
Four-star hotels in Bacvice
Hotel Authentic --lots of charm in this family-owned hotel
Private Accommodation in Bacvice
Boban Luxury Suites
Apartments Zuvela
Questions? Comments?
©CroatiaTraveller 2005-2017 All rights reserved