Get Started
About Croatia
Essentials
Croatia Map
Croatia Photos
Guidebooks
When to Go
Top Sights
Accommodation
Transport
Car Rental
Croatia Ferries
Ferry Guide
Money
Adventure
Sailing
Cruises
Tours
Itineraries
Special Interests
Dalmatia

Dubrovnik

Islands

Istria

Kvarner
Split
Zadar
Zagreb
News Blog
Newsletter
Traveller Tips
About Me

Advertising
Trip Planning
Contact
Privacy Policy

Search Site
Site Index
Great deals on
Split Holidays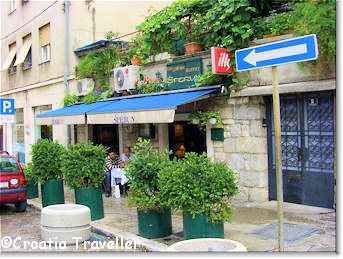 Sperun Restaurant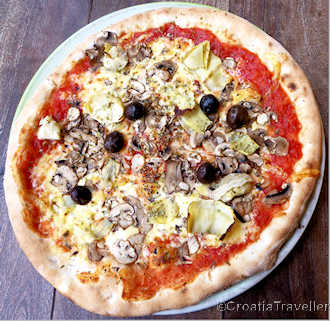 Galija Pizza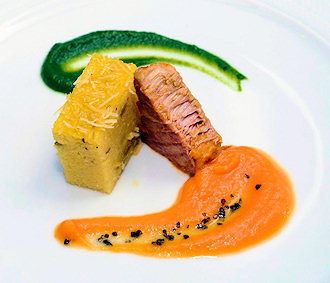 Kadena concoction
Split restaurants tend to stick to tried & true favourites to please their local customers and the locals are not looking for sushi and Szechuan. A few exotic restaurants do exist but grilled fresh fish, stewed meat, homemade pasta and fluffy pizza are the local comfort foods that you'll find on most menus.
Even though restaurants in Split may lack a lot of variety, the quality usually ranges from good to excellent. Which is why they're often crowded! Reserve in advance if possible.
Costs
As everywhere in Croatia, prices are marching ever upward in Split. Before getting in a lather about it, take a look at the prices in a local supermarket. They're the same as most other European destinations! That is, you can't expect restauranteurs to give a break to their customers when they're paying through the nose. Still, you can get good value if you sniff around. Prices can be affordable if you choose carefully. A two-course dinner for two with wine starts at about €25 but can be much higher, especially for fish or seafood meals. (See more on Dining in Croatia). Here are some of the best Split restaurants all located in or near the town centre:
Bruna
(Hatzoev perivoj 3, tel 021-406 425 )
You can't go wrong in this classy venue in the Hotel Park. The chef works with seasonal ingredients such as truffles, wild asparagus and wild mushrooms. The style is Dalmatian/International.
Kadena
(Ivana Zajca 1, tel 021-389 400)
Tired of tradition? Mad about modernity? Head east to this revamped restaurant which is rapidly gaining a following among Split's gastronomic crowd. The wine cellar is among the best in the region and the chef is unafraid to weave new flavors and imaginative sauces into his dishes. The glass-walled terrace with views across the Adriatic helps the ambiance. The tasting menus (from 270Kn) offer a varied range of delights.
Nostromo
(Kraj Sv Marije 10, tel 091-405 66 66)
It's right next to the fish market with a specialty of--guess what--fish and seafood! The style is smart-casual and the freshness is impeccable.
Paradigma
(Jelačića 3, tel 021-645 103)
Chef Ante Udovičić has transformed this rooftop restaurant with a dazzling view over the sea into one of Croatia's best dining experiences. The dishes are inspired by the Mediterranean from Spain through Dalmatia to Greece but enhanced with a modern touch. The wine list is also superb with an accent on local and regional wines.
Zrno Soli
(Uvala baluni 8, tel 021-399 333)
At the ACI Marina west of the Old Town, this sleek restaurant serves up the freshest possible fish and seafood in an updated Dalmatia style.
Dvor
(Bacvice: Put Firula 14, tel 021-571 513)
Chef Boris Asanović tantalizes the palate from breakfast through late dinner with predominantly Croatian specialties from pork belly to octopus roasted under a bell. It's a great place to sample Croatia's finest wine and cheese as well.

Sperun
(Sperun 3, tel 021-346 999)
Locals and tourists alike flock here for perfect pasta, tempting tuna, savoury seafood and whatever the chef has in mind. This little place on Sperun square has wormed its way into a number of guidebooks. It's not bad at all. A portion of your better quality fish will set you back about €12 but that's a reasonable deal. There's a full menu of meat, fish and vegetable plates starting at 45KN or about €7. I had a local speciality, Bacalao, which is salt cod and potatoes in a casserole. I found it a little gummy but maybe that's par for this dish, Dalmatian-style. Anyway, it was certainly filling. The service is young and enthusiastic but reserve ahead, especially on Saturday night.
Makrovega
(
Lestina 3, tel 021-394 440
)
In my opinion, no city is truly cosmopolitan unless it has a vegetarian restaurant and Makrovega represents Split's entry onto the veggie-vegan circuit. Unfortunately, the theory seems to be that eating vegetables coincides with an early bedtime as this restaurant closes in the early evening.
Buffet Fife
(Trumbiceva Obala 11, tel 021-345 223)
Hearty and unpretentious food served up by hearty and unpretentious Dragomir. This old stand-by is in the newly trendy Veli Varos neighbourhood, the old fisherman's quarter, now restored and chock-full of private accommodation. The action centers around Sperun square where there are a bunch of cafes and restaurants steadily moving upscale. Buffet Fife remains true to its calling as a casual hangout for locals, backpackers and tourists at the end of their budget. The seating is family-style around big tables and the emphasis is on fish. To keep prices down and insure freshness, you won't find the pricier fish such as sea-bream, but a nice selection of cheaper fish like mullet and mackerel. Hey, it's better for you anyway! A plate of grilled fish with a side of vegetables and a glass of wine comes in under €10.
Restaurant Sumica
(Put Firula 6, tel 021-389 897)
East of the centre and not far from the beach, this place serves up delicious pasta, seafood and local dishes on an outdoor terrace shaded by pine trees. There's no more romantic spot on a summer night.
Restoran Boban
(Hectoroviceva 49, tel 021-543 300)
Also east of the centre is this classy spot where you can sample the full range of Croatian cooking from Istrian truffles to Dalmatian grilled fish and meat.
Pizzeria Galija
(Tonciceva 12)
I'd been coming here for years to enjoy the pizza which is probably the best in Split. At least, a steady stream of locals seem to think so. This time I decided to try the pasta. Mistake. Gnocchi with cream, mushrooms and salmon was a gloppy mess. Sometimes it's best not to be too adventurous.
Konoba Trattoria Bajamont
(Bajamontijeva 3, tel 091-253 744)
Sometimes budget is best, or at least more fun. You'll see what I mean at this bohemian joint. Imagine a place run by your hippie parents who have strange and interesting friends and who also love to eat. There might be music and singing but there's sure to be good cooking Dalmatian-style.
Uje
(Marulićeva 1, tel 021-490 992)
Named after the Croatian word for "oil", this cosy, romantic little place honours olive oil in all its permutations. After sampling the delicious treats served up at the table, you can hop over to a nearby boutique and stock up on olive oil, jam, wine and other Croatian gastronomic products.
Mazzgoon
(Bajamontijeva 1, tel 098 987 7780)
At the West Gate of Diocletian's Palace, this relaxed place has a comfortable courtyard and a menu that jazzes up Dalmatian classics. Try the risotto with raisins and apples or a fish stew with local sweet wine. Prices are surprisingly reasonable.
Restaurant Reviews
Best Restaurants in Croatia 2016
The ultimate foodies guide to Zagreb, Zadar, Istria, Split, Dubrovnik, Hvar island and more. More.

Zigante: The Truffle Palace
My truffle meal in famed Zigante restaurant. More.

Pane Vino, Rovinj
Pane Vino e Non Solo bills itself as "The real Italian cuisine with the finest Istrian product". Was I happy with it? More.

Best Restaurants in Croatia 2012
Some 300 culinary experts including chefs, journalists, food writers and industry professionals voted in an anonymous poll for the best restaurants in Croatia. More.

Dubrovnik Restaurant Roundup
Sampling Dubrovnik's restaurants was an eye-opening experience, particularly when I saw the prices. Yikes! So many upscale visitors are staying in Dubrovnik that restaurant prices seem to know no limits, particularly in the Old Town. Lapad restaurants seem a little more reasonable More.

Last Updated: March 2, 2017
Questions? Comments?
©CroatiaTraveller 2005-2017 All rights reserved