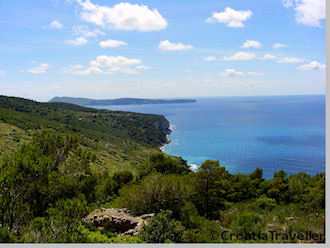 Vis Island: the rugged coastline


View Croatia in a larger map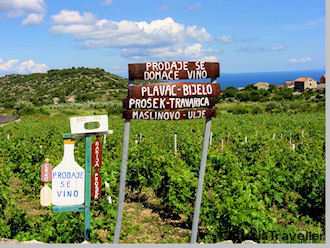 My first visit to Vis Island was a revelation. The unspoiled beauty left me breathless. As an army base in former Yugoslavia, Vis Island never developed a tourist industry. When Vis finally opened for business in 1989, visitors were pleased to discover that its natural beauty remained intact. (See Vis Island on a map of Dalmatia)

The natural vegetation of Vis Island is lush--expect pine trees, carob trees and citrus orchards as well as exotic species such as palm trees, cacti and a particularly rare silver palm tree. Much of the island is devoted to vineyards that produce the famous white wine, "Vugava" and the red wine "Plavac".
What to See & Do on Vis Island
Vis Town
On the northeastern coast, it's the oldest settlement on the island. In addition to interesting ruins from the Greek and Roman period, there are villas and churches dating from the 16th and 17th centuries.
Komiza
This picturesque fishing village on the western coast is the other main town and makes a good base to catch a boat to the lovely Blue Grotto on tiny Bisevo island.

Beaches
There are some marvelously untouched beaches on Vis Island, mostly on the southern coast.
Scuba Diving
Unlike other Croatian islands, the waters surrounding Vis Island were never over-fished which left a teeming underwater life. Scuba divers now swarm through waters filled with some of the Adriatic's most vivid fish swimming through coral and sea sponges.
The Lowdown
No nightlife, no package tourists, no big hotels, no fuss, no hubbub; Vis Island is really "the Mediterranean as it once was". Vis doesn't fit well as one part of a Dalmatian Islands tour because the only car ferry to the island operating year-round is from Split and it's a long ride. Yet a certain kind of traveller would be happy staying in Vis and skipping every place else. You can truly escape crowds here except for the five weeks or so in the summer when the Italians stream over.
Getting to the island by boat is straightforward: take a ferry from Split! More.
Relaxed, informal and not too expensive, Vis Island accommodation is not for luxury-lovers. Read more.
Tourist Information in Vis
In Vis Town, the Vis tourist office (tel 021-711 017) is at Setaliste Stare Issa 2, next to the ferry dock. It dispenses information about the town and the island of Vis.
What did you think of this article? Do you have a suggestion?
©CroatiaTraveller 2005-2013 All rights reserved