Ploce is the neighbourhood just east of Dubrovnik's Old Town (Stari Grad) and there are three beautiful hotels in Ploce.
Hotel Excelsior
It's a five-star sybaritic paradise of pools, massages, beauty treatments and fine dining plus there are great views of the Old Town from almost everywhere. Read my review.
Grand Villa Argentina Hotel

Practically next door is this splendid five-star complex with its fine dining, fine swimming and impeccable rooms.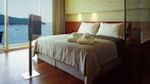 Villa Dubrovnik
Brand new, luxuriously decorated, this hotel is a few minutes farther out but there are free boat transfers to town. You may not want to leave, however.
For more five-star options, see Luxury Hotels in Dubrovnik.
Reserve Private Accommodation in Ploce

Jeanne's picks
Why stay in Ploce?
Ploce is the hotel neighbourhood closest to Dubrovnik's Old Town and Dubrovnik sightseeing. Each hotel has a rocky private beach and you're still close to the public Banje Beach. The hotels have shuttle buses to transport you to the Old Town but there are also public buses.
Ploce is also the Dubrovnik neighbourhood that is closest to Dubrovnik airport. As there are no hotels at Dubrovnik airport, Ploce is the best you can do unless you stay in Cavtat or the Dubrovnik region.
If your hotel booking doesn't include a transfer from Dubrovnik airport, you can pre-book your arrival and/or departure transfer with Viator which will take you directly to your hotel (and pick you up for your flight out).
Related Pages
What did you think of this article? Do you have a suggestion?
©CroatiaTraveller 2005-2013 All rights reserved