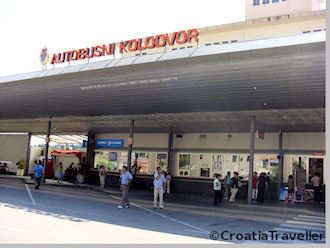 Dubrovnik's Bus Station

Dubrovnik's new bus station is a vast, modern structure, about 2.5km from Dubrovnik's Old Town in the
Gruz neighborhood
. There is a small tourist information centre in the bus station, and a larger one at the Gruz harbour, a short walk away. (See the bus station on a
map of Dubrovnik)
There is an ATM in the bus station, public telephones, a
tisak
to buy a phone card and local buses outside to take you to the Old Town or to Lapad. (see a
Dubrovnik bus map).
From the bus station, take buses:
1a, 1b, 1c, 3 to Pile Gate;
1a, 1b, 1c, 3, 7 to Gruz harbor;
7 to Lapad and Babin Kuk
Too complicated?
Rent a car!
The bus station is also right next to a Konzum supermarket in case you need to pick up supplies for your journey.
The bus station is the departure point for all buses from Dubrovnik and the arrival point of all buses to Dubrovnik. It's also where you catch the airport bus.
Buying Domestic and International Bus Tickets
Bus tickets cannot be reserved on line but you can and should buy your bus tickets as soon as you can. Especially in the summer, buses can fill up. Also, there is assigned seating so if you prefer the front of the bus, it's wise to buy that ticket early. The bus station is open daily from early in the morning until late at night.
Questions? Comments?
©CroatiaTraveller 2005-2017 All rights reserved