Dalmatia: From Split to Dubrovnik 2020 with Ferry Guide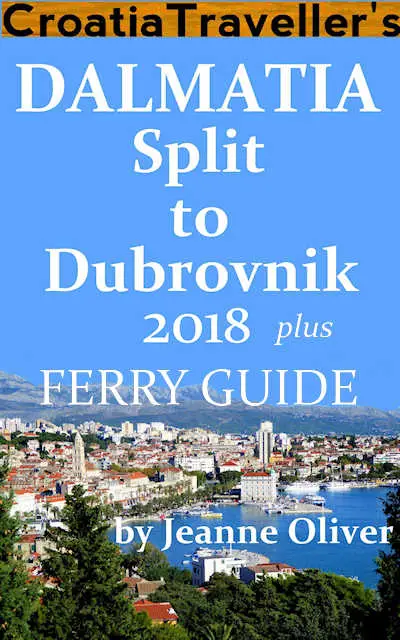 Croatia Traveller's Dalmatia: Split to Dubrovnik 2020 combines a fun and comprehensive guide to Croatia's most celebrated region with all the latest ferry timetables to all the islands between Split and Dubrovnik.
This unique 189-page e-book has everything you need: details on where to go, what to see, where to eat and drink, and how to get around whether by car, bus or ferry plus timetables, prices and booking information for all ferries to and from:
Split

Brac Island

Solta Island

Vis Island

Hvar Island

Korcula Island

Peljesac Peninsula

Makarska

Mljet Island

Dubrovnik

Elaphiti Islands

Lastovo Island
Travel planning has never been easier! Get all practical information to all the above destinations plus ferry timetables in one downloadable guide in pdf format.
Marvel at the grandeur of Diocletian's palace in Split and follow a walking tour along Dubrovnik's ancient stone walls that protect the "pearl of the Adriatic". Party the night away in glamorous Hvar town or let the waterfalls spray your face in Krka National Park. Watch a "sword dance" in Korcula, visit wineries on Vis island or the Peljesac peninsula or soak up sun on one of Croatia's best beaches. With personal recommendations and up-to-date details on sights, transportation, accommodation and restaurants, this guide insures you will experience the very best of Dalmatia.
HERE'S WHAT YOU GET:
Inspiration
52 full-color images
professionally-written prose
Planning
temperature and precipitation information and charts
festivals and events
top highlights and suggested day trips
Orientation
13 full-color maps
walking tours of Dubrovnik and Split with maps
Transportation
getting to and from Split and Dubrovnik airport
bus routes, durations and companies
ferry routes, durations and companies
driving times and parking information
Information
opening hours and prices of all major sights
cultural, architectural, historic and artistic background on all sights
Communication
Croatian language section with 20 helpful phrases, pronunciation guide, numbers, days and months
all about mobile phones, useful numbers and getting online
Accommodation
advice on which neighborhoods are the best in Dubrovnik and Split
description, location, pricing and contact information for 20 hotels in Split, 43 hotels in Dubrovnik and dozens of the best throughout the region
Entertainment
the best bars, clubs and discos in the region
where to take the kids
Insider Tips
the best restaurants for local specialties
where the locals eat
the best shopping deals
how to avoid the crowds
How it works
PayPal guarantees the security of the payment even if you not have a PayPal account.
You may choose to pay via your credit card or via PayPal
You will receive an email with a link to download this e-book in pdf format
You will also receive an email in which you may subscribe to my FREE Ferry News newsletter to get all the latest schedule changes.
Prefer an e-reader format? No problem! Dalmatia: Split to Dubrovnik 2020 is formatted especially for your Kindle, iBook or Nook application and has all the above information except the Ferry Guide. Because maps on e-readers are cumbersome, you get a special link to download all the maps in pdf or jpg format.
Dalmatia: Split-Dubrovnik

E-reader Edition $9.99

BUY NOW!






More CroatiaTraveller e-books!
Recommended Experiences
More from Croatia Traveller
My Favorite Travel Accessories
©CroatiaTraveller 2005-2021 All rights reserved