One of the best reasons to visit the gorgeous Krka National Park lies on Visovac island in the middle of Visovac lake. About 6km upstream from Skradin, Visovac island is the site of a Franciscan monastery that dates from 1576. I would venture to say that it may be the world's most stunningly located monastery. The austere walls and towering bell tower are protected by a circle of cypresses that point to the sky like swords. Beyond the tiny island lies the trout-filled waters of the lake which, in turn, is protected by high karstic cliffs. The effect is magical.
The religious use of Visovac island began at the turn of the 15th century when it was used as a hermitage. Franciscan monks soon arrived, building a church in 1576 which was reconstructed in the 18th century. From the 16th to 19th centuries, the monastery amassed a rich collection of paintings, reliquaries and folk costumes. Don't miss the rare illustrated copy of Aesop's fables which was printed in 1487. It's one of only three in the world.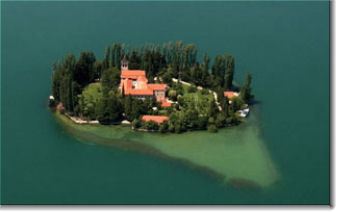 The monastery treasures are exhibited in a small museum and outside is a lovely, flowering garden attended by the 10 monks in residence. Mass is held at 11am Sunday all year.
Getting to Visovac Monastery
Visovac island is reachable by boat from Bristane village on the mainland. Monastery boats will ferry you to and from Bristane for Sunday mass. See the Visovac monastery website for details. Otherwise, you must take an excursion boat from Skradin in Krka National Park.