Only 27km west of Split, travel to Trogir is easy and stress-free, whether by car or public transport, and is one of Split's most essential day trips. The historic town centre is a pedestrianized district that is like an outdoor museum. Finely-carved facades, elegant churches and palaces, Renaissance gates and medieval streets reflect Dalmatian art and architecture at its best.
How much time to spend in Trogir? The city's streets and sights can be covered easily in a day. With more time, it's possible to check out the beaches of Ciovo.
[Explore the Things to See in Trogir]
Trogir developed from the 13th to the 15th centuries and was once the cultural centre of Dalmatia. In naming Trogir a World Heritage Site, UNESCO noted that:
Trogir is a remarkable example of urban continuity. The orthogonal street plan of this island settlement dates back to the Hellenistic period and it was embellished by successive rulers with many fine public and domestic buildings and fortifications. Its beautiful Romanesque churches are complemented by the outstanding Renaissance and Baroque buildings from the Venetian period.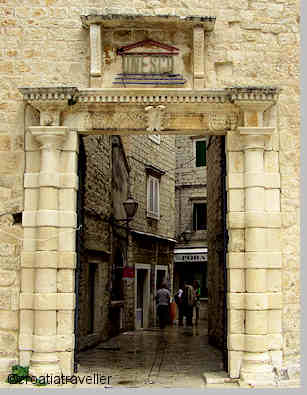 [More on Trogir's history]
In exploring the town, don't miss the stunning Cathedral of St Lovro, a masterpiece of design, noted especially for the sculpture of Master Radovan. (More on the Cathedral and other sights)
Trogir Region
Trogir is located on an island between the island of Ciovo and the mainland. Small bridges connect Trogir with the mainland and Ciovo.
Although the mainland facing Trogir is not particularly interesting, Ciovo island (really an extension of Trogir) is green and plush. The Mediterranean vegetation ends in small sand and pebble beaches on the western side. If you stay in Trogir you can combine sightseeing in the Old Town with beach days on Ciovo or you can take a boat to the unspoiled offshore islands of Drvenik Mali and Drvenik Veli.
Trogir is also advantageously located near the Split airport, making it a good alternative place to stay to catch an early morning flight.
Prices are cheaper and the value for money generally better in Trogir than in Split. Find out more about where to stay in Trogir.
Trogir has come a long way since its days as a trading post for the ancient Greeks. Other than the street plan and the name, Tragos, Greeks and their Roman successors, left no visible remains in Trogir. Early Croats settled around the ancient town only to be chased out by Saracens. Then the town's fortunes improved in the 13th century and the Trogir 'golden age' began. Read more.
     Getting to Trogir
Concerned about flight chaos?
Travel insurance brings peace of mind
.
Find out more
There's a frequent city bus from Split that runs to Trogir but the coastal buses between Split and Zadar are much more comfortable, if slightly more expensive.You can also get to Trogir directly from Dubrovnik (see the schedule at buses from Dubrovnik). The Trogir bus station is in front of town across a canal. There's a left-luggage facility.
Split airport is a mere 7km from Trogir. There's a local bus that makes the run to the airport; a taxi costs about €15.
Book buses to Trogir
There's also a daily catamaran between Split and Trogir that runs from late spring to early autumn. Contact Buraline (tel 095 837 4320, http://www.buraline.com)
Tourist Information in Trogir
The official Trogir tourist office (tel 021-881 412) is at Trg Ivana Pavla II and finds private accommodation.