Croatia, the honeymoon destination that has it all
After the stress of the wedding, your honeymoon is your chance to unwind and enjoy each other's company, finally! There's no better place for romantic relaxation than Croatia, especially on a hand-crafted honeymoon package from JayWay Travel.
Every year this fabulous country on the Adriatic Sea becomes more popular with couples. With a laid-back Mediterranean vibe, stunning historic sights, a romantic Old World atmosphere, the crystal clear sea and delectable local cuisine, Croatia has everything you could want from a honeymoon destination.
JayWay have been arranging travel to Croatia for Americans for 10 seasons, and have dedicated in-country staff to take care of guests. That deep local knowledge and experience shows. JayWay have distilled all their experience into a site dedicated to everything about Croatian Honeymoons. With destinations from north to south, including the country's most interesting islands, you're sure to experience the very best Croatia has to offer, with not a moment wasted.
Historic highlights?
There's history everywhere you look in Croatia, and so many wonderful destinations to discover together, starting with Dubrovnik. In ancient times the city was known as Ragusa, a thriving maritime republic. There's also a fictional history here, as the city plays the part of King's Landing in HBO's Game of Thrones. Travel a little further north and you have the port city of Split and its Old Town nestled within the walls of a palace built for the Roman Emperor Diocletian. Nowadays the narrow alleyways and lanes are lined with lively cafes, bars and restaurants, making it a lovely honeymoon stop.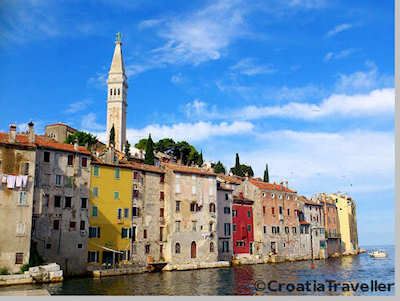 For a touch of Tuscany, head further north still to Istria, where ancient hilltop villages look out over fields and beautiful vineyards. The coastal town of Rovinj, a jewel of the old Venetian empire, is picturesquely set against the turquoise waters of the Adriatic. It's a very relaxing place to spend time together. If you want to learn more about any of these destinations while you're there, a walking tour can easily be added to your package.
Action? Or relaxation?
You can pack your honeymoon with adrenaline activities, simply relax together on the beach, or do anything in between. Splash around in the waves, go snorkeling, scuba diving or kayaking; the calm, clear waters of the Adriatic provide the ideal conditions. With lush countryside and national parks all over the country, there's ample opportunity to explore the beautiful landscapes together, whether you choose to hike or bike. Pack a picnic lunch or sample the delights of a local tavern. Your JayWay host will help you make all the arrangements you need.
Budget or luxe, or a bit of both?
Croatian honeymoons don't have to break the bank. You can easily stay in affordable and comfortable apartments and family villas that offer breathtaking views. You can also stay in the lap of luxury in 5-star boutique and design hotels, or choose something in between, as delightful B&Bs and family-run boutique hotels are also a popular option. Or you can mix it up, keeping costs under control for most of the time, then splashing out at the beginning or end. It's up to you. JayWay's knowledge of the very best accommodations in these destinations means you're getting the best rooms in town, whatever your budget.
Happy Honeymooners
JayWay's honeymooning guests are full of praise for how their honeymoons worked out and you can contact them directly for a reference. Holly and Michael from Boston, MA had this to say: "JayWay made our honeymoon planning so carefree: once we got to Croatia we knew everything was already taken care of! We enjoyed all of the extra excursions and insider knowledge suggested to us as well as all of the hotels and apartments we stayed at. To think of planning a trip of this magnitude while also planning my wedding was overwhelming. I am so very thankful for the team that helped make our honeymoon so memorable."
Get a custom honeymoon itinerary
Take a look at some sample Croatia Honeymoon itineraries or contact the expert trip planners at JayWay Travel and they'll put together a suggested itinerary for your dream honeymoon, with everything tailored to your interests and budget.
Sponsored Page
Questions? Comments?
©CroatiaTraveller 2005-2016 All rights reserved