When the Game of Thrones crew chose Dubrovnik as a location for the popular HBO series in 2011 there was general rejoicing in King's Landing, I mean, Dubrovnik. Looking for an intact, walled medieval town to evoke King's Landing in season 2 they could hardly have done better. "To find a full-on, immaculately preserved medieval walled city that actually looks uncannily like King's Landing where the bulk of our show is set, that was in and of itself such an amazing find," said Co-Executive Producer D.B. Weiss in an interview.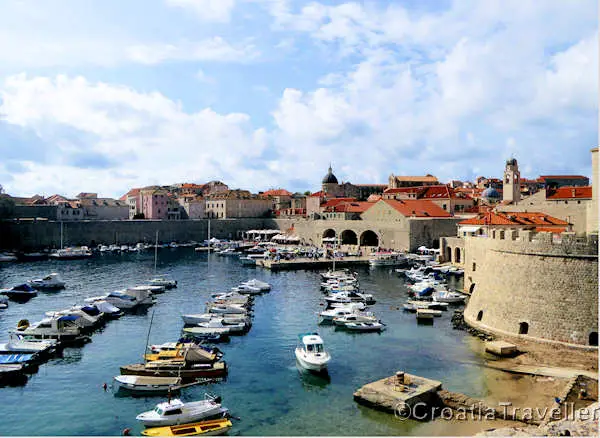 From seasons two through six, the Game of Thrones team filed into Dubrovnik each year, hiring extras, setting up camera equipment and generally strewing happy chaos throughout the town. The additional publicity lit a fire under the Dubrovnik tourist industry as fans streamed into town to visit the House of the Undying, the Red Keep, the Palace of Qarth and other favorite spots.
[Check out the Hotel Excelsior where Game of Thrones cast members stayed]
Nearly everyone in Dubrovnik has a Game of Thrones story which you can hear on a Game of Thrones tour. Many of the guides worked as extras or in another capacity during filming. For a personalized and in-depth experience with a professional guide, I recommend touring with Ante Batarelo.
Self-Guided Tour
Or, you can follow your own self-guided Game of Thrones tour which takes in all the filming locations. Get an early start to visit all the sites. Start with this map and the following descriptions.

Start your tour at Dubrovnik's western entrance, Pile Gate.
Pile Gate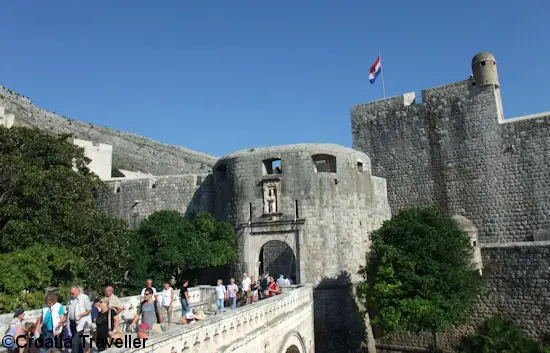 The western entrance to Dubrovnik's old town is often packed with visitors as it's the main entrance for cruise ship passengers and tour groups. Approach Pile Gate over a stone bridge that spans a protective ditch along the city walls. The outer gate dates from 1537 and is topped by a statue of St Blaise, Dubrovnik's patron saint. There's a courtyard and then a Gothic inner gate built in 1460.
Pile Gate in Game of Thrones
Season 2 Episode 6
The starving citizens of Kings Landing riot and King Joffrey orders them executed. The High Septon is torn apart by the crowd.
Season 3 Episode 10
Jaime Lannister and Brienne of Tarth slip into the city incognito.
Dubrovnik Walls
Start your tour of Dubrovnik's walls at the Pile Gate entrance. Walking the massive city walls is a highlight of any visit to Dubrovnik. These legendary walls were built, rebuilt and strengthened many times between the 12th and 17th centuries.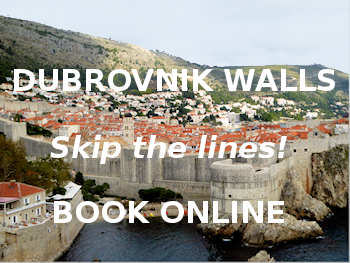 Dubrovnik's walls in Game of Thrones
Season 2 Episode 8
Tyrion and Lord Varys gaze out to sea and strategize about how to defeat Stannis Baratheon.
Season 4 Episode 7
In which the Mountain impresses Cersei by mowing down prisoners with his sword.
Season 5 Episode 3
King Tommen and Cersei stroll the walls and discuss whether she should return to Casterly Rock.
Season 5 Episode 4
The Sparrows arrest Loras Tyrell as he is practicing his swordsmanship.
Dubrovnik Walls--Bokar Tower

This beautiful tower was essential to the western defense of the city along with the Minceta tower (below). Bokar tower was built in 1461 and now serves as a stage for the Dubrovnik Summer Festival. The best view of the tower is from Fort Lovrijenac directly opposite.
Bokar Tower in Game of Thrones
Season 2 Episode 8
Tyrion and Lord Varys plan the defense of King's Landing in Bokar Tower with Fort Lovrijenac in the background.
Season 8 Episode 5
Cersei gazes down at Jon Snow as he pleads for her to surrender.
Dubrovnik Walls--Minceta Tower


The distinctive circular Minceta tower served as the "House of the Undying". Here the walls are 6m thick, the better to protect Dubrovnik from attacks by land. The tower was built in 1464 and was once used to store water. It was named after the Mencetic family who probably contributed financial support to its construction.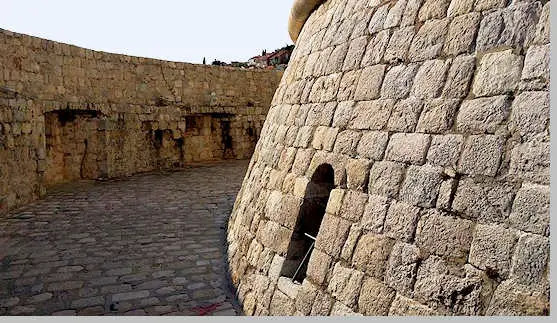 Minceta Tower in Game of Thrones
Season 2 Episode 10
The circular tower is seen clearly in this episode. Daenerys Targaryen tries to find the entrance to the House of the Undying in order to look for her stolen dragons.
Take a Game of Thrones tour. Book now!
Stradun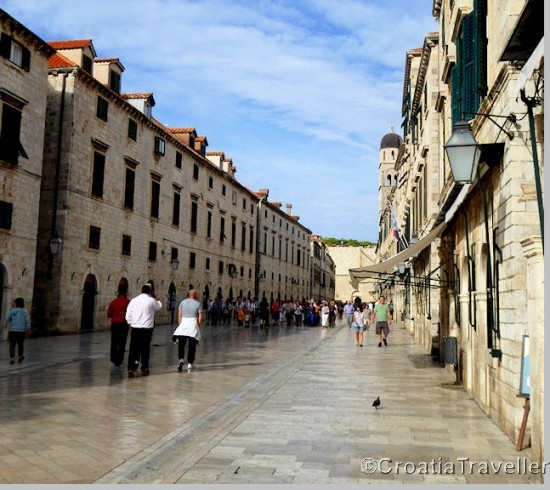 Leaving the city walls stroll down Stradun, Dubrovnik's main street and a stunning example of harmonious Baroque architecture.
Stradun in Game of Thrones
Season 5 Episode 10
Stradun is briefly glimpsed in Cersei's "walk of shame".
Ethnographic Museum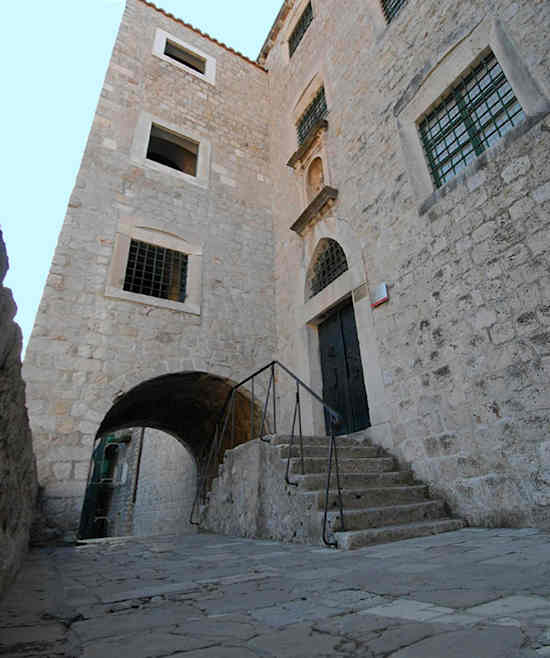 Turn right on od Domina and right on od Rupa to find Dubrovnik's Ethnographic Museum, housed in an old granary. Located in the oldest part of Dubrovnik, the museum displays clothing and handicrafts from around the region.
The Ethnographic Museum in Game of Thrones
Season 4 Episode 1
The exterior of the Ethnographic Museum doubled as the brothel of Petyr Baelish (Littlefinger). Here is where Tyrion Lannister meets Oberyn Martell. 
Jesuit Steps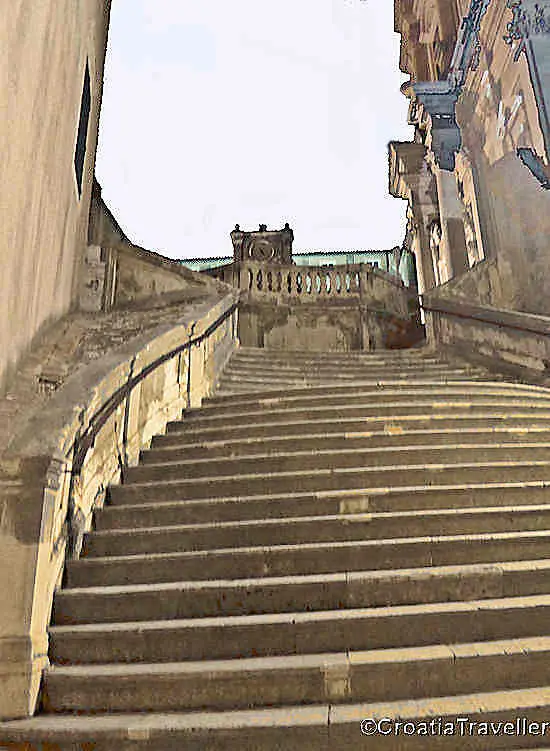 Turn right on Lucarica, pass the Gundulic square market and straight ahead are the ornate steps that lead up to the St Ignatious church and Jesuit College. The Roman architect Pietro Passalacqua designed the steps in 1738, possibly intending to echo the famous Spanish Steps in Rome. The steps provided an irrestistibly photogenic backdrop to several pivotal scenes in Game of Thrones.
The Jesuit Steps in Game of Thrones
Season 5 Episode 1
Cersei climbs these steps to pay respects to the deceased Tywin Lannister.
Season 5 Episode 4
King Tommen climbs the steps intending to speak to the High Sparrow but is blocked by other sparrows.
Season 5 Episode 10
Cersei's infamous "walk of shame" was filmed in part on these steps.
Rector's Palace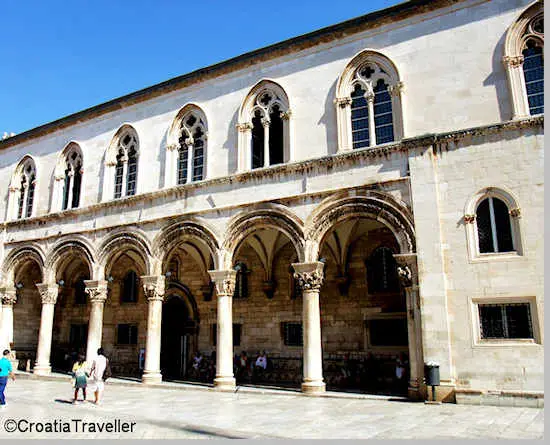 Return to Stradun and continue to Luza square and the Rector's Palace.
[Along the way, check out more Dubrovnik sights]
This outstanding Gothic and Renaissance palace is where Dubrovnik's Rector or Governor lived and administered his city-state. It now houses a museum that recreates his lifestyle with luxurious furnishings in period style.
The Rector's Palace in Game of Thrones
Season 2 Episode 6
The Rector's Palace sets a nice, stately tone as the atrium of the Spice King of Qarth. Daenerys Targaryen meets the Spice King to ask for ships. The bust of Miho Pracat can be clearly seen in this episode.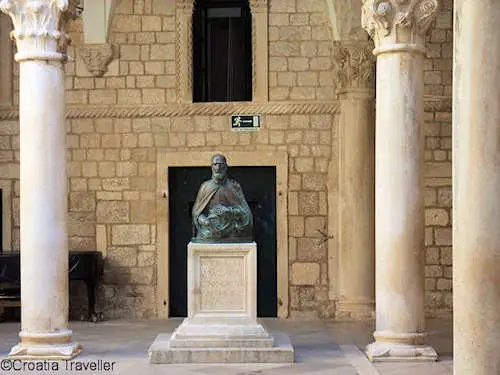 Svetog Dominika (Saint Dominic) Street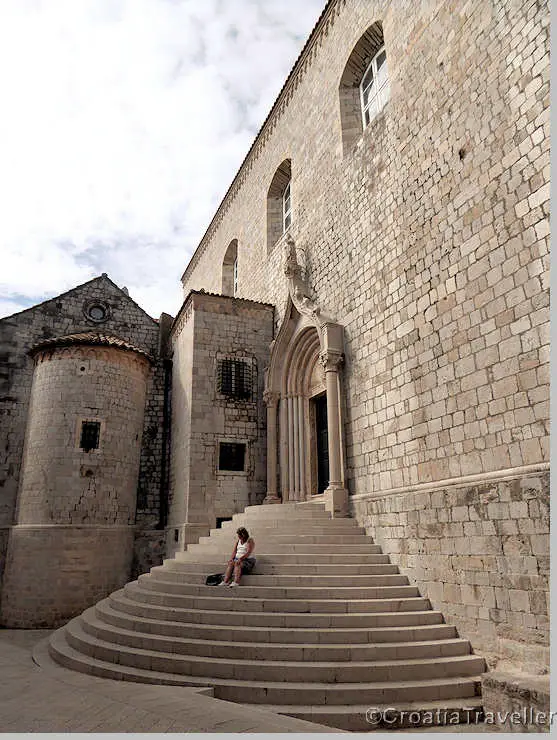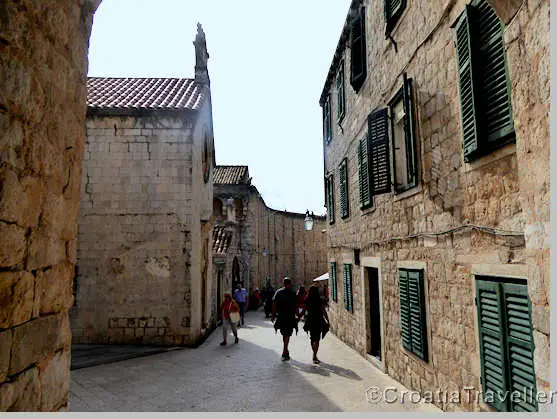 Just outside the Dominican monastery, this evocative street is regularly used for scenes throughout season 2 and 3 as well as Cersei's infamous "walk of shame".
Svetog Dominika Street in Game of Thrones
Season 2 Episode 5
Tyrion Lannister and Bronn are strolling this street when they hear a fiery speech against King Joffrey.
Season 5 Episode 3
Cersei meets with the High Sparrow in a futile attempt to forge an alliance.
Season 5 Episode 10
During Cersei's "walk of shame" the crowd hurled insults from these steps on Sv Dominika street. The bottom of the balustrade was mortared centuries ago. The Dominican monks didn't want men ogling ladies' ankles as they mounted the stairs!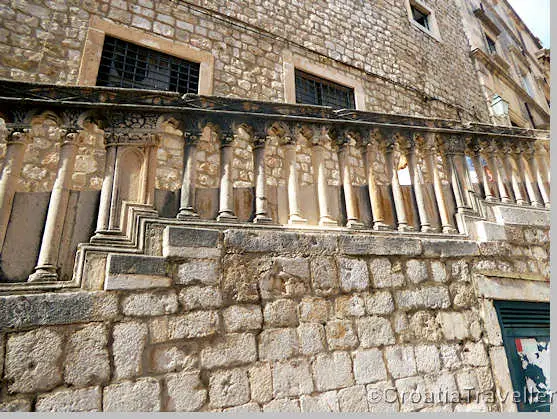 Ploce Gate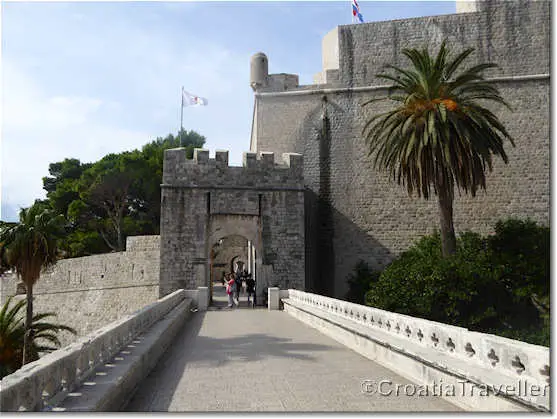 From Svetog Dominika go directly to Ploce Gate, Dubrovnik's eastern entrance. The outer and inner gates as well as the stone bridge over the ditch were built in the mid-15th century and widened in the 19th century.
Ploce Gate in Game of Thrones
Season 5 Episode 10
Dubrovnik's eastern Ploce Gate was where Cersei continued her "walk of shame" to enter the Red Keep.
Hotel Belvedere
Continue on the coastal road, walking past the Hotel Excelsior (where GOT cast members stayed) and past the Sveti Jakov church. Take the stairway and you'll come to the former Belvedere Hotel. Once the most luxurious hotel in Dubrovnik, it was destroyed in the bombing of 1991 and remains in ruins. Need a break? Keep going down the stairs to the Sv Jakov beach. It's also possible to take buses 5 or 8 to the last stop at Hotel Villa Dubrovnik.
Hotel Belvedere in Game of Thrones
Season 4 Episode 8
Prince Oberyn Martell comes to a violent end here at the hands of the Mountain in an exciting combat scene.
Benedictine Monastery on Lokrum Island

Walk or take the bus back to Ploce Gate and walk to the Old Port for a boat to Lokrum island. Boats are frequent and the ride is only 15 minutes. The Benedictine monastery on the island had been more or less deserted before it became the palace of Qarth in Season 2. Now it's an unmissable destination for fans because of the Game of Thrones museum. The highlight of the museum is the original Iron Throne which the series' creators generously donated to Dubrovnik.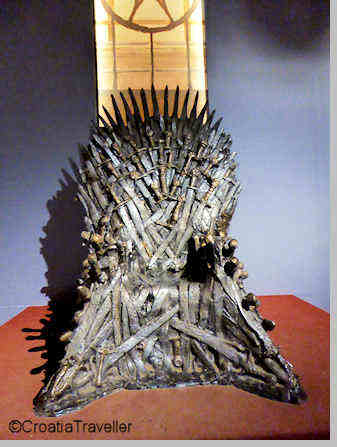 Lokrum Island in Game of Thrones
Season 2 Episode 5
Daenerys is entertained by Xaro Xhoan Daxos when she meets the warlock Pyat Pree who invites her to visit the House of the Undying.
Kolorina Beach
Return to Dubrovnik's old port and leave the old town through Pile Gate. Turn left on Sv Durda and take the stairs down to this tiny beach.
Kolorina Beach in Game of Thrones
Season 6 Episode 1
Cersei stands on this shore waiting for Myrcella's return.
Western Harbour
Walk west from Kolorina beach to the next bay which appears in the Battle of Blackwater as well as a number of scenes where characters stroll, think, and scheme while strolling the pier. Most of the series finale was filmed elsewhere but the Western Harbour appears a few times.
Western Harbour in Game of Thrones
Season 2 Episode 9
The Western Harbour appears as Blackwater Bay in fleeting scenes but the bulk of Battle of the Blackwater was filmed in Northern Ireland.
Season 3 Episode 1
Here's where Littlefinger and Sansa plot their escape and where Sansa and Shae watch ships and talk about their future.
Season 2 Episode 6
Princess Myrcella Baratheon boards a ship while King Joffrey, Cersei, Prince Tommen, Tyrion Lannister and Sansa Stark see her off.
Fort Lovrijenac (St Lawrence Fort)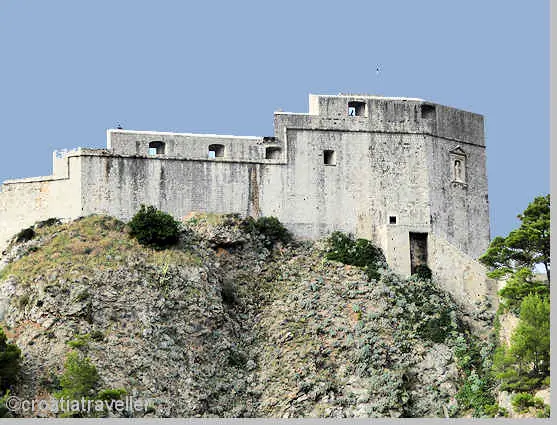 From the West Harbour, climb up to Fort Lovrijenac (St Lawrence Fort) for a spectacular view of the setting sun. Built on a rock 37m over the sea, the imposing Lovrijenac Fort was essential to the defense of the old town. Your admission ticket to Dubrovnik's walls includes admission to Lovrijenac Fort.
Lovrijenac Fort in Game of Thrones
Fort Lovrijenac is the Red Keep in Game of Thrones and appears in many scenes. This forbidding fortress is often glimpsed as a backdrop to scenes filmed in Fort Bokar.

Season 2 Episode 1
It's King Joffrey's name day and there's a jousting tournament in the Red Keep. Meanwhile Littlefinger threatens Cersei with his knowledge of her incestuous relationship with her brother. "Knowledge is power" he says. Cersei responds by having Littlefinger seized by guards. "Power is power", she retorts before having him released.
Season 3 Episode 1
Bronn tries to convince Tyrion to double his salary.
Season 3 Episode 5
Cersei asks Littlefinger for help against her enemy, the Tyrells family.
Sulic Beach

Just west of Fort Lovrijenac is Sulic Beach, a popular local swimming spot.
Sulic Beach in Game of Thrones
Season 2 Episode 9
Part of the exciting Battle of the Blackwater sequence was filmed here.
Gradac Park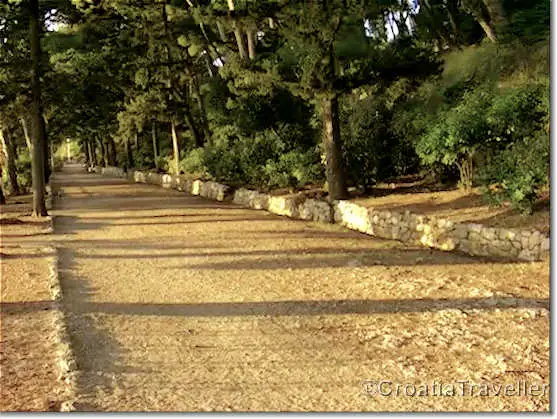 Return to the main road, Branitelja and continue straight west to peaceful Gradac park.
Gradac Park in Game of Thrones
Season 4 Episode 2
Here was the Purple Wedding feast where King Joffrey met his demise by poisoning and uncle Tyrion was arrested.
Season 4 Episode 3
Sansa needs to escape after the Purple Wedding. Her flight begins here, continues in the streets of Dubrovnik and ends near Trsteno Arborium.
Trsteno Arboretum
Trsteno Arboretum is 19km northwest of Dubrovnik and easily reachable by bus or car. Shady paths wind through the park and spectacular sea vistas peek out from behind the trees. The extraordinary setting made it a natural setting for numerous pivotal scenes.
Trsteno Arboretum and Game of Thrones
Season 3 Episode 2
Ser Loras, Sansa, Margaery and Lady Olenna meet to discuss whether King Joffrey will be a good husband to Margaery. Sansa delivers a warning.
Season 3 Episode 4
Lord Varys and Lady Olenna discuss Littlefinger's interest in Sansa.
Season 3 Episode 7
Margaery and Sansa discuss her marriage to Tyrion Lannister.
Season 3 Episode 10
Tyrion and Sansa stroll the gardens and discuss how much they have in common.
Season 3 Episode 10
Lord Varys offers Shae diamonds if she leaves Tyrion but she refuses.
Season 4 Episode 1
Sansa tells Tyrion of her emotional distress at the murders of her mother and brother.
Season 4 Episode 1
Ser Dontos gives Sansa a necklace strung with amethysts.
Season 4 Episode 4
Lady Olenna hints to Margaery that she may have been involved in King Joffrey's death.
Season 4 Episode 5
Oberyn and Cersei discuss their children and Oberyn promises to deliver a gift to her daughter Myrcella.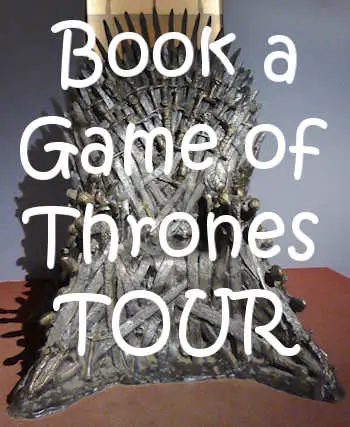 Further Resources
Did you like this page?
Get Croatia Traveller's Dalmatia: Split to Dubovnik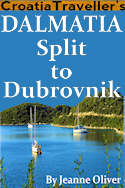 Related Pages
Dubrovnik
Travel Planner
Dubrovnik Tours & Excursions
Dubrovnik
Sights
One Day in Dubrovnik
Dubrovnik History
Last Updated: October 11, 2018
Recommended Experiences
©CroatiaTraveller 2005-2022 All rights reserved