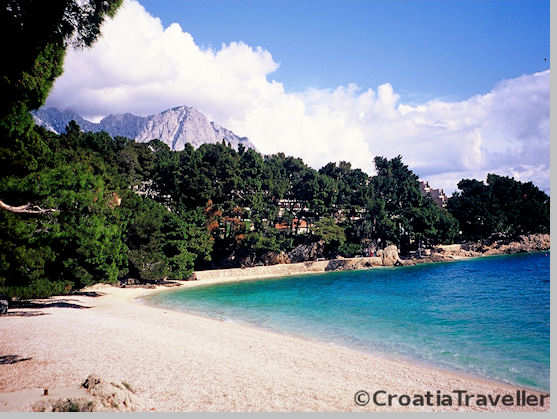 Brela's beaches are among the most beautiful in Europe. Lined with pine trees and with mountains in the distance, each cove is a jewel. The western spur of Biokovo mountain nearly meets the sea here which gives the coastline a rugged allure. The original, old settlement of Gornja Brela was built quite a way from the sea and over the littoral ridge of Biokovo mountain. You can see Biokovo in the distance. The settlement was mentioned by Constantine Porphyrogenitus in the 10th century as the town of the Neretva pagans: Oppidum Berulia. And Brela is an easy day trip from Split.
More from Croatia Traveller
About Croatia
Quick Facts
Travel Questions
From electricity to money, costs & weather; all you need to know to plan a successful trip



Croatia Guidebooks
Fun and comprehensive, these e-books are all you need to travel Croatia

Croatia Maps
Find out where you're going using this map collection
Planning
When to Go
Spring, summer winter, fall plus a month by month guide

Top Sights
See what everyone is raving about.
Accommodation
Find out where to stay and how to get the best deal
Transport
Get around by car, ferry, plane, train & bus
Inspiration
Adventure
Outdoorsy? Here are some ideas.
Itineraries
How to fit it all in and make your trip work
©CroatiaTraveller 2005-2021 All rights reserved