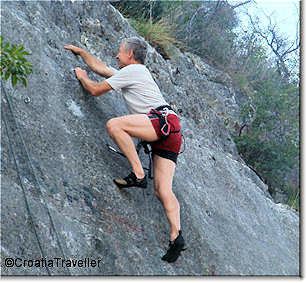 Rock climbing in Rovinj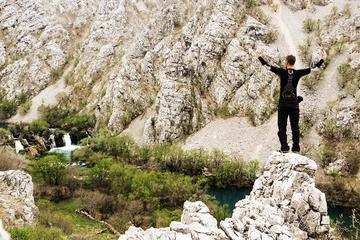 Adventure travel is alive and well in Croatia. Between its coastline, its eight national parks, underwater life, mountainous interior rivers and forests, Croatia offers a wealth of outdoor activities. Active travellers have a whole menu of choices to keep busy, fit and healthy. For the best outdoors destinations in Croatia, see this article and to get a taste of what you can do in Croatia check out the following articles on:
Bicycling in Croatia
Whether peacefully cycling along country roads or opting for a more demanding mountain biking trip, Croatia is definitely cycle-friendly.
Diving in Croatia
The diving industry in Croatia is well-developed with outlets on nearly every major island and all along the coast.
Hiking in Croatia
From easy little strolls to highly demanding climbs, Croatia's many mountains and hills offer a wealth of hiking opportunities.
Horse Riding in Croatia
Less developed than other active holidays, horse riding is a wonderful way to appreciate the Croatian countryside while getting some exercise.
Kayaking in Croatia
Between an interior netted with rivers and an endless coastline, Croatia is a kayaker's delight.
Rafting in Croatia
It started as a means of navigating Croatia's rivers, but now river rafting is a hugely popular sport with Croatians and tourists.
Rock Climbing in Croatia
The highly porous karst of Croatia's mountains makes for excellent rock climbing.
Sailing in Croatia
Croatia is truly a sailor's paradise, that is, if you like calm winds, blue seas and 1185 islands.
Windsurfing in Croatia
The winds sweeping along the coast make Croatia ideal for windsurfing.
Travel Insurance
No matter which outdoor activity you engage in, I highly recommend that you purchase a travel insurance policy. You'll get the best possible deal by going through World Nomads. The policies are flexible and can be purchased or upgraded at any point in your trip. Prices are highly competitive and coverage includes 24-hour emergency assistance, trip cancellation, theft, full medical reimbursement and an option for coverage of a wide range of adventure sports. There are also a number of extras such as travel alerts, language guides and on online travel journal.
Outdoors News
Beat the Heat on the Croatian Coast

It's hot out there! The Croatian coast from Istria to Split and Dubrovnik is sweltering in a heat wave but here are 12 cooling ideas to get you through the summer. More.

Best Outdoor Destinations in Croatia

With eight National Parks and nearly a dozen protected Nature Parks not to mention islands, rivers, mountains, rolling hills and placid seas, Croatia is a paradise for active travellers. Here are the very best destinations to experience the great outdoors. More.

Autumn in Croatia: Top Ten Trip Ideas

Autumn is a wonderful time to participate in local life and experience the Croatia that tourists never see. Here are the top ten events, destinations and activities this autumn. More.

Subscribe to Croatia Outdoors News
Recommended Tours
More from Croatia Traveller
©CroatiaTraveller 2005-2019 All rights reserved