Split is busy and big (it's Croatia's second largest city) but it remains one of the Adriatic's most vibrant port cities, stunningly located between mountains and sea. As the economic and cultural center of the Dalmatian coast, Split is bustling with islanders who flock into the city to work even as ferries whisk tourists out to the islands. Diocletian's Palace, a World Heritage Site, is the main attraction but there are so many things to do, including day trips, world-class nightlife and restaurants that it's impossible to be bored.
Table of Contents
About Split
It was the Romans who put Split on the map when Emperor Diocletian built his retirement palace here in the 4th century. Diocletian's Palace is more like a walled town and it has endured as the center of Split's cultural and political life even as the Byzantines, Croatian kings, Venetians, Austrians and Italians planted their flag on the great city. In addition to enclosing a welter of Roman ruins and medieval churches, the sprawling 4th century residence is also bursting with trendy shops, stylish bars, and brand-name boutiques.
Just outside the Palace's southern walls is Split's seaside promenade, Riva, a prime people-watching spot. To the west and north of the Palace walls lies medieval Split and the Veli Varos nighbourhood which developed from the 14th to the 17th centuries. The narrow streets wind up to leafy Marjan hill and its sweeping views over the city.
Relaxed and informal, Split residents are less interested in high culture than they are in sports and the outdoors. The local football team, HNK Hajduk Split, inspires almost fanatical devotion throughout Dalmatia and has produced world-class players such as Alen Boksic, Darijo Srna and Robert Jarni. On the tennis courts, Wimbledon champ Goran Ivanisevic and his former protegé Mario Ancic are much beloved. On the basketball courts, Split boasts of contributing 7 players to the NBA.
Maps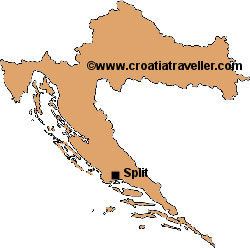 View Croatia in a larger map 

[Only one day in Split? Here's how to see it all]
[Visit Split on this two-week "Best of Croatia" itinerary]
[Visit Split on this one-week "Best of Dalmatia" itinerary]
Where to Stay
Where to stay in Split depends largely on what you want to do. For nightlife, stay in and around the old town. For day trips to the islands, stay around the ferry port in the southeast. For local life, stay in Veli Varos in the northwest. For easy beach access, stay near Bacvice. Click here for a detailed discussion of where to stay in Split.
Things to Do in Split
Roll with the Romans in Diocletian's Palace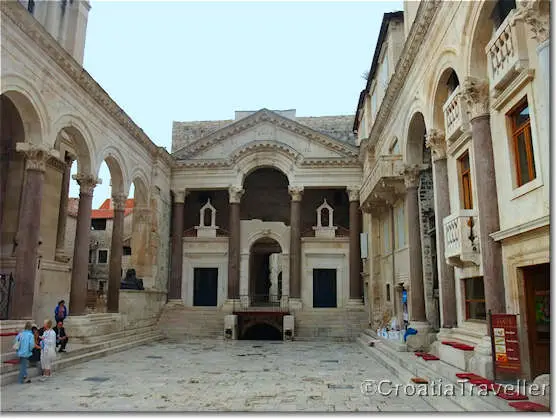 Enter through the basement halls on the on the seaside and mount the massive steps to the heart of the Palace, Peristil, where you'll be impressed by Diocletian's mausoleum, now the majestic St Domnius Cathedral. Climb the bell-tower to appreciate the size and scope of the Palace then follow this self-guided walking tour for more Roman and medieval landmarks. More on Diocletian's Palace
Get into Fjaka on Riva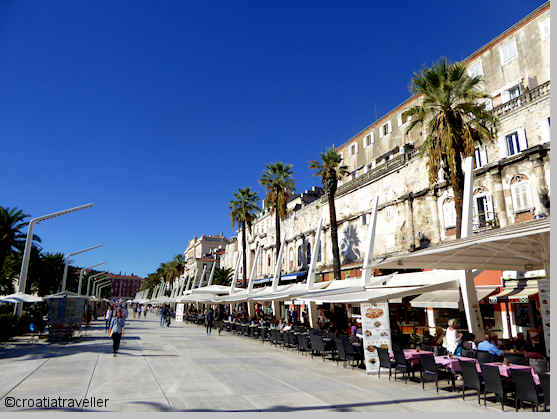 Riva is Split's harbourside promenade and fjaka is the Dalmatian art of doing absolutely nothing. Slide into a seat in one of the many cafes lining Riva and watch the world go by. Allow your mind to wander into daydreams, feel your body relax and your senses sharpen. That's fjaka!
Stroll around Veli Varos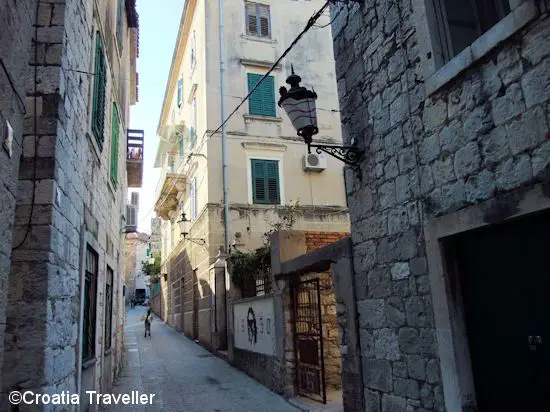 Veli Varos is the humble "peasant quarter" west of Diocletian's Palace. Built around the 17th century, there are a few churches and lots of traditional stone buildings lining narrow streets. It's a good neighbourhood to escape the crowds and perhaps slip into a local bar or cafe. More on Veli Varos.
Visit the Mestrovic Gallery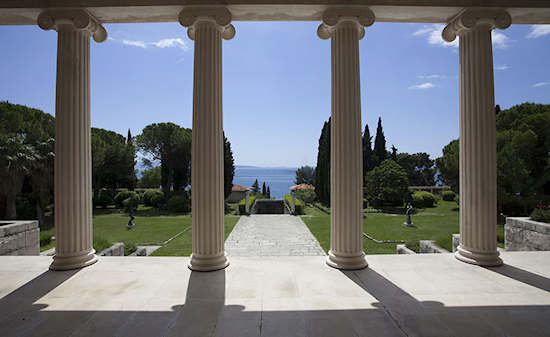 Ivan Mestrovic was Croatia's most famous sculptor and in the 1920s he began construction of this spectacular villa at the foot of Marjan hill. Beautifully landscaped and exquisitely designed, the Mestrovic Gallery now displays 192 sculptures, hundreds of drawings and a few paintings by the master.
Take the Air on Marjan Hill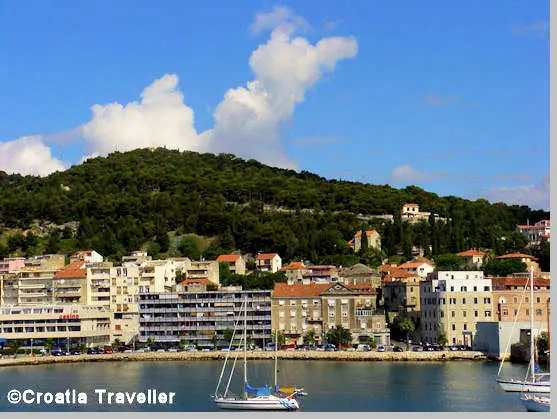 Woodsy Marjan hill rises gently from western Split to a peak that offers sweeping views over Split and its nearby islands. Following the shady paths that snake through the woods takes you to several ancient churches, a Jewish cemetery and a small zoo. Stop for refreshment at Cafe Vidilica, a popular local hangout. More on Marjan Hill.
Hit the Beach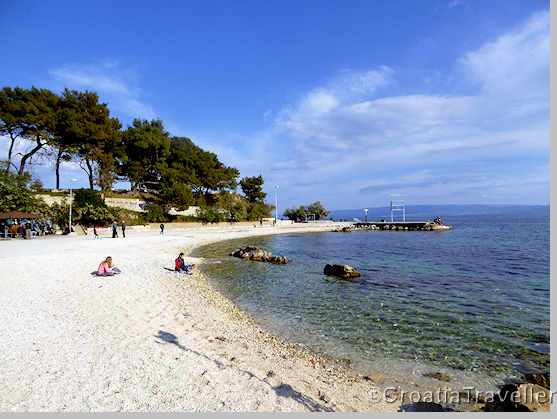 The sea water around Split is clear and sparkling. Beaches spread for several kilometres east and west of town. The closest beach is Bacvice in the east but locals love Kasjuni at the foot of Marjan hill. Throw down a towel or rent a sunbed and enjoy the tranquil views. More on Split beaches.
Catch a Game of Picigen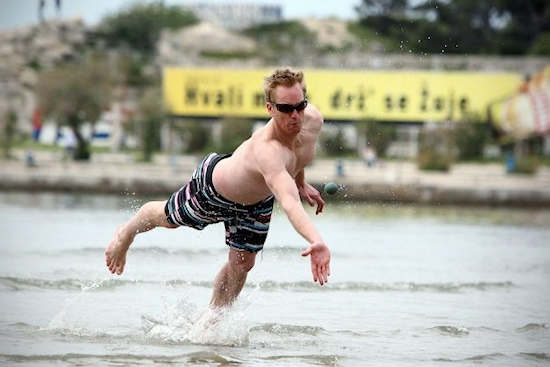 This waterball game was invented in Split and remains hugely popular. For picigen, all you need is a peeled tennis ball which is then tossed from player to player without touching the water. The best place to watch is on Bacvice beach where the water is shallow and the bottom is sandy.
Relive Game of Thrones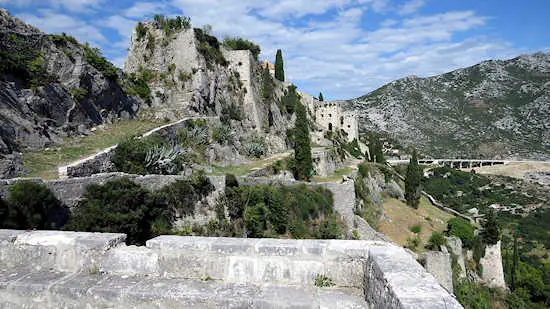 HBO's huge hit, Game of Thrones, arrived in Split to film parts of Season 4. The basement halls of Diocletian's Palace were transformed into Danaerys's throne room where she trained her dragons. And just outside Split is the old fortress of Klis which became the city of Meereen. More about Klis.
Review Ancient History in the Split Archaeological Museum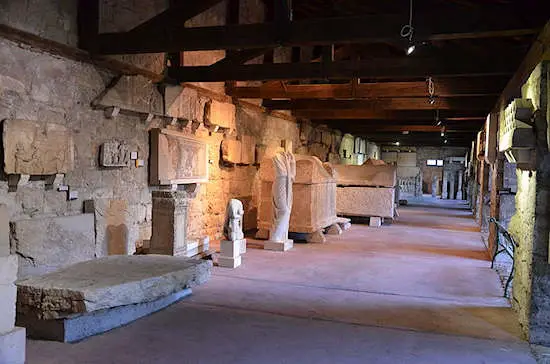 By Marcus Cyron cc license
Not to be confused with the (less interesting) Museum of Croatian Archaeological Monuments, the Split Archaeological Museum is the oldest museum in Croatia with most of its works originating from Central Dalmatia, particularly Salona. The collection includes Greek pottery, Roman and early Christian sarcophogi and an extensive collection of ancient coins, jewelry and tools. Check the website for details.
Bond with Locals at a Football Match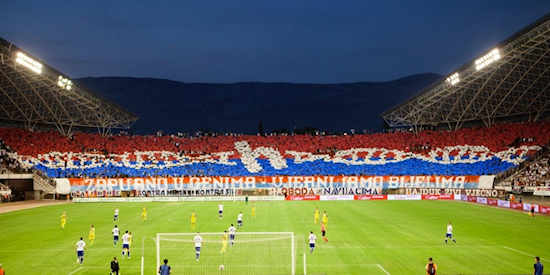 Locals are fanatical about the local team, Hajduk Split. Matches take place from February to May in Split's Poljud stadium. A match against arch-rival Dinamo Zagreb is bound to be lively.
Get Culture at a Local Festival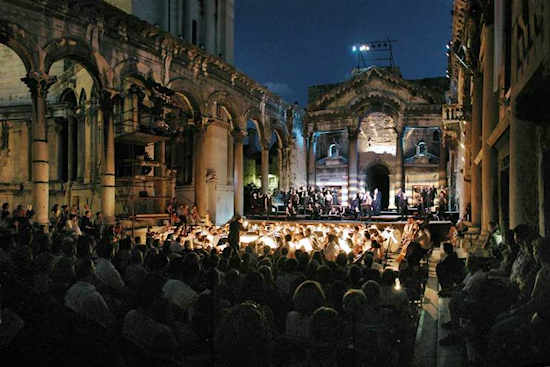 photo courtesy gecko-tours.com
Whether it's a celebration of film, music, theatre or saints, Split's cultural calendar is busy throughout the year. Don't miss the Split Summer Festival when concerts take place in Diocletian's Palace. More on Split festivals.
Party at one of Split's Nightspots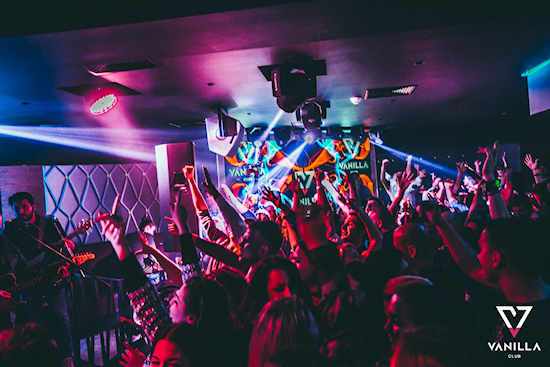 Split's nightlife begins with the setting sun which is celebrated with smooth music and smoother cocktails at several beach clubs. The larger dance clubs are out of central Split but there are casual clubs and bars in and around the old town. More on Split nightlife.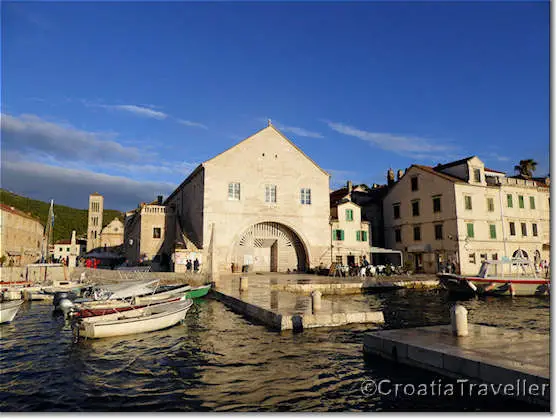 Hvar town on Hvar island may be the most beautiful island town in the Adriatic. With a wide, welcoming harbour, intricate Venetian architecture and offshore islets dotting the horizon, no wonder it's become a tourist magnet. Although known for its sizzling nightlife, it also makes a splendid day trip from Split. From April to October a passenger boat leaves Split in the early morning and returns in the evening. Get the schedule here. Other easily accessible islands include Solta and Brac. More on day trips from Split.
See it all on this incredible five-island tour from Split! More.
Visit Trogir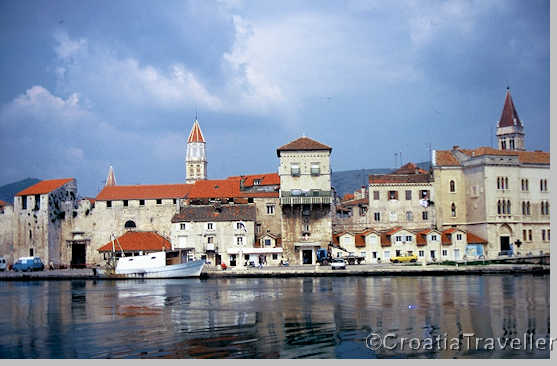 Only a 30-minute drive or busride from Split, the walled town of Trogir is an architectural and artistic delight. Admire the elaborately-carved Cathedral of St Lovro, representing the finest of the Dalmatian Renaissance. Venetian-inspired baroque and Renaissance buildings and monuments line the narrow streets and conjure up the golden age of Trogir. More about visiting Trogir.

Getting to Split
Whether by plane, boat, bus, train or car, it's getting ever easier to travel to Split. With trains, planes, a motorway to Zagreb plus dozens of ferries and buses, Split is one of Croatia's prime points of entry.
Flights
Low-cost carriers are adding Split to their flight plans making air travel to Split remarkably good value with more choices than ever. Split airport is 25km west of town and is connected to most major European capitals and Zagreb with regular flights throughout the summer. Off-season flights are far fewer. See more on flights to Split.
Concerned about flight chaos?
Travel insurance brings peace of mind
.
Find out more
Ferries
Split has a massive ferry port with boats coming and going to the islands--Solta, Brac, Vis, Hvar, Korcula--and down to Dubrovnik. Car ferries work year-round but many passenger ferries are summer only. The only international connection is the year-round car ferry to Ancona, Italy. See more details on Split ferries.
Buses
The Split bus station is a busy, busy place with buses going up and down the coast and further afield. If coming from Dubrovnik, taking a bus to Split is an easy four-hour run and from Zagreb some buses make it in five hours. It's a long ten-hour haul from Istria however. See more on buses to Split.
Trains
 All international trains pass through Zagreb. If you're coming from Zagreb a train to Split can be a comfortable and convenient alternative to a bus if it fits within your schedule but there are only two or three a day. There are no trains to Dubrovnik or anywhere else along the coast however. See more on trains to Split.
Driving
A long-awaited motorway connecting Zagreb and Split has shortened driving time between the two cities to a mere four hours. Someday pretty soon (say 2050) that motorway will run as far south as Dubrovnik and maybe even beyond. Travel time will be much shorter but no way will it be as scenic as the winding coastal road. If you're coming from Istria, there's another motorway that will zip you from Rijeka to Split in a little over four hours.

Video
Travel Tips
Raw and boisterous, yet with heaps of Mediterranean style, Split is not the place to settle in and chill. Ferries, trains and buses are constantly chugging in and out of the ferry-train-bus stations which combine to form a giant transport hub just east of Diocletian's Palace. Stay near the town centre. The dreary neighbourhoods that stretch north of town aren't dangerous but they sure aren't pretty. In deciding where to stay, decide whether your interests are beachy, cultural or clubhopping and then select from one of the neighbourhoods below.
Split Travel Planner
Where to Stay

Accommodation
An
accommodation overview.

Neighbourhoods
Veli Varos
Bacvice
Old Town
Ferry Port
Airport

Hotels in Split
Five-star
Four-star
Three-star
Two-star
&
Hostels

Private Accommodation in Split
What's available and what's best from guesthouses to hostels.
What to See & Do

Sights
Museums and galleries plus
one day in Split
markets
beaches
Diocletian's Palace
Marjan Hill
Walking tour &     map
Jewish Heritage in Split

Festivals
Experience local life at local festivals or at the annual
Croatia Boat Show.

Private guide
Transport

Getting to Split

Getting Around
taxis, buses, car rental and an orientation video of Split harbour

Local Bus Map
Plan local bus connections
Eating & Drinking

Restaurants
The best dining in Split

Nightlife
Bars, clubs, discos and pubs

The only guidebook you'll need.
Croatia Traveller's Dalmatia: Split to Dubrovnik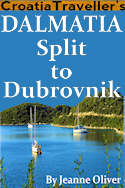 Get it now on


Solta Island
Closest to Split

Makarska
A scenic coastal port.

Brela
Stunning beaches

Baska Voda
Tranquil beach resort

Omis

A former pirate's lair.

Brac Island
Zlatni Rat beach

Trogir
World Heritage Site

Hvar Island
Gorgeous and chic

Salona
Fascinating Roman Ruins
Get Psyched! Read about Split history; look at photos of Split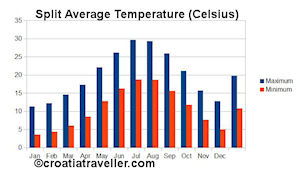 Average Precipitation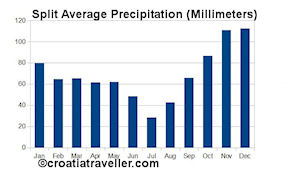 *New in 2022*
Hotel Civta
This new four-star hotel is in charming Veli Varos, just steps from the old town. With a swimming pool, hot tub, plushly decorated rooms and balconies with a sea view, guests are cushioned in comfort. Read reviews and book.
Museum of Senses
This unusual museum will enchant kids of all ages. 50 interactive exhibits challenge all five senses--sight, sound, touch, smell and balance--while imparting bits and pieces of local culture and history. See the website for details.
Game of Thrones Museum
Game of Thrones fans ready for another go at dragons and Valerian steel will enjoy the 100 exhibits arranged in five rooms here. Scents, dim lighting and soft music set a mood where the plastic replicas almost seem real. It's at Bosanska 9 and admission is €7. The museum is open daily 9am-10pm.

Tourist Information in Split
The Split tourist office (tel 021-342 606) distributes a variety of useful brochures and a city map. Offices are:
on Peristyle, in the centre of Diocletian's Palace;
on Riva at Obala Hrvatskog narodnog preporoda 9
in Slatine at Duboke garme bb
in Stobrec at Sv. Lovre 4
Last updated February 28, 2023