Planning a holiday in Croatia? Bewildered by the possibilities? Need the best itinerary?
I'd be happy to help you sort it all out. I've planned dozens of Croatia trips (including my own) and I love helping travellers get the most from their Croatia vacation. Sometimes a quick phone call (my expense) is all it takes to guide you into making the best decisions for your holiday.
Also, your information is completely protected (unlike other websites). Neither your name, email or travel query will ever be posted, traded, sold or used in any way.
Why Get a Professional Consultation?
So what can I do for you?
ANSWER PRACTICAL QUESTIONS such as . . .
HELP PLAN YOUR ITINERARY such as

Coming up with the best itinerary for you considering your interests, budget and allotted time

Reviewing an itinerary you've planned to see if it's "doable"

Devising the perfect itinerary for honeymooners
SAVE YOU MONEY by
     working out an itinerary using public transport
     recommending the best value places to stay to get the most from your budget
You may spend several thousand dollars, pounds or euros on your Croatia trip. Isn't it worth a little extra just to make sure that you're getting as much enjoyment as you can from your time and budget? An island holiday in Croatia can be especially challenging because of the complex network of ferries connecting the islands and the coast. I can quickly review your itinerary to make sure it will work out or plan a custom itinerary just for you. You could spend hours sorting through the internet, questioning travel agents who have never visited Croatia or go directly to the expert!  
free consultation
If you just have a few quick questions or a short itinerary that you'd like to know if it's workable, join Croatia Traveller's Facebook group where I personally answer all Croatia travel questions.
paid consultation
In a paid consultation you get detailed, personal advice on your travel plans. I'm happy to call you (your convenience, my expense) and discuss your arrangements with you personally.
My fee is US$120 per hour, US$85 for 45 minutes and US$65 for 30 minutes which is the minimum. Practical questions and short itineraries can usually be answered in 30 minutes. Detailed itinerary planning generally runs from 45 minutes to an hour. You can pay by PayPal, Visa or Mastercard. See more.
How does it Work?
1) with the general nature of your inquiry
2) I examine your email and send you a free estimate.
3) You return to this page and follow the easy steps to paying through Visa, Mastercard or PayPal.
4) I am automatically notified and will email you with my initial feedback and we proceed from there. We can proceed by email or we can arrange a convenient time for me to telephone you (Europe, UK and North America only) at no extra charge.
I am so confident you will be satisfied with your consultation that I offer a MONEY BACK GUARANTEE. That's right! Satisfaction guaranteed or your money back!
Payment
Pay via PayPal or use your Visa or Mastercard (PayPal will guarantee the transaction even if you don't have a PayPal account) It's fast, easy and secure. All payments are encrypted for your protection. Paypal handles the entire transaction; I do not have access to your credit card information and will not send you unsolicited email (see the Croatia Traveller privacy policy).
Get a quick 30-minute consultation!
$65
Get an even better 45-minute consultation!
$85
Get a more detailed one-hour consultation!
$120
Testimonials!
We'd never been to Croatia before we arranged this trip but fortunately Jeanne was there to help us with the itinerary, sightseeing, restaurant and hotel suggestions. Her consultation service was great and helped make our stay a success!"
"Jeanne's online travel consultation service was very useful to me. . .We also found that Jeanne's information provided through her online consultation service along with the Lonely Planet Croatia guide was extremely accurate".
"Jeanne, thank you so very much for your all your assistance, it was your experience that gave us the opportunity to plan the wonderful trip we had.  I have since coming home recommended your service to all of the many people who have asked how we planned it & hope that they too have asked for your help."
Lorraine & Rob from Australia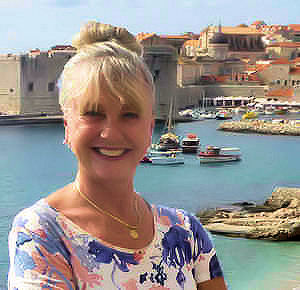 Your Croatia travel planner. Read more.
Recommended Tours
More from Croatia Traveller
©CroatiaTraveller 2005-2022 All rights reserved