Zany Zadar is where the modern and the ancient collide in happy confusion to create one of Dalmatia's most dynamic and exciting towns. Its central location and an international airport have made Zadar a popular gateway to Croatia but it's more than just a place to pass through. Zadar is a place to explore Roman ruins and Venetian architecture, marvel at a solar-powered light show, enjoy fine dining and watch a spectacular sunset to the soothing sounds of the sea.
[Check out 22 Amazing Things to Do in Zadar]
Zadar's historical centre is crammed on to a narrow peninsula. It's fascinating to explore. Wandering the streets is like peeling back layers of time until you end up in the 9th century BC in ancient Illyria which is where Zadar's story started. The old town is paved with gleaming white stone and the straight streets were first laid out by the Romans.
[Ponder the grandeur that was Rome in Zadar's Roman ruins]
Long part of the Republic of Venice, Zadar's Venetian built defensive walls are now a world heritage site. More recently, the Sea Organ and Greeting to the Sun are highly original art installations that have gained worldwide renown.
Get out of town for a day trip and you'll find an array of national parks within easy reach, including Plitvice Lakes, the Kornati Islands and Krka Waterfalls.
Or, stay in town and relax at one of Zadar's beaches.
[Check out Zadar on a map of Croatia]
Orientation & map
The old town lies on a peninsula bounded by roads running along two quays. The southwestern quay, Riva, is a delightful pedestrian promenade while the busy northeastern quay is the Old Port where passenger ferries and the Ancona-Zadar car ferry dock. Beyond medieval Zadar lies the economic heart of the city as postwar housing, industrial parks and commercial zones sprawl outward to the suburbs.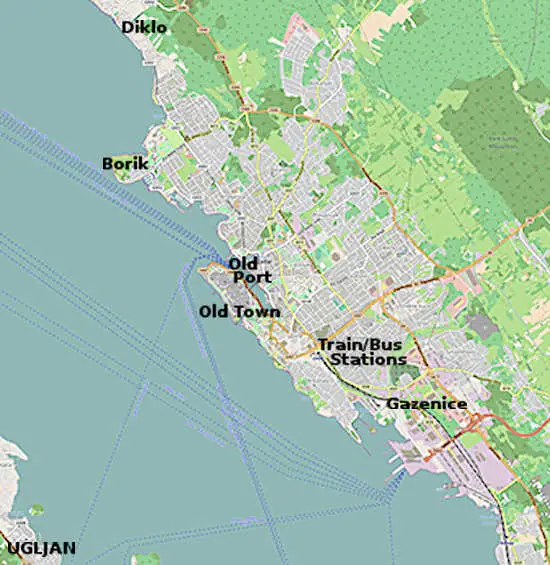 About 6km to the northwest lies the wooded beach suburbs of Diklo and Boric which have been developed into a tourist and residential zone replete with hotels, private accommodation and a hostel. (see more on Zadar accommodation) About 1 km southeast of the medieval centre lie the bus and train stations. The new car ferry/cruise port is at Gazenice, 3km southeast of the old town.
Zadar was conquered by the Romans and became the colony of Iadera. Later the Venetians moved in but the port city was repeatedly attacked by the Turks. Venetian rule passed to the Austrians in the 18th century and then to Italy until 1943 when the Germans moved in. Allied bombing destroyed much of the historic centre which was rebuilt after the war only to suffer more attacks by Yugoslav forces in 1991. Read more Zadar history
Zadar's top highlights are:
Roman ruins: columns and a "pillar of shame" from its days as a Roman colony;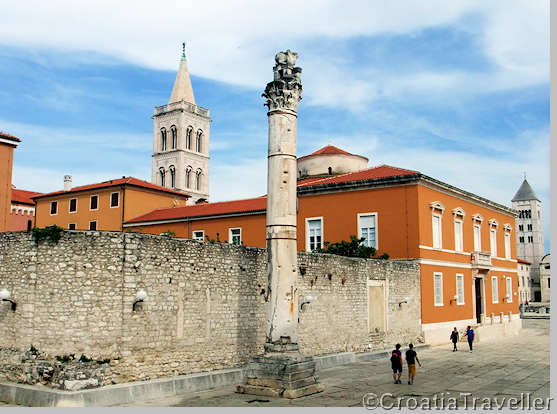 St Donat church: a Byzantine style church that dates from the 9th century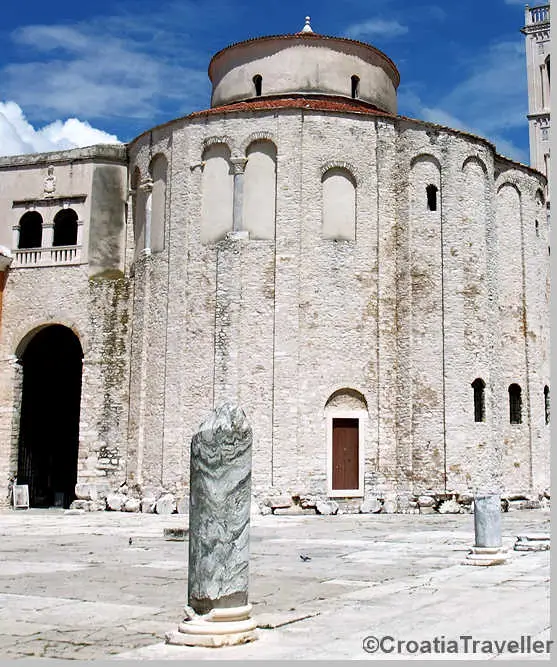 Sea Organ: a structure that transforms waves into mournful melodies through a system of pipes and whistles.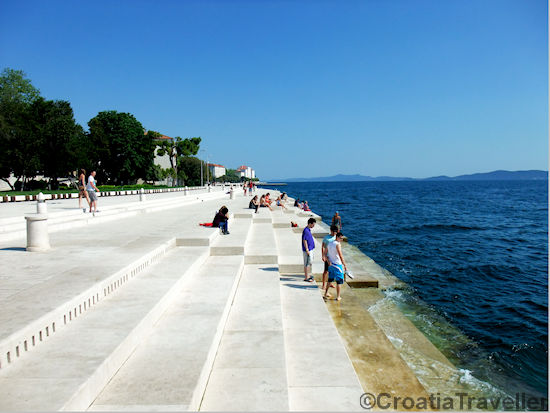 Greeting to the Sun: a circle of glass that captures the daylight through solar cells and emits it at night to produce a spectacular light show.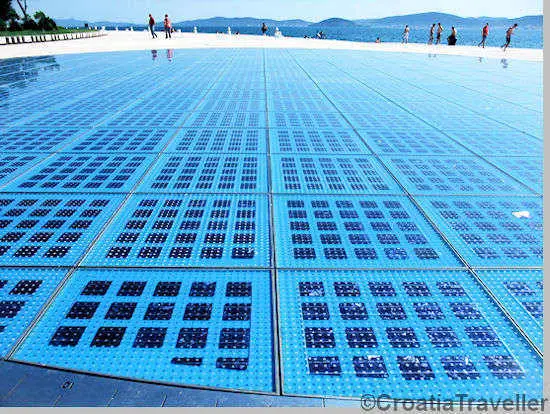 Venetian walls: a defensive system of forts and bastions recently named a World Heritage Site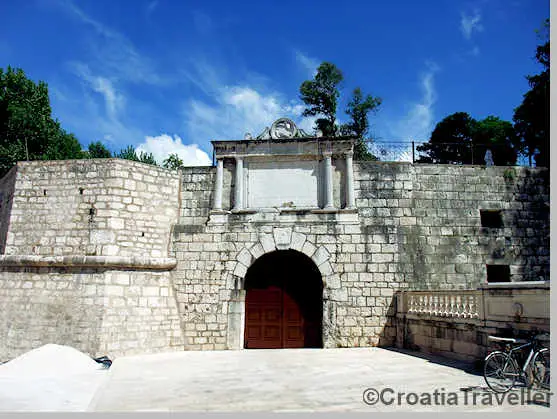 Museum of Church Art: a priceless collection of gold, silver, paintings and sculpture from Zadar's days of wealth and power.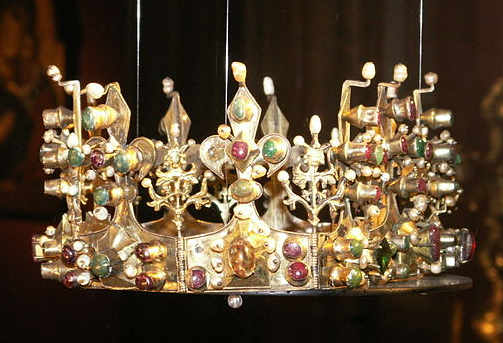 Glass Museum: More than 2000 objects, mostly from the Roman era, located in the stately 19th-century Cosmacendi Palace.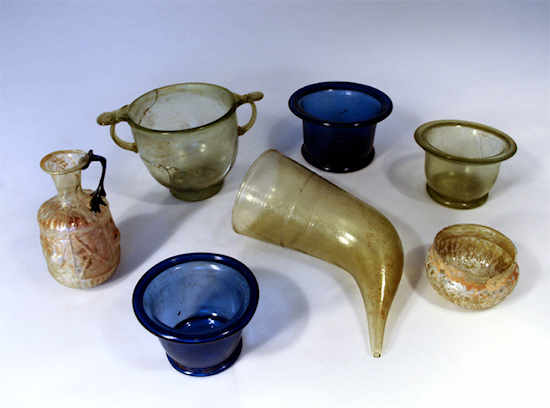 [See all Zadar sights and follow a walking tour]
In recent years Zadar has undergone a startling revival. Cafes and bars are filled, museums and churches have been restored and tourists are pouring in to take advantage of the beaches, bars, restaurants and cultural offerings. Not only is Zadar one of the Adriatic's most historically interesting towns but it lies within driving distance of four national parks: Plitvice Lakes, Krka Waterfalls, Paklenica and Northern Velebit, plus there are boat excursions to the Kornati Islands National Park. There are also the large islands of Pag and Dugi Otok to visit as well as an archipelago of smaller islands such as Ugljan, Pasman, Molat and Premuda.
Experience Zadar at night. Make the effort. It's easy to wander from cocktails to dinner to after-dinner drinks to a nightclub, all within the Old Town. You'll be glad you did.
Festivals and Events
Zadar Dreams: beginning of August
The Zadar Dreams (Zadar Snova) festival brings contemporary theatre to the streets of Zadar. Focusing on the exciting and cutting edge, this festival attracts companies from around Europe. See Zadar Snova Facebook page.
Full Moon Festival July
The night of the midsummer moon brings the Full Moon Festival when the quays are lit by candelight and filled with music, dancing and stalls selling local treats.
Video
I took the following video as I was leaving Zadar one morning in April. The Jadrolinija ferry I was taking to Mali Losinj only ran once a week and it was packed. I started filming while we waited for the heavily-laden trucks and cars to lumber aboard and finished just as we were leaving the port. The view that you see is of the northeastern walls that border Jazine Bay, the body of water that separates the peninsula containing Zadar's Old Town from the greater metropolitan area. You'll see the bell tower of Zadar's cathedral as well as a series of Jadrolinija ferries!
Getting to Zadar
To see it all, rent a car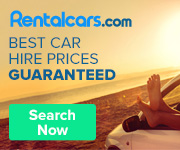 Compare rates 783 companies
Flights: Croatia Airlines connects Zadar with Zagreb daily, Ryanair has a base at Zadar airport, and there are direct international flights to Zadar in the summer. More.
Buses: Zadar is well-connected with every Croatian town with frequent, convenient and cheap buses that can now be booked online at Bookaway. More about taking buses to Zadar.
Ferries: Getting to Zadar from Italy is easy on the Ancona-Zadar ferry but it only runs in the summer. From other towns in Croatia, not so much. More.
Trains: The Zagreb-Zadar connection has fallen into disuse now that a major motorway connects the two cities. Buses are much, much faster. More.
Driving: Major motorways make Zadar an easy two-hour drive from Zagreb or Split. More.
Check out all ways of getting to Zadar
[See how to work Zadar into your Croatia itinerary]
Zadar Travel Planner
Where to Stay
Accommodation
There's one excellent hotel and a number of private rooms and apartments in Zadar's Old Town.
What to See & Do
Top Sights
Museums, galleries, monuments, churches;
Sea Organ
Greeting to the Sun
Roman Ruins
St Donat Church
Museum of Church Art
Venetian Walls
Beaches
Things to Do in Zadar
Day Trips
Four national parks, islands and beaches--all within easy reach.
Transport
Getting Around
taxis, buses,car rental & a Zadar street map and a Zadar bus map.

Eating & Drinking
Restaurants
The best dining in Zadar
Nightlife
Bars, clubs, discos and pubs
Tourist Information in Zadar
The Zadar tourist office (tel 023-316 166) is in the town centre at Mihe Klaica 5.
Last Updated: February 28, 2023