What is the best season to visit Croatia? It depends on what you want to do, of course, but for most purposes the best time to visit is in late spring or early autumn followed by summer and, lastly, winter. July and August are the most exciting times to visit as the weather is beach-perfect and the festival season is in full swing. Summer crowds can put people off however. The absolute best time to visit Croatia--when crowds are smaller, the weather is ideal and ferries to the islands are still frequent- is May, June or September.
Table of Contents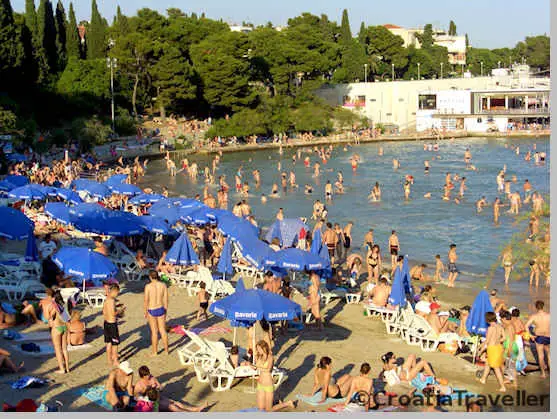 In April and October it may be too chilly for the beach but it's perfect for outdoor activities like hiking or cycling. Plus, locals are either preparing for or recuperating from the summer season and more likely to be relaxed and welcoming. It's also the best time to visit Dubrovnik and Plitvice Lakes as crowds are substantially smaller.
December is all about snow sports and Christmas markets while February rings in Carnival season.
Seasonal Guide
Concerned about flight chaos?
Travel insurance brings peace of mind
.
Find out more
Generally Easter marks the opening of Croatia's spring season. On the long Easter weekend, lots of Croatians from the interior head to the coast and islands for a little foretaste of summer even though it's much too cold to swim. Dubrovnik, Pula and Hvar Island are favorites among Croatians, Italians and Slovenes for long weekends in March, April and May. While hotels in those places can get busy, hotels in most of the other islands, especially in the Kvarner region, remain closed. Private accommodation is also scarcer.
Early spring is a great time to visit Plitvice Lakes National Park as the lakes and waterfalls are swollen with melting winter snow and there are fewer visitors. In fact, it's a fine time to visit most of Croatia's spectacular national parks. Be prepared for unpredictable weather though. Pack a raincoat!
As the days grow warmer and longer in late spring, the season becomes the best time to visit the Croatian coast and islands. By mid-May southern Dalmatia can be pleasantly warm. You won't be alone but you also won't have reached the point where tourists outnumber natives on Croatian islands! Plus, hotels haven't yet jacked up their prices for the peak summer season.
The main disadvantage of travelling Croatia in the spring is that car and passenger ferries start their summer services only at the end of May which can complicate planning. Fortunately, the Krilo company does start a passenger ferry to the islands in mid-April.
[See a list of island ferries with schedules]
Zagreb in spring is really a sight to behold as the city's parks are abloom with flowers. Nightlife is great and there are number of cultural festivals.
Come to Croatia in summer and you'll enter into the whirlwind of the tourist season. The season reaches its peak the last three weeks of July and the first three weeks of August. Hotel prices are at their highest point then and vacancies are at the lowest level no matter where you go. If you can manage to go in June however, you'll find Croatia sunny, warm and busy enough but not yet in mad-summer mode.
Summer can be exciting because there's a lot going on. Nightlife along the coast is at its most frenzied whether you're a clubber or a concert-goer. Music festivals animate the streets of Dubrovnik and other coastal towns in July and August. Only Zagreb slumbers. Everyone has headed to the coast!
Summer is the sunniest and driest season along the coast which means you're unlikely to be stymied by a rainy day. Your main concern will be avoiding a major sunburn.
The crush of tourists can make a summertime visit to one of Croatia's more popular places less than pleasant. Croatia is no longer an undiscovered destination. The narrow streets of Dubrovnik or Hvar Town can be elbow-to-elbow with visitors licking ice cream cones and snapping pictures. Taking a car onto a ferry means reserving in advance and then waiting in line for hours. For a more authentic and relaxing experience consider staying in one of the lesser-known destinations. Consider Cres Island, Vis Island, Lastovo Island, Orebic or Ston on the Peljesac peninsula.
[Naturally, you want to check Croatia's weather and climate before you plan a trip.]
September and October are beautiful months to visit Croatia. The tourist crush has lightened somewhat (although September can still be busy), the weather is mild rather than scorchingly hot and the sea is still warm enough for swimming--at least through mid-October. Autumn colors in Plitvice Lakes are an unforgettable sight.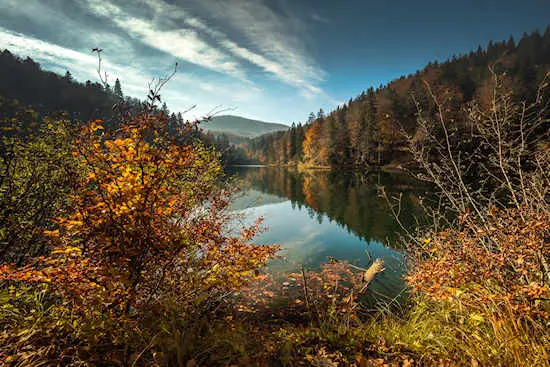 courtesy Plitvice National Park
Hotels are open, excursions are running and local ferries are on the summer schedule (i.e. more frequent) until the end of September.
Travelling to Croatia in autumn is also easy on the budget as hotel prices start their six-month decline in September. Car ferries are also a little cheaper starting in October. You'll have more flexibility in arranging accommodation and car rental as you'll have less competition for rooms and vehicles. Weather is generally good although from mid-October on you could encounter sudden downpours.
By mid-November shortening daylight hours can limit sightseeing and many hotels start their winter hibernation. The cooler temperatures mean that beaches, swimming and sunbathing will probably not be your first priorities.
Early autumn destinations include every place you would want to visit in the summer--the islands, the Istrian and Dalmatian coasts, Dubrovnik-- plus Croatia's great cities: Zagreb, Split and Zadar, now with temperatures moderate enough to make sightseeing a pleasure.
Good late autumn destinations in Croatia include the interior of Istria, the national parks and cities such as Zagreb, and Split that offer a vibrant cultural life where you can always duck into a museum if the weather turns nasty. Bear in mind that ferry companies change schedules at the beginning of October leaving far fewer boats out to the islands.
Winter in Croatia has two faces. Along the Adriatic coast, the mild but rainy weather keeps the beaches empty and resorts closed. The interior can be brutally cold but it's good for appreciating snowy hills and white-capped mountains, especially if you ski. Croatians take their Catholic holidays seriously so Christmas in December and Carnival in February can be great for participating in local fests. And New Years Eve in Dubrovnik can get January off to a rollicking start.
There are fewer hotels open in winter, especially in outlying islands and smaller resorts but those that are open are much cheaper. Croatia's islands can be lonely indeed as seasonal workers head home. Winter can be a great time to try a spa vacation replete with massages, saunas, mud baths etc. in one of Croatia's luxury hotel spas.  The prices can be much cheaper.
Don't expect great deals in Zagreb or Split though, as professional road warriors keep the hotels busy.

Which Month to Visit Croatia
Check the month-by-month guide below for weather, holidays, festivals, events and general advice.
January
Brrrr.  Continental Croatia is nippy indeed and the coast, while often sunny and pleasant, is not exactly swimmably warm. Head to Zagreb and bring your skis! More.
February
It's still cold in most of Croatia but the energy level is definitely picking up. The biggest event is Carnival which is celebrated with enthusiasm throughout Croatia. Most Croatians will head to Rijeka, Samobor or Lastovo which are known for their Carnival festivities. St Blaise's Day in Dubrovnik is also a stellar event that takes place at the beginning of the month. More.
March 
It's good outdoors weather along the Adriatic coast and, depending on the calendar, there are the festivities around Easter or Palm Sunday. It's a great month to visit Dubrovnik as the city is much less crowded. More.
April
Spring is here at last. The snows have melted, flowers are budding and it's time to celebrate St George's Day, a festival of harvests and fertility. Ferries start to run more frequently to the islands which are beginning their preparations for the tourist season. More.
May
The days are getting long and increasingly sunny. The tourist season is gearing up but is not yet in full swing which makes it an ideal time to experience local life. Spring Break in Zrce out side Novalja on Pag island gets the party season going. More.
June
We're in prime coastal and island-hopping season now and there are plenty of exciting cultural events. Check out the Salsa Festival in Rovinj, the Festival of Popular Music in Split and the Lavender Festival in Hvar. More.
July
The tourist season is in full swing now as coastal resorts fill up and excursion boats leave the docks groaning with passengers. Don't miss the prestigious Summer Festival in Dubrovnik and the St Donat Evenings in Zadar. More.
August
August is still peak tourist season. The month begins with an important national holiday and the exciting Full Moon Festival in Zadar. Or perhaps watch the fighting knights in Sinj? More.
September
The tide of tourists is starting to recede which leaves the resorts quieter, if not completely empty. It's still beach weather though, especially at the beginning of the month. Major cultural events include the Varazdin Baroque Evenings and the Outlook Festival in Pula. More.
October
The weather is turning cooler but it's often still possible to swim in southern Dalmatia and tourists are few and far between. The two biggest events are Istrian Truffle Days, the Zagreb Film Festival and Restaurant Week. More.
November
Life has now returned to normal along the coast which can be blustery in November. Bring rain gear. After paying respects to the departed on All Saints Day, raise a glass to St Martin on his name day which has turned into a wine celebration. More.
December
The mood has swung away from tourism and toward Christmas preparations. The Advent market in Zagreb is a must. More.