The vast majority of Croatia's millions of visitors come to take in the sun 'n sea on one of the beaches in Croatia. And they're not disappointed. Croatians also love their coastline and manage it well, ensuring that there's no shortage of spots to throw down a towel or rent a lounge chair for a day.
According to law, the entire coastline and its beaches are open to the public. As a practical matter, the government grants concessions to private enterprises such as bars, restaurants and hotels who rent out beach equipment. Although they are not supposed to exclude non-paying guests, some attempt to do so in the high season.
[Check out the best beach clubs in Croatia]
Very few Croatian beaches are sandy. Most often you'll nest in a private little cove between high rocks or stretch out on a sun-warmed gravel crescent bordered by pines. In general, Istrian beaches are rockiest while the coastline between Split and Dubrovnik has the longest and widest gravel beaches. Water shoes are essential.
Here is my highly personal list of Croatia's best beaches (see a photo gallery of Croatian beaches):
Brela Beach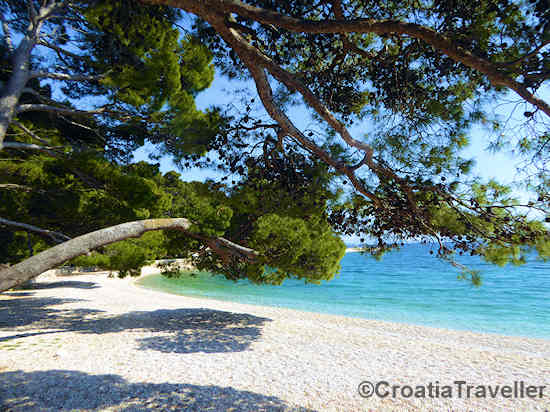 Along the Makarska coast, south of Split in the town of
Brela
, lies a full six kilometres of pebbly beach forming itself into private coves and backed by shady pine trees. Forbes magazine recently put it in the top 20 beaches of the world but it's number one with me.
Find out more about Brela Beach.
Zlatni Rat Beach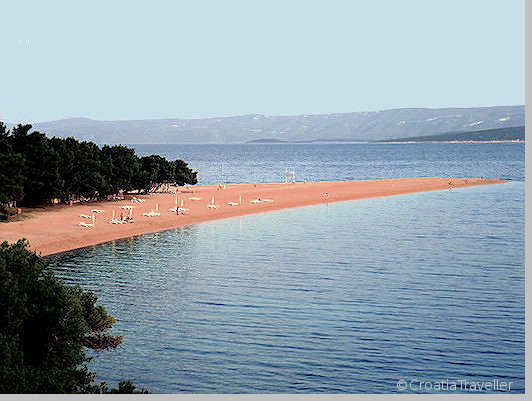 On Brac island near Bol,photos of this unusual thumb-shaped gravel beach lie in almost every Croatian travel brochure. It's most strange to stand on the tip, turn around and see the water behind you. Find out more about Zlatni Rat beach.
Baska Beach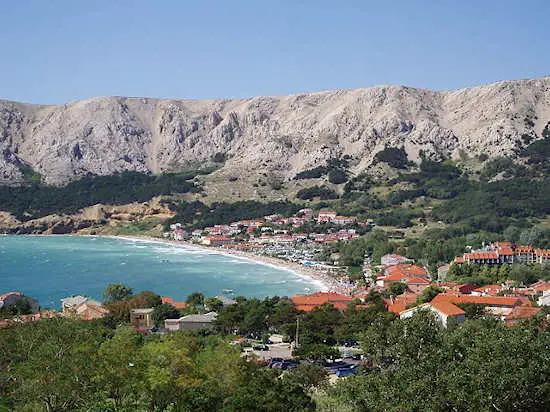 wikicommons cc license
On Krk island, Baska is a long stretch of pebbly beach. Framed by barren mountains that constantly change colour with the sunlight, the setting is dramatic. The tempo is busy-busy with tourists starting in spring. Find out more about Krk Island.
Sunj Beach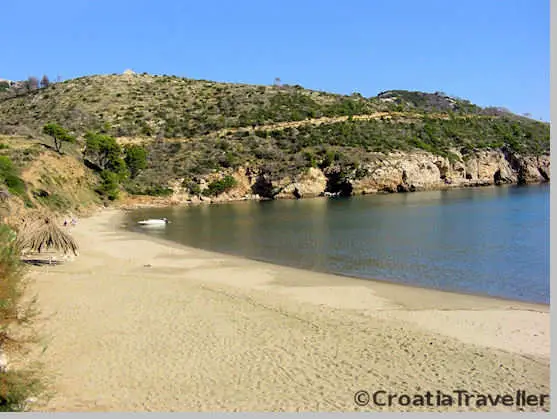 Just a short boat ride from Dubrovnik, the tiny island of Lopud boasts gorgeous Sunj Beach. It's wide, sandy and accessible only by foot or boat. Find out more about Sunj Beach.
Saplunara Beach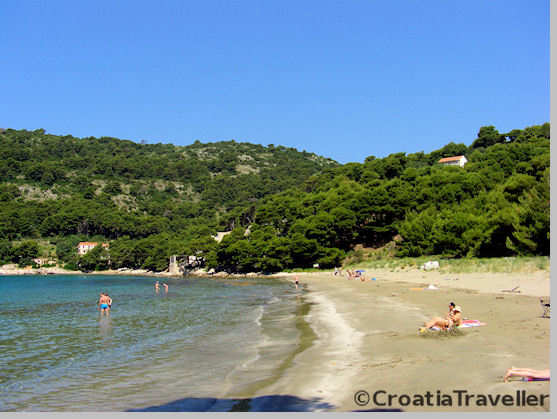 In the most untouristed part of Mljet Island likes this idyllic beach of fine sand and gently lapping waves. And, it's easily reachable from Dubrovnik. Find out more about Saplunara.
Paradise Beach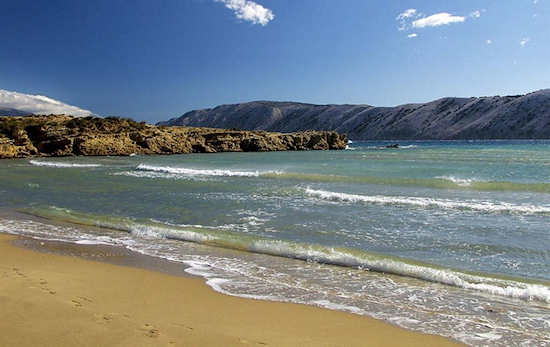 Near
Lopar
on
Rab island
, are a full
22 sandy beaches.
The longest and most spectacular is Paradise Beach, site of Croatia's first
naturist camp.
Find out more about Paradise Beach
.
Trstenica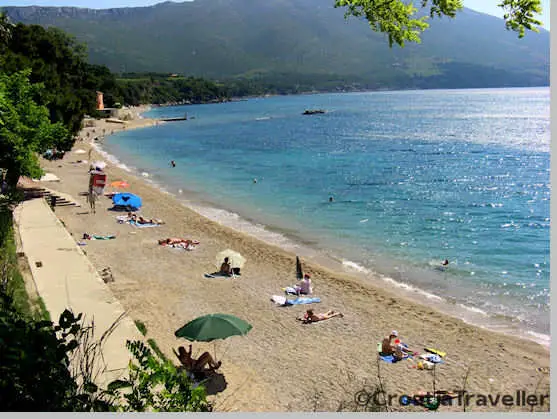 On Peljesac peninsula, near Orebic, Trstenica is a lovely wide, pine-fringed gravel beach that is refreshingly free of crowds most of the time. Plus, it's an easy hop from Korcula Island. Find out more about Trstenica beach.
Zrce Beach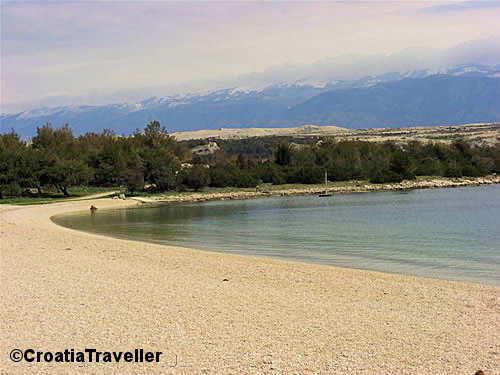 At night, Zrce beach in Novalja on Pag Island is famed throughout Europe for its sizzling dance parties. During the day however, all is calm and quiet on this shallow cove. Find out more about Zrce Beach.
Baska Voda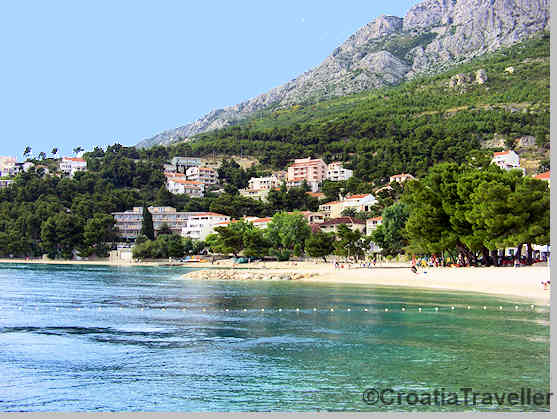 Just a short hop from Split and right next to Brela, Baska Voda is a fetching little whitewashed village bordered by several kilometres of pebble beaches backed by high mountains. Read more about Baska Voda.
Cikat Beach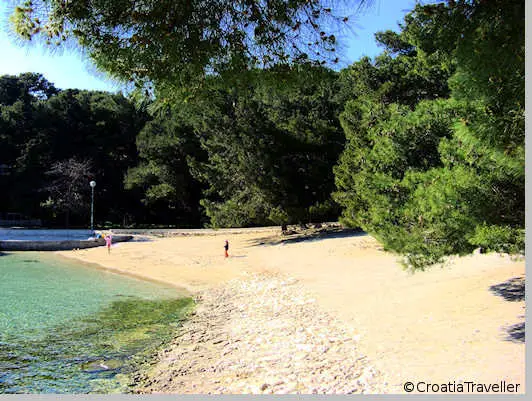 Right on Cikat Bay in Mali Losinj, the sandy and gravel beaches here are backed by a pine forest and linked by a coastal walk. Find out more about Cikat Beach.