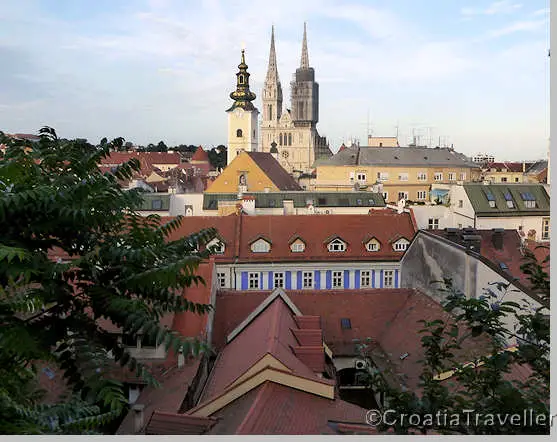 Zagreb is Croatia's capital city and deserves far more attention than it gets. Often ignored as tourists make a beeline for the coast, Zagreb is an exciting and dynamic city with a wealth of museums, restaurants and nightlife (see Zagreb on a map). It's also becoming one of Europe's coolest cities offering a smorgasboard of hipster clubs, alternative music venues and quirky galleries.
[See 22 Amazing Things to Do in Zagreb]
For a large city (population: 780,000), Zagreb's centre is surprisingly low key, maybe because much of the commercial district is closed to traffic. For years I couldn't pin down why I found Zagreb so agreeable. Then, in 2012, an international survey conducted by Reader's Digest found that Zagreb was the fourth most polite city in the world! Don't just run down to the coast. Really. You'll be very happy to spend at least one day in Zagreb.
Orientation & Map
Lying between the southern slopes of the Medvednica Mountain and the Sava River, Zagreb covers 631 sq km but most of the city's highlights lie with the Upper Town (Gornji Grad) that includes the medieval Gradec and Kaptol neighbourhoods and the Lower Town (Donji Grad) that runs between the Upper Town and the train station.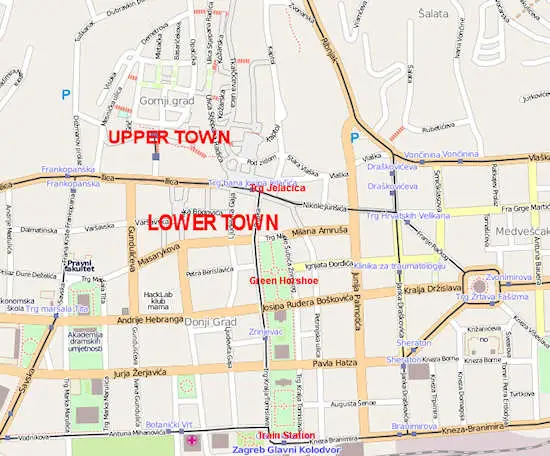 The Upper Town has delightful hilly, narrow streets with cafes, shops and bars filling the 18th-century buildings. Here you'll find the towering Zagreb cathedral, the Dolac market with a panoply of fresh, local produce and the City Museum for a glimpse of Zagreb's history.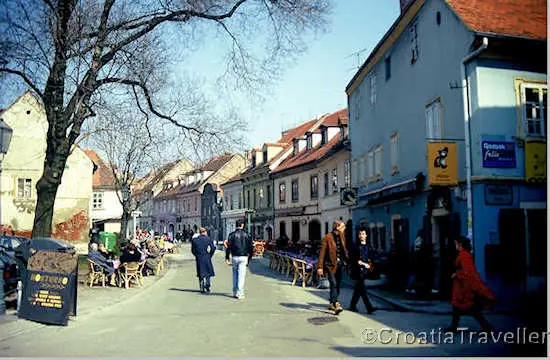 Tkalciceva Street, Upper Town
The Lower Town is more citified but the long line of parkland known as the "Green Horseshoe" that stretches from the train station to the town centre makes a nice stroll in any season. Most of Zagreb's museums are in the Lower Town, including the Strossmayer Gallery, the Mimara, and the Archaeological Museum.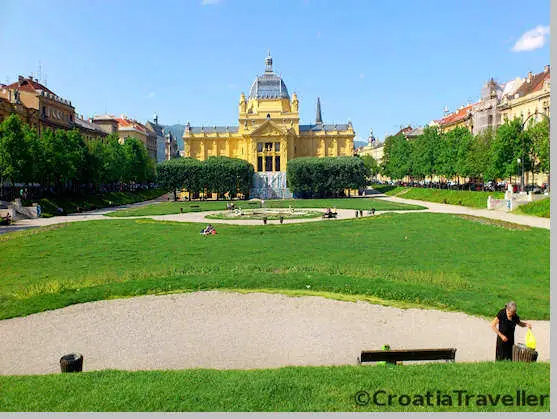 Green Horseshoe, Zagreb
Trg Jelacica is the central square that divides the Upper and Lower towns. It's the hub for Zagreb trams and a popular meeting place. Most streets in the Upper and Lower Towns are closed to traffic which makes driving difficult but brings a peaceful atmosphere to the city centre.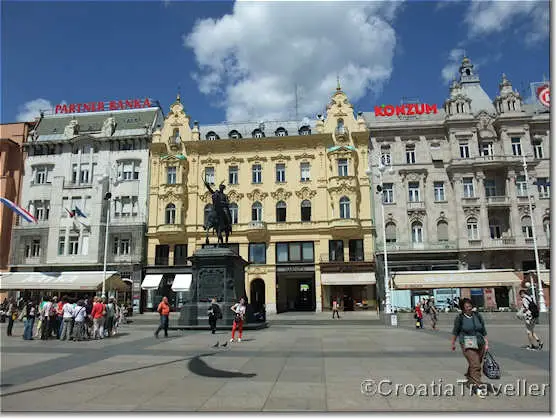 Trg Jelacica
Getting Around
Zagreb is an easy city to navigate without a car. Much of central Zagreb can be explored on foot and the public transportation system is excellent. For getting around town, the trams are most convenient; excursions out of central Zagreb are best done by bus. In nice weather, why not try biking around Zagreb?
History
The Zagreb region dates back to prehistory but the first recorded mention of Zagreb was in 1094 when the Diocese was founded on Kaptol hill. For centuries Zagreb encompassed only the two hilltop villages of Gradec and Kaptol in the Upper Town. These hilltop villages were prime targets for the Turks in the 15th and 16th centuries but never fell. The Lower Town developed later, first as a marketplace in the 17th century when the Turkish threat receded and then later settled. In the 19th century, Zagreb became the center of the Pan-Slavic movement that called for greater autonomy within the Austro-Hungarian empire. It also became prosperous through machine-building, textiles and food processing. Many of the stately buildings in the Lower Town were built during this period. Although Zagreb was far from the front lines in the Homeland War, it was shelled twice in 1995 as the war was winding down. See more on Zagreb history.
Zagreb's top highlights are:
Zagreb Cathedral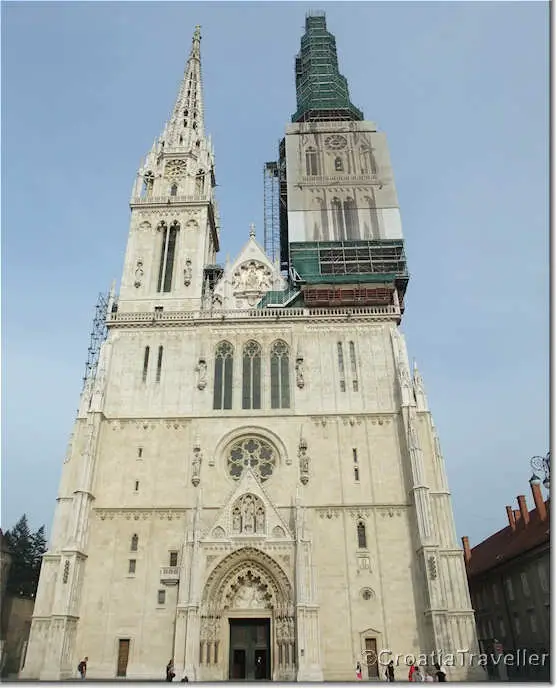 It's the largest church in Croatia and Zagreb's most visible monument. The stately interior contains several priceless works of art as well as tombs of famous Croatians.

Dolac Market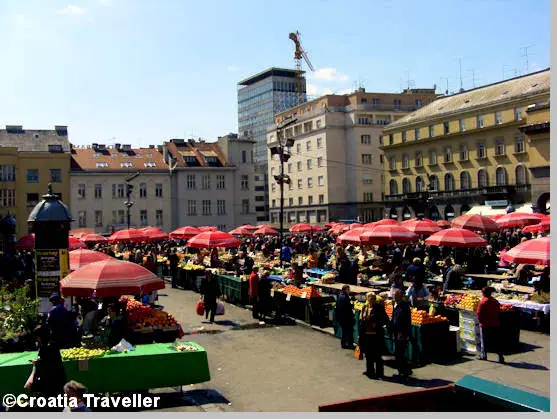 Known as the "belly of Zagreb", the array of fruits, vegetables, cheese, meat, fish, homemade honey, jelly, olive oil and liquor comes from all over Croatia.
The Medieval Upper Town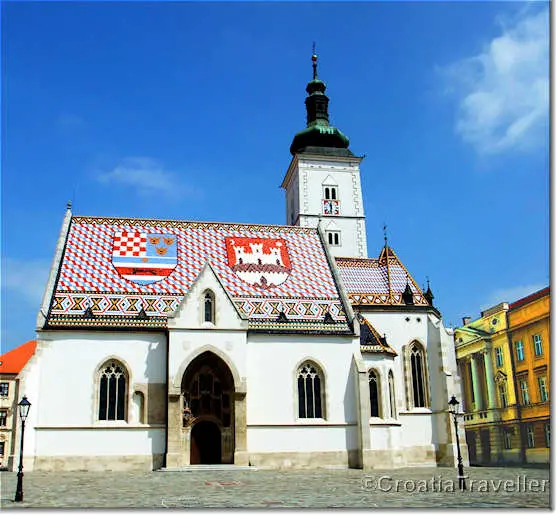 From the winding streets around Tkalciceva to the stately buildings around St Mark's church (above) the Upper Town is the place to experience Old Zagreb.
Museum of Broken Relationships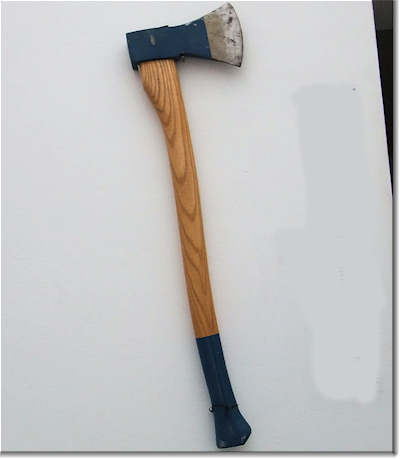 This innovative museum began in Zagreb and now has branches throughout the world. Donated objects and accompanying stories provide a moving testament to the ephemerality of love.
Zrinjevac Park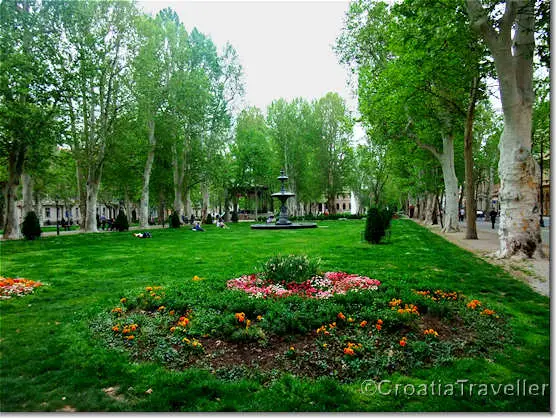 This much loved square is the northernmost park in the "green horseshoe". The rows of plane trees, carefully-tended flower beds, fountains, busts and an old-fashioned bandstand is a triumph of urban landscaping.
[See more of Zagreb's top sights]

As Croatia's capital city Zagreb attracts creative, ambitious people from around the country, ready to contribute their energy and talents. Strolling Zagreb's neighbourhoods is the best way to soak up the dynamism of the city. Many young, alternative artists and designers have opened shops and boutiques around Marticeva street in hipster Zagreb. Zagreb is very much a cafe culture and now the pedestrian zone between Trg Jelacica and Flower Square in the Lower Town is buzzing with high caffeine conversations in a strip of cafes known as Spica.
Dining in Zagreb is another pleasure. The food is excellent, prices are reasonable and hours are long. Strukli is a must whether boiled or baked, sweet or savory. Turkey with mlinci (a flatbread) is another Zagreb specialty.
And save some energy for Zagreb's dynamic nightlife. From craft beer to wine bars, raucous music clubs to quiet cocktails, Zagreb has it all.
Stay a few days and take a day trip from Zagreb. Plitvice Lakes National Park is one of Croatia's major highlights and it's easily doable on a day trip. There are also castles, spas, historical sites, the city of Varazdin and the village of Samobor to explore.
When to Go
As a living, breathing city, Zagreb has a full menu of activities and pleasures all year round. There is no "wrong season" to visit Zagreb; each season has its pleasures. Summers are rarely stifling and is a great time to enjoy Zagreb's parks. The city empties out in August however as residents head to the coast and islands. The lack of crowded trams can be refreshing but restaurants and cafes may be closed and nightlife comes to a halt. The season gears up in autumn with a full menu of concerts, exhibits and special events. As the leaves gradually turn color and the air grows cooler, Zagreb acquires a melancholy air. Freezing winter temperatures make it the ideal time to duck into a cozy coffee house and linger over hot chocolate. In spring, cafe life blossoms as everyone heads outdoors for lunch on a terrace or an after-work drink on one of the city's attractive squares.
In planning a trip to Zagreb, glance at the calendar of Zagreb's festivals and events. For big international trade shows, hotel space is at a premium and prices are high.
Getting to Zagreb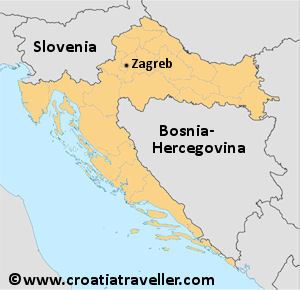 Flights
Major airlines link Zagreb to many European capitals year-round but there are a limited number of low-cost flights. Low-cost carriers tend to run flights to the coast from spring to fall. If you're travelling from Zagreb to Dubrovnik, a flight is the only reasonable alternative. From Zagreb to Split or Zadar, a bus would likely be quicker. Read more about flights to Zagreb.
Buses
There's been an explosion of cheap and comfortable international bus lines to Zagreb from a wealth of European cities. Zagreb is also a major hub for buses to other Croatian destinations. Read more about buses to Zagreb.
Trains
Zagreb's train station is a magnificent structure (at least from the outside) that recalls the days when Zagreb was a stop on the Orient Express. Zagreb is still well-linked to neighboring capitals even as buses are starting to replace trains on popular routes. Domestic connections are limited but can occasionally be useful especially for cyclists. Read more about trains to Zagreb.
Driving
A motorway connects Zagreb with Istria and the Dalmatian coast making it a breeze to drive down to Rijeka, Zadar, Sibenik and Split. My driving distance chart will help you plan your trip and you can check out my tips for driving in Croatia.
Zagreb Travel Planner
Where to Stay

Accommodation
Where to stay?

Private accommodation
What to expect from rooms and apartments in Zagreb.

What to See & Do

Sights
Top Sights and Suggested itineraries one, two days

Shopping
What to buy and where to buy it.
Transport

Getting to Zagreb
Eating & Drinking

Restaurants
The best dining in Zagreb

Nightlife
Bars, pubs, dance and live music.
Discover Zagreb
with
Zagreb and Plitvice Lakes on your Kindle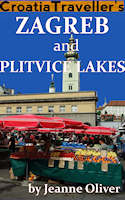 Around Zagreb

Day Trips
An overview of trips and tours from Zagreb.

Plitvice Lakes
Europe's most spectacular waterfalls park.

Samobor
So fetching and such good food.

Varazdin
For the baroque architecture.

Karlovac
Great for kayaking, rafting and other river sports.
Monthly Temperature & Precipitation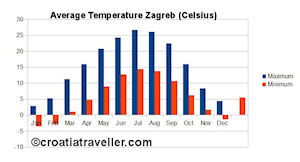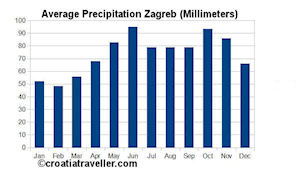 Tourist Information in Zagreb
Zagreb's tourist office (tel 01-48 14 051) has a main branch right on Zagreb's central Trg Jelacica and an annex (tel 01-49 21 645) near the train station at Zrinsko 14.
The offices are open long hours and are extremely helpful. Look for the free monthly booklet Events and Performances which includes museum opening hours, special events and excursion ideas.
Video
Whenever I visit Zagreb, one of my first stops is to linger over a coffee on Tkalciceva (pronounced Tkal-chee-tseva) street. This meandering street in Zagreb's Upper Town is chock full of cozy cafes, hip clubs and reasonably-priced restaurants. This video gives an idea of Tkalciceva's daytime charm but at night the street becomes even livelier as the night bars and cafes fill up.