Get Started
About Croatia
Essentials
Croatia Map
Croatia Photos
Guidebooks
When to Go
Top Sights
Accommodation
Transport
Car Rental
Croatia Ferries
Money
Adventure
Sailing
Cruises
Tours
Itineraries
Special Interests
Dalmatia

Dubrovnik

Islands

Istria

Kvarner
Split
Zadar
Zagreb
News Blog
Newsletter
Traveller Tips
About Me

Advertising
Trip Planning
Contact
Privacy Policy

Search Site
Site Index
Last Minute? No problem!
Get great deals on:
Holidays
from TUI
Accommodation
from booking.com
Car Rentals
from rentalcars.com
Cruises & Tours
from Viator
Top
Destinations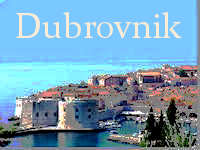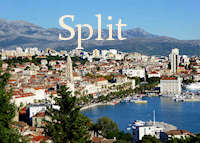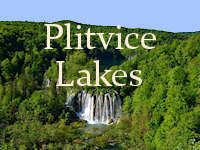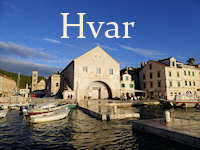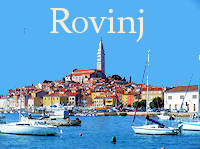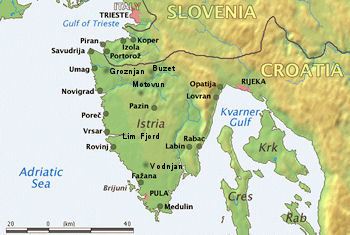 Click on a destination for more information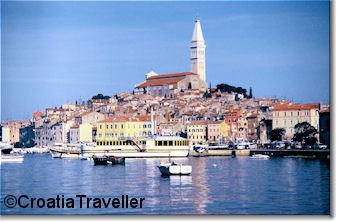 Rovinj: most appealing. More Istria photos
Istria is one of Croatia's most enchanting regions ready to delight everyone from beach bums to history buffs, foodies to cyclists, winelovers to rock climbers. The long, indented coastline is dotted with beaches, a drowned valley, and fascinating coastal towns such as Rovinj, Pula and Porec. From there it's easy to explore the hill villages of Motovun, Groznjan, Buzet, Bale and Buje deep in Istria's rolling interior. (Work it out on this suggested Best of Istria itinerary). But Istria is more than just sightseeing. The easygoing Istrian lifestyle is defined by fine restaurants and a culture heavily influenced by neighboring Italy with whom Istrian history is deeply intertwined.
There's a startling array of cultural attractions on offer. The Roman amphitheatre in Pula vividly evokes the days of gladiators and circuses; the 5th-century mosaics in Porec make the Euphrasian basilica a Unesco World Heritage Sight; the hilly old town of Rovinj charms the eye with reminders of Venice and don't forget the hill villages of Motovun and Groznjan. See the top highlights of Istria.
Geography
Bordered on the north by Slovenia and to the east by the Kvarner Gulf, Istria covers 3160 sq kilometres edged by 430km of coastline. The northern part of the Istrian peninsula covers the Slovenian resorts of Piran, Portoroz and Koper. The eastern resorts of Opatija and Lovran are considered part of the Kvarner Gulf even though they are technically part of the Istrian peninsula.
About one third of the Istrian territory is forested and the rest is carpeted with vineyards, olive trees, pastures and orchards. The rolling hills are topped with walled hill villages (such as Motovun, Buzet and Groznjan) that offer sweeping views of the countryside. No wonder travel writers can't decide whether Istria is the "new Tuscany" or the "new Provence"!
Lifestyle
It's not just the mild, sunny climate and easy-going way of life that invites comparison to the best Mediterranean destinations, it's also the devotion to fine eating that bewitches visitors. Istrian cuisine offers some of the best dining in Croatia, especially for fish, smoked meat and truffles. Istria's long culinary tradition is heavily influenced by Italy which is one reason why Italians flock to Istria for their summer holidays. Read more about Istrian cuisine and check out Istria's best restaurants.
Naturally, most people start in gateway cities like Pula, Porec and Rovinj but there are a multitude of fascinating destinations in Istria. See a complete list of Istrian destinations or check out recommended Istria itineraries.
Accommodation
Naturally Istrian accommodation is most expensive on the coast but quite reasonable inland. The best hotels in Istria include several amazing spa-resorts in Rovinj, Umag and Savudrija but Pula does nicely for itself with excellent four-star resorts on the Verudela peninsula. The Istrian countryside offers everything from boutique hotels to charming inns, villas and guesthouses.
There are easy passenger ferry connections from Venice to Pula, Rovinj, Porec and Umag that run from around April to October. It's fast and comfortable.
Pula is a major gateway for international flights. Car and passenger ferries heading south to Dalmatia are spotty however. Check Jadrolinija for a passenger ferry linking Pula with Mali Losinj and Zadar.
To see it all, rent a car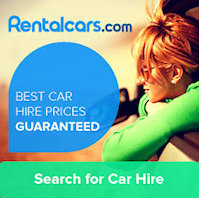 Compare rates 783 companies
Bus connections are excellent between Istrian coastal towns and you can easily reserve online at Autotrans. Between villages and towns, not so much. To explore the Istrian back country, you need to have wheels. More on getting around Istria.
Tourist Information in Istria
The Istria tourist association (tel 052-452 797) is at Pionirska 1, Porec and generates mountains of useful brochures. Cyclists will appreciate the free guides, maps and routes.
Average Temperature & Precipitation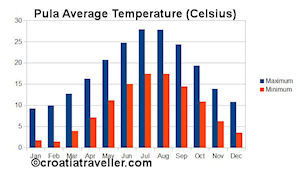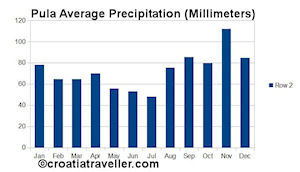 Istria Travel Planner
Istria Inspiration
History
There's a lot of it.
Autumn in Croatia: Top Ten Trip Ideas
09/14/2016

Autumn is a wonderful time to participate in local life and experience the Croatia that tourists never see. Here are the top ten events, destinations and activities this autumn. More.

Keeping Cool in Croatia
07/13/2016
As a heatwave smothers the Croatian coast, here's how to stay chill in Split, Dubrovnik and Istria. More.

Great Deals on New Hotels in Croatia
06/30/2016

Get great value on new and renovated accommodation in Zadar, Hvar, Istria and the northern Adriatic. More.

New Domestic Flights Across Croatia
06/21/2016
Trade Air is launching new flight routes that will link Slavonia, Zagreb, Istria, northern and southern Dalmatia. More.

Best Restaurants in Croatia 2016
05/16/2016

The ultimate foodies guide to Zagreb, Zadar, Istria, Split, Dubrovnik, Hvar island and more. More.

Best Accommodation in Croatia
04/11/2016

From luxury spas to rustic villas and chic hostels, why not go for the best? More.

10 Best Free Things to Do in Croatia
03/29/2016

From Zagreb to Zadar, Split, Istria and Dubrovnik, here are the best free and fascinating sites to explore. More.