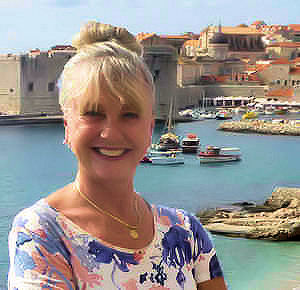 This website is the sole project of Jeanne Oliver who has been writing about Croatia since 1996, not too long after the bullets stopped flying! It was that year that Lonely Planet assigned Jeanne to update the Croatia chapter in Lonely Planet's Eastern Europe edition.
In 1998, she returned to Croatia to write the first edition of Lonely Planet's popular Croatia guidebook which was the first guidebook in English to Croatia.
Over the course of the next four editions in 10 years, Jeanne watched Croatia emerge from the Balkan wars to become a massively popular tourist destination.
Recently, Jeanne gave an interview to the newsletter of the Croatian Embassy in Washington DC recounting her experiences covering Croatia. Here's an excerpt :
What were your first impressions of the country?
Good and bad. On the one hand, there were still visible reminders of the war. The Esplanade Hotel in Zagreb had peacekeepers and officials coming and going. Zadar still had sandbags around the buildings and Dubrovnik had yet to repair all its roofs. Worse, from Istria all down the coast, people were morose and demoralized. The disruptions provoked by the war were still fresh in people's minds. On the other hand, the sheer physical beauty of the country was staggering. And there were no other visitors! Well, one. In Zadar, the chess player Gary Kasparov showed his support by organizing and playing in a local chess tournament. It was clear that a lot of work needed to be done to repair the tourism infrastructure, especially the hotels, but it was equally clear that once it was repaired, Croatia was going to be a massive destination.
You can read the entire interview (in pdf) here.
Jeanne wrote all Croatia editions for Lonely Planet up to Croatia 4 as well as the Croatia chapters for Mediterranean Europe
, Eastern Europe, and Europe on a Shoestring. Jeanne also wrote the Croatia and Slovenia chapters for the first edition of Western Balkans. Her most recent printed guidebook is Insight Guides Step-by-Step Croatia which has 15 personally-crafted itineraries with maps and specific walking, driving or public transport directions. See Jeanne's author page at Amazon.
Jeanne currently devotes herself full-time to Croatia Traveller, returning to the country each year to update.
Media
Radio
NPR (National Public Radio) interviewed Jeanne about Croatia travel. Listen to Jeanne's interview with hosts Alison Stewart and Luke Burbank here.
Newspapers
The Guardian interviewed Jeanne about starting a successful website. Read it here.
Online
Budget Travel hosted on online web chat with Jeanne about Croatia. Read it here.
Inc.Plan named Jeanne "Entrepreneur of the Week" and interviewed her about starting Croatia Traveller. Read the article here.
FIPP interviewed Jeanne about the challenges of creating travel e-books. You can read the article here.
Kimkim talked to Jeanne about how Croatia has changed over the years and her favorite places in Croatia. You can listen to the podcast here.
Other Croatia Articles by Jeanne
Top Ten Croatian Islands Huffington Post 16 April 2014
Kasparov in Zadar Huffington Post 6 March 2014
Beyond Dubrovnik Huffington Post 6 March 2013
Jeanne's Other Books
For Lonely Planet, Jeanne was also the sole author of Normandy 1, Crete 1 and Crete Condensed 1. She contributed sections to Germany 4, France 5, Brittany and Normandy 1 and Greece 6.
For Frommers, Jeanne wrote Paris on $80 a day, Memorable Walks in Paris and contributed sections to Europe on $60 a day.
Her articles have appeared in the Miami Herald, San Francisco Chronicle, St Petersburg Times, the Denver Post, National Geographic Traveler and the New York Post.
Jeanne also publishes:
Croatia Traveller is a product of:
Global Kinesis, Inc.
Wilmington, DE 19806
Recommended Tours
More from Croatia Traveller
Questions? Comments?
©CroatiaTraveller 2005-2018 All rights reserved