Croatia's islands are numerous (at least 1185 depending on which size rock counts as an island!) and spectacular. From remote fishing outposts to harbours dotted with massive yachts, Croatian islands display nearly every style you can imagine and some you haven't yet imagined. With all those islands in Croatia, it may surprise you to know that only 66 islands are inhabited.
[Explore Croatia's islands with one of these island-hopping itineraries]
Although the islands stretch from Istria to Dubrovnik, most islands are clustered in central and southern Dalmatia. Istria has few islands. Central Dalmatian islands tend to be dry and rocky, carpeted with brush and olive trees while southern islands are green and forested. For geological reasons, Croatian islands tend to be long and narrow, running from northwest to southeast and parallel to the coastal mountains.
[Check out Croatia's Top Ten Islands]
Speaking about geology, it turns out that in the way distant future there may be even more Croatian islands. It turns out that subtle subterranean shifts are slowly--very, very slowly--producing more Adriatic islands. It's all about plates. Tectonic plates. According to an article in the New Scientist, geologists have found that the Eurasian and African plates are creeping ever closer together. As the Adriatic sea sits atop the African plate, its seabed is getting squeezed which will cause new islands to pop up. But not that soon. If all proceeds as expected, Italy will edge ever closer to Croatia and in about 50 to 70 million years all of the islands will get smushed together in one landmass.
Map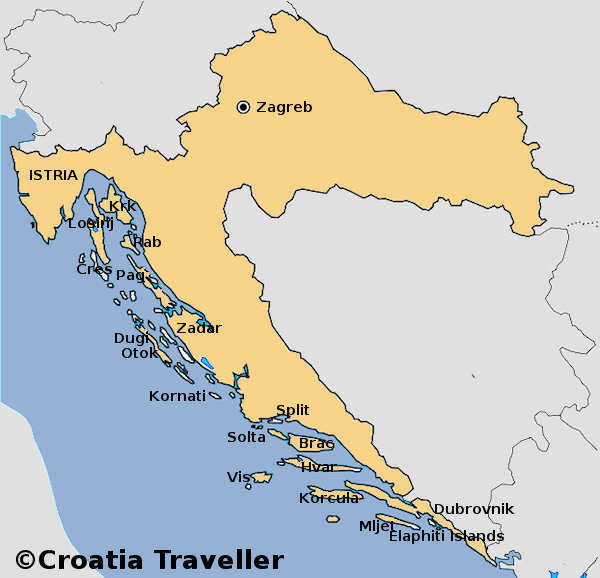 Istrian Islands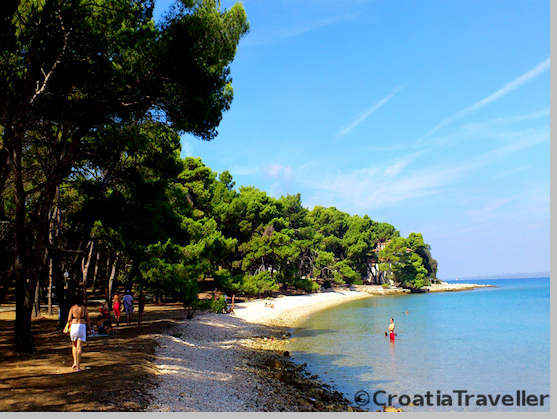 Brijuni Islands The best islands in Istria are the Brijuni islands (above). It was here on the largest island that ex-Yugoslav leader, Marsal Tito, entertained his illustrious guests. There's a small zoo containing a few exotic animals that Tito received as gifts and a museum displaying his memorabilia. The natural beauty of the island is stunning and its history stretches back to ancient Romans. Now a national park, the Brijuni islands are a popular day trip from Pula or Rovinj. More.
There are a few other islands in Istria--Crveni Otok near Rovinj; Sveti Nikola near Porec-- but for more choices, head south to the . . .
Kvarner Islands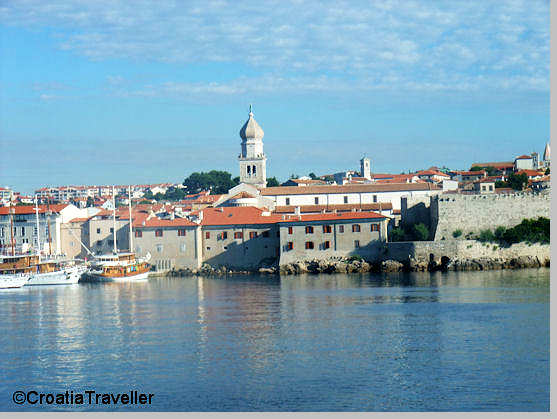 Krk Island Krk is Croatia's largest island with a girth of 409 sq km. With such a chunk of land it's not surprising that Krk boasts a variety of pleasures from the long, sandy beach of Baska to the vineyards of Vrbnik to historical Krk town (above). A flight to Rijeka lands you right on Krk as the island hosts Rijeka airport. A causeway connects Krk island to Rijeka. More.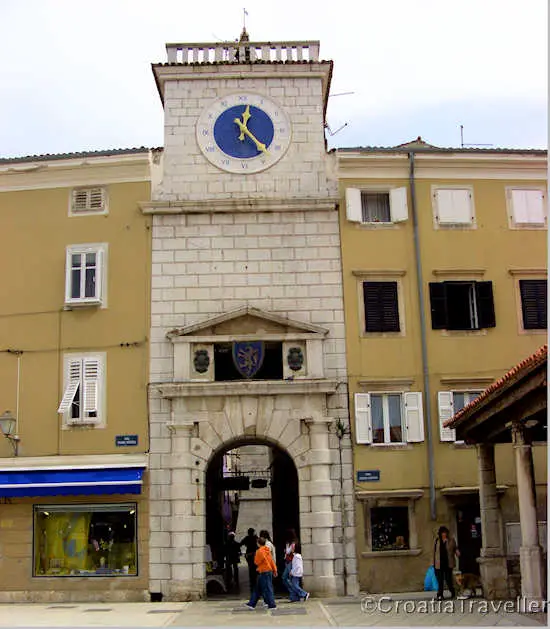 Cres Island Largely wild and untouched, Cres island is ideal for nature-lovers. High cliffs on the eastern coast are a haven for rare griffon vultures while humans congregate around Venetian-built Cres town (above) on the western coast. A few beaches outside Cres town and one remote beach in Valun attract tourists in summer but otherwise the pace of life is slow. More.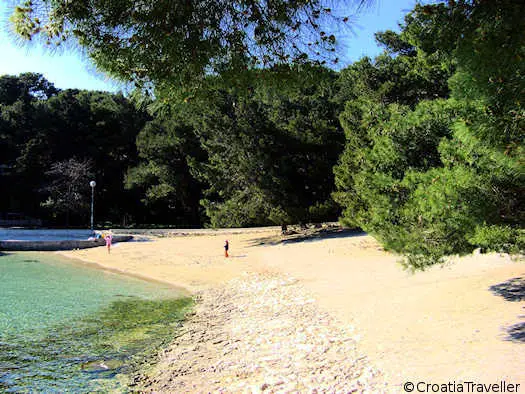 Losinj Island Separated from Cres island by a narrow channel, Losinj island is lusher and dotted with pine forests. The star attraction is the port-resort Mali Losinj and beachworthy Cikat Bay (above), which is a popular spot for windsurfing. Cyclists will enjoy the varied terrain and marked bike paths that crisscross the island. Offshore is sandy Susak Island , flowery Ilovik Island and rocky Unije Island. More.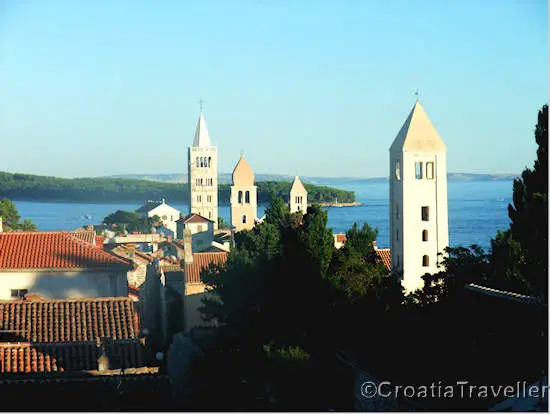 Rab Island Rab is a sunny island, neatly divided between a rocky, barren northeastern side and the lush southwestern side. Rab town (above) is known for its four belltowers and Lopar has a spectacular sandy beach. In between are olive trees, vineyards and citrus groves. More.
Islands near Zadar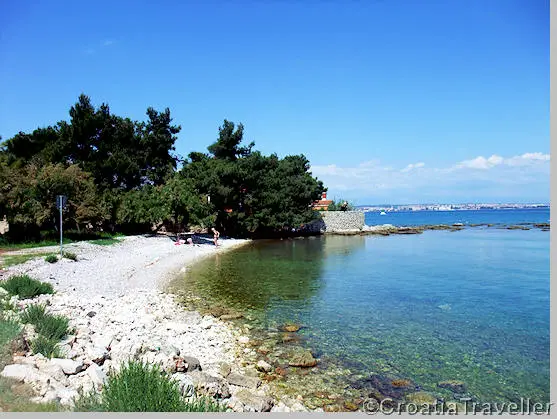 Ugljan Island When Zadar residents need to escape, they take a short ferry ride to lovely little Ugljan island, perfect for swimming, cycling and strolling. More.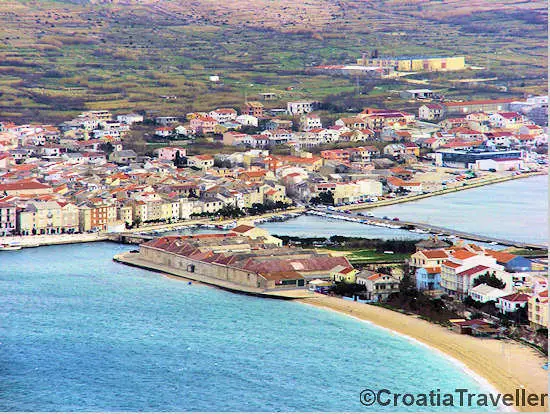 Pag Island Dry, barren Pag is an island divided. Novalja in the north is known for its wild summer parties on Zrce beach while sedate Pag town (above) is known for its 16th-century architecture and fine lace. Calm swimming coves dot the coastline and divers love the underwater life. More.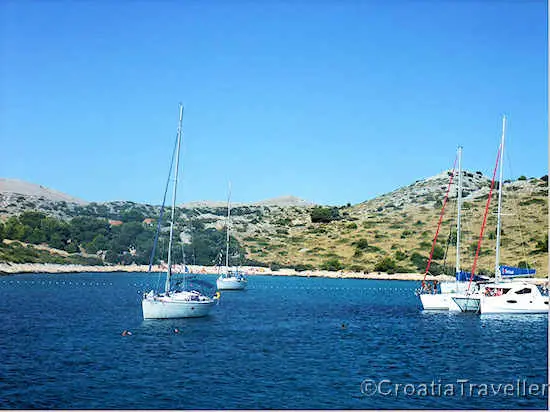 Kornati Islands The Kornati island archipelago is a national park and one of Croatia's most unusual sights. 147 stark, sunbaked islands are strewn across 220 sq km making it a sailor's paradise. The islands are uninhabitated and there's no ferry service but it's easy to board a tour from Zadar or nearby Murter island. More.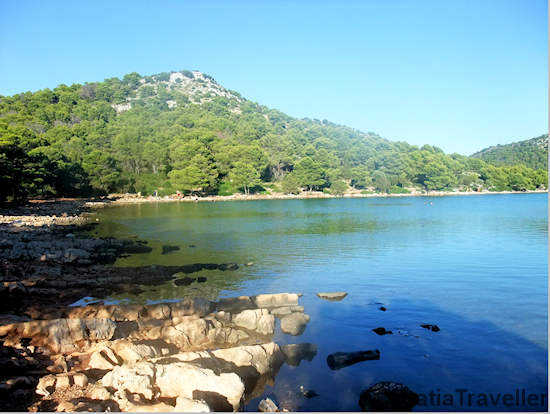 Dugi Otok Translated as "long island", Dugi Otok is a low key getaway for nature-lovers. Telascica Nature Park (above) at the southeastern end of the island is an 8km long sheltered bay, accessible only by boat. Dugi Otok is dotted with small villages and one spectacular beach, Saharun. More.

Islands near Sibenik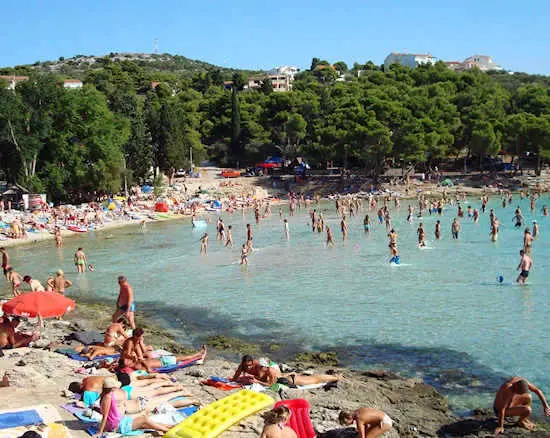 Murter Island As the largest island in the Sibenik archipelago, Murter island offers a variety of activities from sunbathing on Slanica bay (above) to partying in Tisno. Murter island is an easy day trip from Sibenik and also makes a good starting point to organise tours to the Kornati islands. More.
Other inhabited islands in the Sibenik archipelago are: Kaprije, Krapanj, Prvic, Zirje and Zlarin islands. All are reachable by ferry but accommodation options are limited.
Islands near Split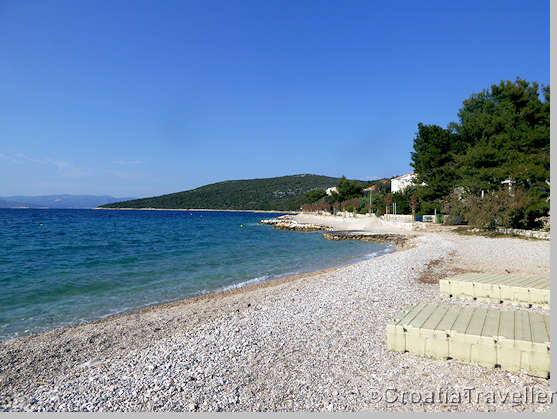 Solta Island Tiny Solta island is the closest island to Split. It's only a quick ferry ride away making it an ideal outing for a day or half-day away from the city. Maslinica beach (above) attracts some visitors but Solta is far less-touristed than other islands in the neighbourhood. Yet the hilly island known for its honey offers a tranquil rural experience. More.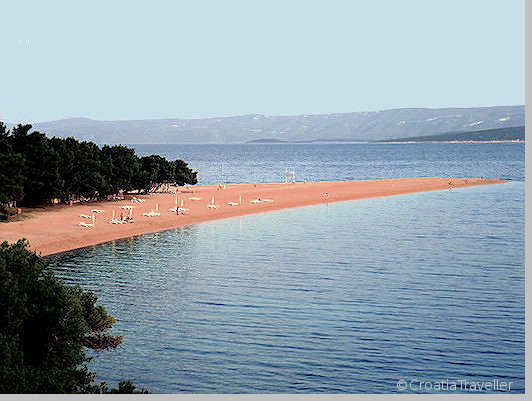 Brac Island Brac island is the closest large island within easy reach of Split. Dry and rocky, Brac has exported beautiful white stone for centuries. In addition to a wealth of medieval villages, Brac is most famous for unique Zlatni Rat beach (above), composed of tiny white pebbles. More.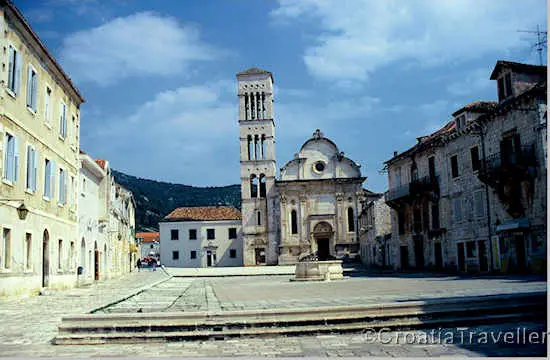 Hvar Island Perhaps Croatia's most celebrated island, Hvar is known for its mild climate, and the fields of lavender and other herbs that define its lush interior. Hvar town (above) is Croatia's number one party spot. Escape to the tranquil Pakleni Islands just offshore.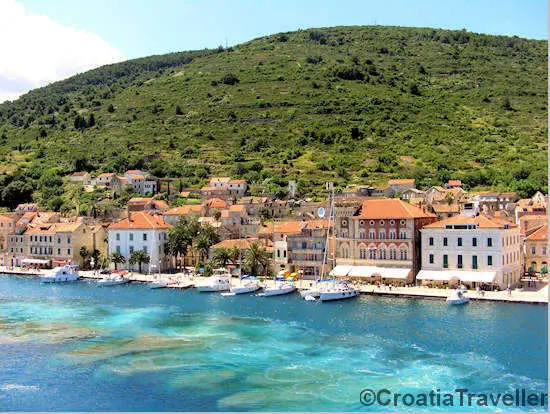 Vis Island More remote than Hvar, Vis island attracts far fewer tourists despite its considerable appeal. Vis town (above) has remnants of Greek and Roman settlements while laid-back Komiza is the place to organize a trip to the Blue Grotto. Great beaches and tasty local wine complete the picture. More.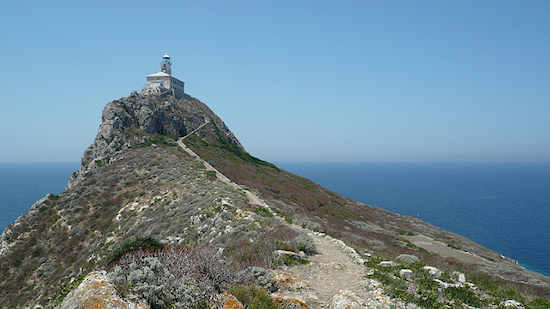 Adam Sporka creative commons license
Palagruza Islands You'll need your own boat to visit the Palagruza islands. They are far away! The largest island (above) is marked by a 91-metre high lighthouse which is available for rental. Scuba divers love these islands because of the rich underwater life. More.
Islands near Dubrovnik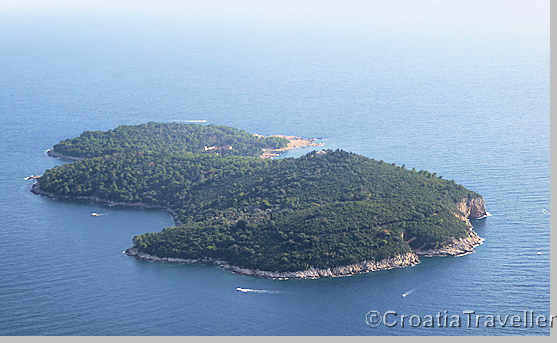 Lokrum Island Little Lokrum island is only a 20-minute boatride from Dubrovnik making it a perfect day trip. A botanical garden, a handful of rocky beaches and a Benedictine Monastery turned into a Game of Thrones museum are some of the island highlights. More.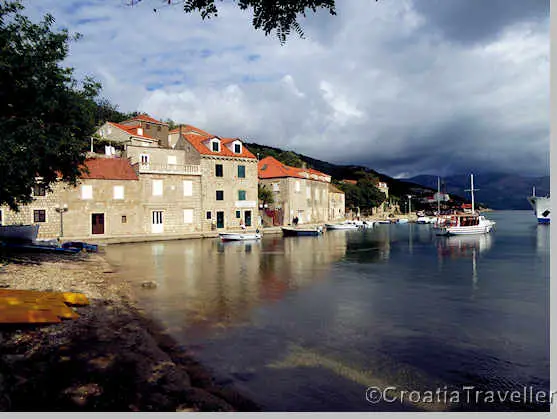 Elaphiti Islands Of the 13 Elaphiti islands, only three are inhabited and each have a different vibe. Lopud is beachy; Kolocep is forested and Sipan (above) is the only one to allow cars. All are easy to reach year-round from Dubrovnik. More.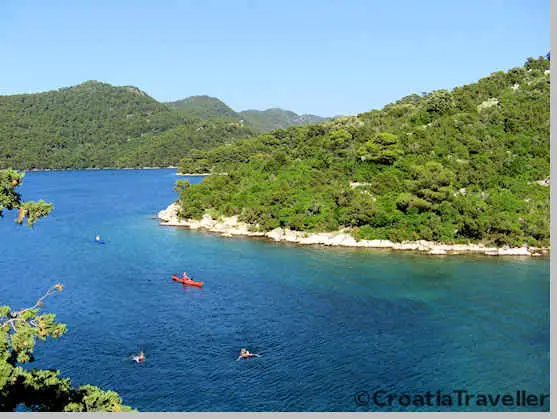 Mljet Island Part of Mljet island is a national park with two inland saltwater lakes (above). There are no crowds or large hotels, only hiking, biking, swimming and scuba diving. It's nature at its most glorious and easily accessible via passenger ferry in the summer. More.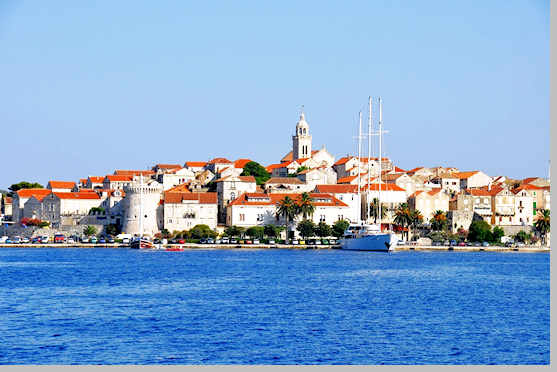 Korcula Island Thickly forested and hilly, Korcula island is not a day trip from Dubrovnik but you won't regret an overnight stay. Walled Korcula town (above) is like a mini-Dubrovnik but without the crowds. Reminders of (alleged) native-son Marco Polo abound along the stone streets and nearby Lumbarda has sandy beaches. More.
Croatia Islands Directory