Get Started
About Croatia
Essentials
Croatia Map
Croatia Photos
Guidebooks
When to Go
Top Sights
Accommodation
Transport
Car Rental
Croatia Ferries
Ferry Guide
Money
Adventure
Sailing
Cruises
Tours
Itineraries
Special Interests
Dalmatia

Dubrovnik

Islands

Istria

Kvarner
Split
Zadar
Zagreb
News Blog
Newsletter
Traveller Tips
About Me

Advertising
Trip Planning
Contact
Privacy Policy

Search Site
Site Index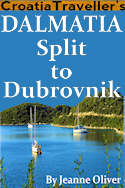 Croatia's islands are numerous (at least 1185 depending on which size rock counts as an island!) and spectacular. From remote fishing outposts to harbours dotted with massive yachts, Croatian islands display nearly every style you can imagine and some you haven't yet imagined. With all those islands in Croatia, it may surprise you to know that only 66 islands are inhabited.
Where are the Islands?
Although the islands stretch from Istria to Dubrovnik, most islands are clustered in central and southern Dalmatia.
Map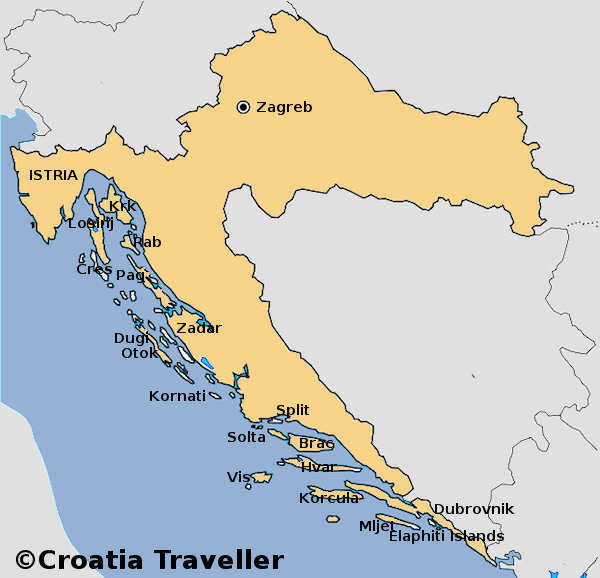 What Size and Shape?
In size, they range from gigantic Cres Island and Krk Island measuring 405 sq km to tiny Smokvica Vela, a little over one sq km. In fact some rocky outposts are so small, it's not even clear they should be categorized as an island which is why not everyone agrees that there are 1185 islands!

For geological reasons, Croatian islands tend to be long and narrow, running from northwest to southeast and parallel to the coastal mountains.
Northern Croatian Islands
Istrian Islands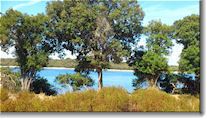 Istria has a few islands-- the Brijuni Islands (left), Crveni Otok near Rovinj, Sveti Nikola near Porec-- but islands are not a central feature of the Istrian littoral.
Kvarner Islands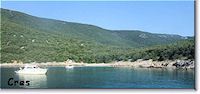 As you head down the Kvarner coast you'll notice Krk Island just offshore, one of Croatia's greener islands. Also in the Kvarner gulf is Rab Island , which is neatly divided between a rocky, barren northeastern side and the lush southwestern side. Stunning rock formations are also a feature of Cres Island (left) though Losinj Island is much lusher. Offshore is sandy Susak Island , flowery Ilovik Island and rocky Unije Island .
Central Dalmatian Islands
The central Dalmatian sea is dotted with mostly dry, rocky islands, covered by brush and olive trees.
Islands near Zadar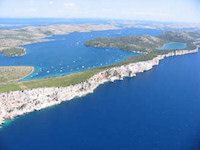 A few islands close to Zadar,are favourite weekend getaways for the residents. Ugljan is a particular favorite. Pag is dry and flat, the scattered Kornati Islands are sunbaked and Dugi Otok (left) is covered by low brush. Their stark beauty is not to everyone's taste which is why these islands attract fewer tourists than other, greener iles.
Islands near Sibenik
The waters off Sibenik have a few dozen islands of which six are inhabited and easily reachable from the mainland. The Sibenik archipelago offers some great hideaways if you'd like to avoid tourists.
Southern Dalmatian Islands
Between Split and Dubrovnik, you'll find the green, forested islands that's everyone's idea of an island idyll.
Islands near Split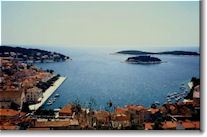 Closest to Split is tiny Solta, an easy day trip. Brac is rocky but owes its fame to Zlatni rat beach composed of tiny white pebbles. Hvar (left) is known for its mild climate, and the fields of lavender and other herbs that define its interior. Just offshore are the tranquil Pakleni Islands. One of the loveliest is remote Lastovo.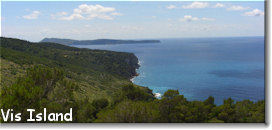 Then there are the remoter islands such as mountainous Vis Island, (left) a good jumping off point to visit Bisevo Island and its famous Blue Cave. Even further off are the two tiny islets of Brusnik and Jabuka, whose dark colours are due to its volcanic origins. And further off in the middle of the Adriatic are the Palagruza group of islets and reefs, dominated by a 91-metre high lighthouse. You'll need your own boat to visit these last islands though!
Islands near Dubrovnik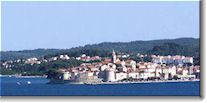 Close to the shores of Dubrovnik are some wonderful and easily accessible islands: Lokrum, the Elaphiti Islands and Mljet. Korcula (left) is thickly forested and is the largest island in a group of smaller islets.
Croatia Islands Directory
Questions? Comments?
©CroatiaTraveller 2005-2017 All rights reserved