Brela Beach is a world-class beach, certainly one of Croatia's best beaches. And, Brela is more than just one beach. Brela is actually a necklace of linked beaches that goes on for 6km. Crystalline water laps at gentle coves fringed with pine trees that climb steeply up to a distant road. In the distance lies Biokovo mountain. It is paradise. Small wonder that Forbes magazine (among others) rated Brela as one of the top ten beaches in the world.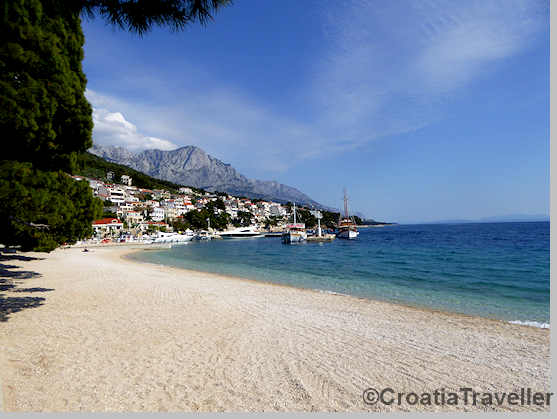 Visiting the Beaches
The beaches stretch out from either side of Brela town, an appealing cluster of old and new houses. It's a relaxed town where residents hang out in one of the casual cafes or restaurants along the sea. The longest and most developed beaches lie northwest of the town center and are linked by a pedestrian promenade.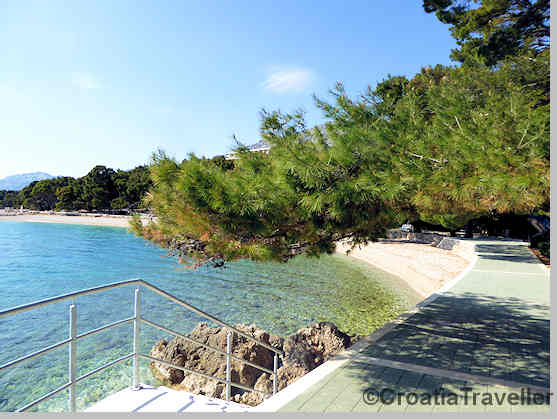 The most famous is stunning Punta Rata beach, close to town.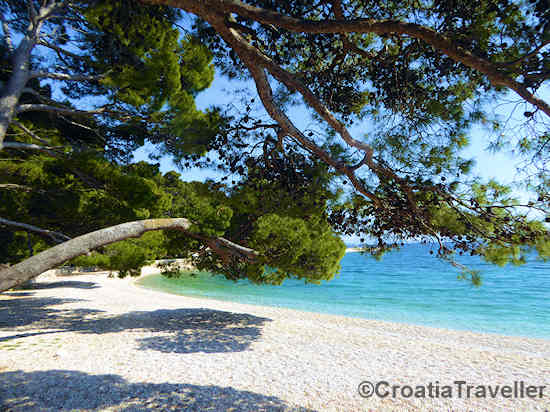 The further you go, the smaller the cove and the sparser the crowds. There are beach showers and it's possible to rent a sun lounger and parasol on most beaches. Tired of sunbathing and swimming? Try a peddleboat, water scooter or boat rental. Beaches are also within reach of simple eateries. To be totally comfortable on beaches that are more pebbly than sandy, a pair of water shoes comes in handy.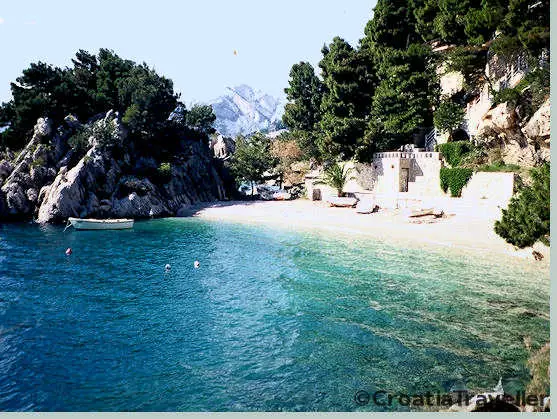 Note the translucency of the Adriatic in the photo above. The light blue of these shallow waters becomes progressively darker as you go farther from the shore. In addition to the influence of salt, the colour of the sea is also affected by the bright sunlight and clear skies you see here. The stony but porous karst here allows plants and shrubs to sprout. Note the small boat in the photo. That's an ideal way to explore the string of Brela's beaches!
Getting to Brela
Brela lies midway between Split and Makarska and is only about 45km from either town. It's an easy day trip from Split or Makarska if you have a car. Buses are more complicated. Although there are regular and frequent buses between Split and Makarska, buses do not descend the hill into the town of Brela. You are deposited on the "Magistrala" main road far above town. It's about a 20-minute walk on the road down to town which will undoubtedly be longer and hotter when you climb back up.
Accommodation in Brela Beach
The hotel situation has improved in Brela. There are a lot of beds available even if small, boutique hotels haven't yet entered the scene. All hotels are well-located and are right on the beach.
Four-star hotels in Brela

Hotel Sunceva Postelja
-- recently renovated and nicely outfitted
Hotel Bluesun Berulia
--  sauna, swimming pool, air conditioning and gym.
Certified eco-friendly
.
Three-star hotels in Brela
Hotel Maestral --only 69 rooms
Hotel Bluesun Marina --521 beds but no swimming pool
Hotel Soline -- a wellness centre, swimming pools and sea views
Private Accommodation
For private accommodation in Brela, try the extraordinary Villa Tomislav, or Villa Petra which has a terrace with a sea view.
Tourist Information in Brela
The Brela tourist office (tel 021-618 255) is on the main street, Obala Kneza Domagoja.