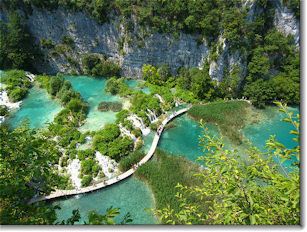 Walkways over the lake: ©29cm
see more Plitvice photos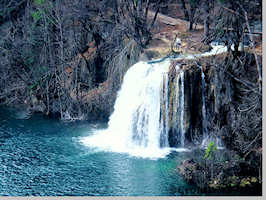 Lying midway between Zagreb and Zadar, and in Licko-Senjska county, Plitvice Lakes National Park , composed of 19.5 hectares of woods, lakes and waterfalls, is one of Croatia's top sights, its most popular National Park and a World Heritage Site. The 16 lakes are a stunning turquoise and spill over into waterfalls and bubbling streams. (See photos of Plitvice Lakes). The unique ecology of the lakes is fascinating. With 120 species of birds, it's a paradise for ornithologists.
What to see & do in Plitvice
So how do you visit this watery wonderland? A well-laid out system of wooden walkways allows you to pass all around and sometimes through the water and there are hiking trails through the woods. By taking the park bus and boat you can cover all the lakes in a rushed half-day but I recommend a full day.
Get more details about sightseeing in Plitvice Lakes.
You can stay in one of only three hotels in the national park or choose from a wide variety of private accommodation. More.
When to Go
There's no wrong season to visit Plitvice Lakes. In winter the frozen falls are magnificent; in summer the lush greenery is relaxing; in spring and fall the water volume is highest. Be aware though, that the park is flooded with tourists in July and August. If you come then, save some time for the late afternoon when the tour buses leave or very early in the morning before they arrive.
Plitvice is on the main road between Zagreb and Zadar. Combining a visit to Plitvice with a stay along the Croatian coast is possible but I don't recommend it unless you can stay overnight. Another spectacular national park with waterfalls you can conveniently visit on the Croatian coast is Krka Waterfalls National Park. See more about getting to Plitvice Lakes.
As a World Heritage Site, Plitvice maintains a pristine environment that is nearly primeval in its beauty. It's one reason why there's no swimming in the lakes. But you can marvel at the travertine formations and the extraordinary variety of plants and animals that make their home in the park. More.
Tourist Information in Plitvice Lakes
The Plitvice National Park tourist office (tel 053-751 015) is just inside entrance #1. There's another information office at entrance #2 where the hotels are.
Plitvice Lakes News
Questions? Comments?
©CroatiaTraveller 2005-2016 All rights reserved