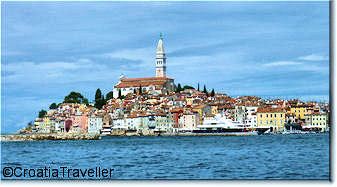 Punctuated by the St Euphemia Bell Tower
See more photos of Rovinj

View Croatia in a larger map
Rovinj is the most beloved town in Istria, a top sight in Croatia, and one of its most romantic spots. With its pastel-coloured houses clustered together on steep winding streets and topped by a Venetian bell tower, you would think you were in Italy. (see pictures of Rovinj)
Rovinj is still an active fishing port and you can take boats to the lovely offshore islands, Crveni Otok and Katarina. Scuba divers flock to Rovinj to dive the famous wreck, Baron Gautsch.
Beaches and Beach Clubs
Just a short walk from town are the gorgeous pine-fringed beaches of Zlatni Rt nature park. For a luxurious beach experience, the new Monte Mulini Beach Club is the place. Located on Lone Bay between the five-star hotels Monte Mulini and Hotel Lone, this stunning beach club represents the latest in minimalist design and maximal comfort. It is one of the best beach clubs in Croatia.
Geography
The historical center of Rovinj is completely contained within an oval peninsula about 2 kilometres long. This is a fascinating and beautiful stroll. Shops, bars, restaurants and residences spill out from the Old Town onto the neighbouring streets and line the harbour. Walk east for 20 minutes along the animated harbour promenade and you come to a quiet neighbourhood of residences and several large hotels. Beyond, lies the leafy Zlatni Rt nature park. The offshore waters are dotted with 16 islands and islets, several of which can be reached by boat. (See Rovinj on a map of Istria).
Take a look at this orientation video to view Rovinj's north and south harbours, parking areas and ferry dock.
Culture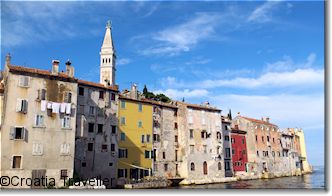 Rovinj has close cultural and historical ties with Italy. Fast boats link Rovinj and Venice in the summer which bring a crowd of Italian tourists. Restaurants augment local seafood with creative pasta and pizza dishes not only to tempt their visitors but because the locals have developed a taste for Italian cuisine. Most Rovinj residents are fluent in Italian; many work or have worked in Italy.
Just strolling the streets of the Old Town is a delight. The historical center is crammed with reminders of Venice, most strikingly in the Church of St Euphemia and the Balbi Arch. Climb to the hilltop punctuated by St Euphemia and you'll be treated to inspiring views over the town, sea and islets. Rovinj is not known for its museums but there is one good one: the Rovinj Heritage Museum. Read more.
Rovinj is a hugely popular destination. You'll find excellent hotels in Rovinj, cheap hotels in Rovinj, plenty of rooms and apartments and you can even stay in a lighthouse. Find out more about Rovinj accommodation.
Rovinj was originally an island that was not connected to the mainland until 1763 and it was under the rule of Venice from the 13th to 18th centuries. For nearly 30 years in the 20th century Rovinj was actually a part of Italy. Read more.
Rovinj Travel Planner
Transport
Getting to Rovinj

There are no trains to Rovinj but there are buses, ferries and good roads.
Best Accommodation in Croatia
04/11/2016
From luxury spas to rustic villas and chic hostels, why not go for the best? More.

Top 15 Hotels in Croatia
01/13/2015
Dubrovnik, Rovinj, Split, Zagreb: why not stay in the very best hotels in Croatia? Here are the favorites according to their visitors. More.

Bale
04/03/2014

Artsy, historic Bale was one of my favorite Rovinj day trips. More.

Pane Vino, Rovinj
04/01/2014
Pane Vino e Non Solo bills itself as "The real Italian cuisine with the finest Istrian product". Was I happy with it? More.

Hotel Eden, Rovinj
03/31/2014
It is a very beautiful spring day here in Rovinj and I am well situated to enjoy it in the Hotel Eden, a four-star hotel a little outside of town in the Zlatni Rt Nature Park. More.