Click for more Dubrovnik photos

View Croatia in a larger map
A stay in Dubrovnik may well be the highlight of your Croatian holiday as it is mine. Dubrovnik is Croatia's top sight, and its most visited destination (as well it should be) with a wide assortment of hotels from luxury to budget and plenty of private accommodation. With festivals, beaches, galleries and islands, Dubrovnik is the Mediterranean's most unmissable sight at any time of year (see when to go to Dubrovnik).
About Dubrovnik
Dubrovnik was a city-state that once rivalled Venice in wealth and power. It reached its apogee during the 15th century and attracted the finest sculptors and architects to adorn the city center in a Renaissance style. Alas, the golden age ended with the earthquake of 1667 but the resilient city rebuilt, this time in a baroque style.
Dubrovnik gradually declined as a naval power but in the 20th century visitors flocked to the city making it the tourist highlight of former Yugoslavia. The bombing of Dubrovnik in 1991 attracted global attention as shells and mortars rained down on its lustrous streets. With help from the international community, the damage was largely repaired by the end of the decade and now Dubrovnik once again enchants the world with its unique charm. More on Dubrovnik history.
Dubrovnik Culture
With a population of less than 43,000, it's a measure of Dubrovnik's devotion to culture that it can support its own symphony orchestra. Classical productions are regularly staged in the Marin Drzic theater and there are a wealth of art galleries showing contemporary works. There's a pride in local traditions that is easily apparent in Dubrovnik's regular local festivals and religious ceremonies. Women take pride in their appearance as well. No matter their age and even during the tough years following the war, Dubrovnik's women always dress with a ladylike emphasis on good grooming, well-coiffed hair and quality clothes.
What to See
Lord Byron baptised Dubrovnik "the pearl of the Adriatic" because of its incomparable architectural heritage. The gleaming marble streets of Dubrovnik are lined with baroque buildings punctuated by beautifully sculpted Renaissance fountains and facades. Dubrovnik's walls are the most intact and impressive in the Adriatic and clearly head the long list of Dubrovnik's sights. No wonder UNESCO named Dubrovnik a World Heritage Site! And there's plenty more to see in the Dubrovnik region.
What to Do
But Dubrovnik is more than a fascinating Old Town with an ancient history. It's also a first class Adriatic resort. Stretching out from the historical centre is a network of beaches to laze away the day in the sun. Offshore, the crystal-clear sea is littered with wooded islands that make easy day trips. And the array of cafes, bars and clubs in and around the Old Town insure that Dubrovnik at night is never dull. So plunge in!
Travel Tip
Dubrovnik has become a vital stop on Mediterranean cruises which is great for the cruising public but not so great if you're trying to push your way through a narrow street from April to October. I recommend you download the schedule for cruise ships docking in Dubrovnik and plan accordingly . Read more.
Tourist Information in Dubrovnik
The Dubrovnik tourist office has several convenient branches:
Outside Pile Gate (tel 020-427 591), Dubrovackih branitelja 7; in Gruz harbour (tel 020-417 983), Obala Pape Ivana Pavla II
The tourist offices are open long hours daily in summer and provide a wealth of information. Look for the free monthly booklet, Dubrovnik Riviera, which lists all the goings on of Dubrovnik and the region, including museum opening hours, special events, bus routes and excursion ideas.
Dubrovnik Apps
Dubrovnik Guide
Developer: Conceptmaniax for the Dubrovnik Tourist Board
Platforms: iOS Dubrovnik Guide
Android Dubrovnik Concept Guides
Price: Free
Review: Up-to-date with an easy to use interface. Good for opening hours of attractions. Less good for hotels, restaurants and practical information.
Dubrovnik Travel Planner
Where to Stay
What to See & Do
Sights
suggested sights for one, two or three days. More about the Walls, Franciscan monastery, Dominican monastery, Rector's Palace, Cathedral, St Blaise Church, Sponza Palace, Mount Srd, Game of Thrones locations.
Guided Tours
See what it's all about in Dubrovnik and beyond.
Shopping
Where to shop & What to buy
Festivals & Events
what's happening on the local scene
Transport
Local Bus Map
Plan local bus connections

Intercity Bus Schedule
take buses from Dubrovnik
Eating & Drinking
Dining in Dubrovnik
What to eat, the costs, customs, hours, dress and more.
Best Dubrovnik Restaurants
The best places from top-end to budget.
Nightlife
where to drink & dance until dawn
Cavtat
a nearby resort town
Montenegro
Stunning Kotor Bay
Trsteno
Arboretum,
Konavle Region
folklore
Mljet Island
a wooded National Park
Dubrovnik Riviera
Sleepy villages and beaches
Elaphiti Islands
no cars, just peace
Lokrum Island
not just for naturists
Korcula
peninsula town
Monthly Temperature & Precipitation Averages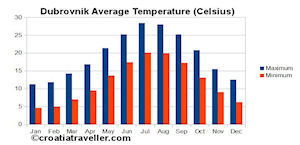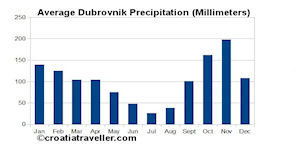 Subscribe to Dubrovnik News
Questions? Comments?
©CroatiaTraveller 2005-2015 All rights reserved