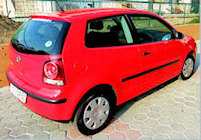 I paid only €27 daily for this Polo



Renting a car in Croatia is a great way to get around. All the major car rental companies are represented in Croatia but you'll often get a better deal booking a rental car in Croatia on line as you can take advantage of special rates. Generally, you'll get a cheaper deal on manual transmissions.
Availability
Be aware that the demand for rental cars has outstripped the supply the last few summers. If you're coming in July and August, I strongly advise you to reserve as far in advance as possible. If you wait till the last minute you could wind up taking buses.
Renting a Car in Italy
If you plan to rent a car in Italy and drop it off in Croatia, you have a problem. Few agencies allow this, at least not in an online booking. Explore other ways of getting to Croatia from Italy such as: ferries, trains and buses and then rent a car in Croatia.
If you'll be renting a car in Italy and driving through Croatia, specify your route when you rent the car. Insurance coverage often stops at the border. Rental agencies in Trieste, Venice and Ancona are aware of this situation and will give you the correct rental agreement that allows for entry into Croatia. On-line booking engines will do the same but always read the agreement!
You do not need a cross-border card to cross the tiny slip of Bosnian territory at Neum, on the way down the coast.
Driving from Croatia to Bosnia or Montenegro
If you rent a car in Croatia and intend to drive through Bosnia-Hercegovina or to Montenegro you do not need a cross-border card. Some car rental agencies will try to sell you this card at a hefty extra charge but it is not necessary.
Taking a Car on a Ferry
If you intend to take the car aboard a local ferry you should inform the car rental agency at the time of pick-up. There is no extra charge.

More Online Car Rentals
Autoeurope.com
You'll get excellent deals here on rentals throughout Croatia. This is a highly reliable company with an easy-to-use interface. Prices include a cross-border card. Find out more.
Avis.com
Avis has a wealth of locations throughout Croatia and neighbouring countries.
Budget.com
Here's another option to explore for your Croatia car rental.
Economy Car Rentals
Also excellent deals. A cross-border card is not included. Find out more.

E-Sixt
Has rentals in Dubrovnik, Opatija, Pula, Split and Zagreb as well as Trieste. Find out more.

has outlets in all Croatia airports as well as cities and towns along the coast. Find out more.

Holiday Autos
Has rentals from Dubrovnik, Pula, Split, Zadar, Zagreb and other locations. Find out more.

Subscribe to RSS headline updates from:
Powered by FeedBurner

What did you think of this article? Do you have a suggestion?




©CroatiaTraveller 2005-2013 All rights reserved