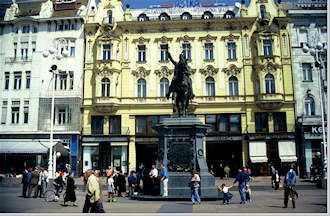 Trg Jelacica: the centre of the Lower Town
see more Zagreb photos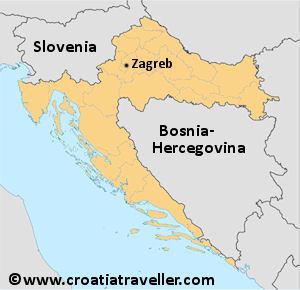 Zagreb is Croatia's capital city and a top sight for its wealth of museums, restaurants and nightlife (see Zagreb on a map). And if you want to sleep comfortably, you can stay in one of a number of well-turned-out hotels.
Often ignored as tourists make a beeline for the coast, Zagreb is an exciting city in its own right and offers an invaluable window into Croatian culture. For a large city (population: 780,000), Zagreb's centre is surprisingly low key, maybe because much of the commercial district is closed to traffic. For years I couldn't pin down why I found Zagreb so agreeable. Then, in 2012, an international survey conducted by Reader's Digest found that Zagreb was the fourth most polite city in the world!
What to See and Do
Don't just run down to the coast. Really. You'll be very happy to spend at least one day in Zagreb. The Upper Town has delightful hilly, narrow streets with cafes, shops and bars filling the 18th-century buildings. Here you'll find the towering Zagreb cathedral, the Dolac market with a panoply of fresh, local produce and the City Museum for a glimpse of Zagreb's history.
The Lower Town is more citified but the long line of parkland that stretches from the train station to the town centre makes a nice stroll in any season. Most of Zagreb's museums are in the Lower Town, including the Strossmayer Gallery, the Mimara, and the Archaeological Museum.
When to Go
In planning your stay in Zagreb, be aware that the city slows to a snail's pace in August when locals head to Croatia's coast and islands. The lack of crowded trams can be refreshing but restaurants and cafes may be closed. Glance at the calendar of Zagreb's festivals and events before you arrive. For big international trade shows, hotel space is at a premium and prices are high.
Zagreb Travel Planner
Current Weather

Monthly Averages
Tourist Information in Zagreb
Zagreb's tourist office (tel 01-48 14 051) has a main branch right on Zagreb's central Trg Jelacica and an annex (tel 01-49 21 645) near the train station at Zrinsko 14.
The offices are open long hours and are extremely helpful. Look for the free monthly booklet Events and Performances which includes museum opening hours, special events and excursion ideas. Zagreb Info is another leaflet that provides useful addresses and phone numbers, including hotels, restaurants, banks and travel agencies.
Video
Whenever I visit Zagreb, one of my first stops is to linger over a coffee on Tkalciceva (pronounced Tkal-chee-tseva) street. This meandering street in Zagreb's Upper Town is chock full of cozy cafes, hip clubs and reasonably-priced restaurants. This video gives an idea of Tkalciceva's daytime charm but at night the street becomes even livelier as the night bars and cafes fill up.
Questions? Comments?
©CroatiaTraveller 2005-2014 All rights reserved