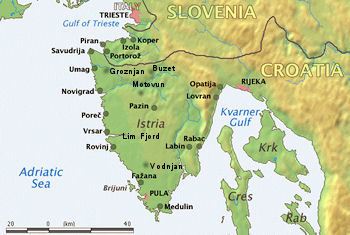 Click on a destination for more information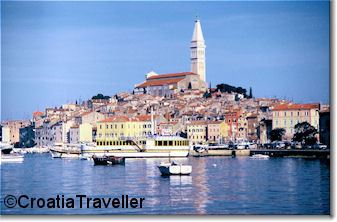 Rovinj: most appealing. More Istria photos

 

Tourists who visit Istria tend to gravitate to its long, indented coastline dotted with resorts, particularly along the western coast. Although there are plenty of rocky beaches in Istria, it would be a shame to miss the glorious Istrian interior. (See a recommended itinerary for the Istrian interior).
Geography
Bordered on the north by Slovenia and to the east by the Kvarner Gulf, Istria covers 3160 sq kilometres edged by 430km of coastline. The northern part of the Istrian peninsula covers the Slovenian resorts of Piran, Portoroz and Koper. The eastern resorts of Opatija and Lovran are considered part of the Kvarner Gulf even though they are technically part of the Istrian peninsula.
About one third of the Istrian territory is forested and the rest is carpeted with vineyards, olive trees, pastures and orchards. The rolling hills are topped with walled hill villages (such as Motovun, Buzet and Groznjan) that offer sweeping views of the countryside. No wonder travel writers can't decide whether Istria is the "new Tuscany" or the "new Provence"!
Lifestyle
It's not just the mild, sunny climate and easy-going way of life that invites comparison to the best Mediterranean destinations, it's also the devotion to fine eating that bewitches visitors. Istrian cuisine offers some of the best dining in Croatia, especially for fish, smoked meat and truffles. (Read more about Istrian cuisine).
Naturally, most people start in gateway cities like Pula, Porec and Rovinj but there are a multitude of fascinating destinations in Istria. See a complete list of Istrian destianations or check out recommended Istria itineraries.
There's a startling array of cultural attractions on offer. The Roman amphitheatre in Pula vividly evokes the days of gladiators and circuses; the 5th-century mosaics in Porec make the Euphrasian basilica a Unesco World Heritage Sight; the hilly old town of Rovinj charms the eye with reminders of Venice and don't forget the hill villages of Motovun and Groznjan. See the top highlights of Istria.
Tourist Information in Istria
The Istria tourist association (tel 052-452 797) is at Pionirska 1, Porec and generates mountains of useful brochures.
Current Weather

Monthly Averages
Istria Travel Planner
What did you think of this article? Do you have a suggestion?
©CroatiaTraveller 2005-2013 All rights reserved