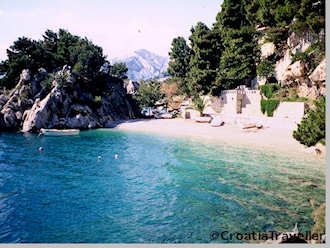 View Croatia in a larger map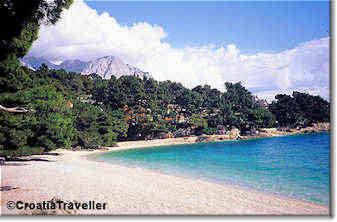 Brela Beach is so perfect, it's hard to believe you're still in Europe. It's one of Croatia's best beaches with crystalline water lapping at coves that stretch for 6km. And the beaches are sandy! (the sand is more like gravel but it's easy on your feet)
Each cove of Brela Beach is like a private hideaway, fringed by pine trees and invisible to any road and all but a few hotels.
Even the town of Brela is a delight with its subtropical greenery and appealing mixture of old and new houses.
Small wonder that Brela is a top sight and that Forbes magazine rated Brela Beach as the 6th best beach in the world and the best beach in Europe! It's certainly the best beach in Croatia.
To see it all, rent a car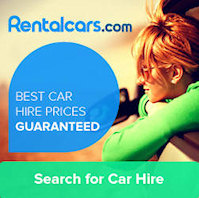 Compare rates 783 companies
Getting to Brela
Brela lies midway between Split and Makarska and is only about 45km from either town. It's an easy day trip from Split or Makarska as all buses between the towns stop at Brela.
Accommodation in Brela Beach
The hotel situation has improved in Brela. There are a lot of beds available even if small, boutique hotels haven't yet entered the scene. All hotels are well-located and are right on the beach.
Four-star hotels in Brela
Hotel Sunceva Postelja -- recently renovated and nicely outfitted
Hotel Bluesun Berulia -- sauna, swimming pool, air conditioning and gym. Certified eco-friendly.
Three-star hotels in Brela
Hotel Maestral --only 69 rooms
Hotel Bluesun Marina --521 beds but no swimming pool
Hotel Soline -- a wellness centre, swimming pools and sea views
Private Accommodation
For private accommodation in Brela, try the extraordinary Villa Tomislav, or Villa Petra which has a terrace with a sea view.
Tourist Information in Brela
The Brela tourist office (tel 021-618 255) is on the main street, Obala Kneza Domagoja.
Questions? Comments?
©CroatiaTraveller 2005-2017 All rights reserved