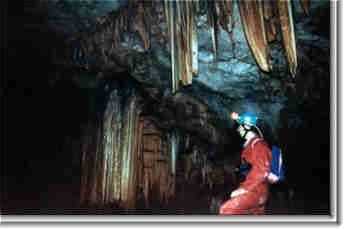 Cave under the airport!
Dubrovnik Airport Location

Dubrovnik's Airport
(DBV) is at
Cilipi,
23km southeast of Dubrovnik and about 3km from
Cavtat.
(Cilipi is in the
bottom right corner of the map
to the left).
Although relatively small, big plans are afoot for expansion. €220 million will be invested in the improvement of Dubrovnik Airport by 2017. (This means that there may be construction underway when you arrive).
As of now, there's one terminal (modernised in 2006) which handles both domestic and international flights.
Airport Facilities
Currency exchange
ATMs, Banks
Duty-Free
Small shops
Refreshments
Coffee shop, snack bars
Prestige
Vip lounge, Business lounge

Miscellaneous
Between flights? Check out the airport gardens which won a local tourism award in 2006. Even better is the prehistoric Durovic Cave that dates back to the Bronze Age. The 199m-long cave is replete with stalagmites and stalactites, ice crusts and curtains. Although the cave was opened to great fanfare in 2010, it is now closed to the public due to ongoing construction. Perhaps visiting the cave will again be possible when construction is completed.
Tourist Information
There is a branch of the Dubrovnik tourist office at the airport ready to distribute maps and information. They will help find accommodation if you're stuck.
Airport Parking
There's one parking lot with 200 spaces. Parking is free for the first 15 minutes and then increases at a rate of about 5Kn every two hours thereafter.
Whether you drive, take a taxi or public transport, you have options. Check out Dubrovnik airport ground transport here.
Car Rental at Dubrovnik Airport
The car rental counters are across the road from the departures area. Most major car rental agencies have branches at the airport, including:
There are no hotels at the Dubrovnik airport but there are hotels nearby. See my recommendations or search now:
Airlines
Dubrovnik airport serves both local and international airlines. There are many more international flights in the summer but the past few years have shown an increase in year-round routes. Read more.
Contact Information
Airport Website: www.airport-dubrovnik.hr
Telephone: (020)773 377
Email:info@airport-dubrovnik.hr
Airport App
Dubrovnik Flights
Developer: Scards
Platforms: iOS Dubrovnik Flights Info
Android Dubrovnik Flights Info
Price: Free
Review: Arrivals, departures and airline contact links; no more, no less.
Questions? Comments?
©CroatiaTraveller 2005-2017 All rights reserved