Get Started
About Croatia
Essentials
Croatia Map
Croatia Photos
Guidebooks
When to Go
Top Sights
Accommodation
Transport
Car Rental
Croatia Ferries
Ferry Guide
Money
Adventure
Sailing
Cruises
Tours
Itineraries
Special Interests
Dalmatia

Dubrovnik

Islands

Istria

Kvarner
Split
Zadar
Zagreb
News Blog
Newsletter Archive
Traveller Tips
About Me
Advertising
Trip Planning
Contact
Privacy Policy
Search Site
Site Index


From october 3 to december 31 2016
Mon. Tue. Wed.

Thu. Fri. Sat.

Sunday

Holiday

Line

9603

Mon. Tue. Wed. Thu. Sat.

Sun. & Holi.

Friday

06:00

13:00

Jelsa

Bol

Split

17:30

18:00

06:20

06:25

13:20

13:25

17:10

17:05

17:40

17:35

07:30

14:30

16:00

16:30
The schedule from Jelsa is on the left and the schedule from Split is on the right.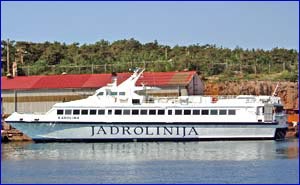 The "Karolina" may handle this route

The Split-Bol-Jelsa catamaran runs all year. Unfortunately, because of the timing, the connection is useless for those who want to make a day trip from Split to Hvar or Jelsa. The catamaran is designed to bring islanders in to work in Split, not tourists to the islands. For a morning run out to the islands, see the Split-Supetar ferry or the Split-Stari Grad ferry.
Booking
This Split-Bol-Jelsa catamaran is run by Jadrolinija. You can buy tickets online. Or, on the day of departure you can buy your ticket at a Jadrolinija stall on one of the islands or in Split.
Questions? Comments?
©CroatiaTraveller 2005-2016 All rights reserved