Timetable January 1 to june 2, 2016
Split-Hvar-Korcula Passenger Ferry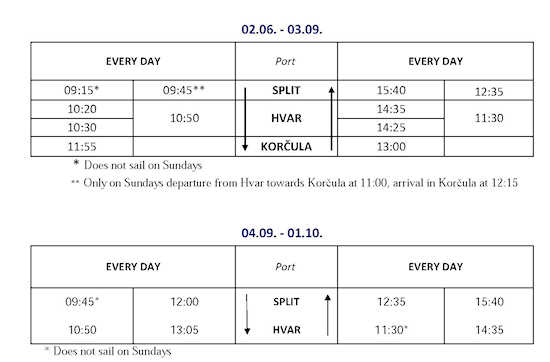 The timetable from Korcula is on the left and from Split on the right. This fast ferry is convenient for islanders who work in Split, but not the most convenient connection for tourists visiting Hvar or Korcula from Split. For a ferry that leaves Split in the morning, see this Split-Hvar passenger boat timetable.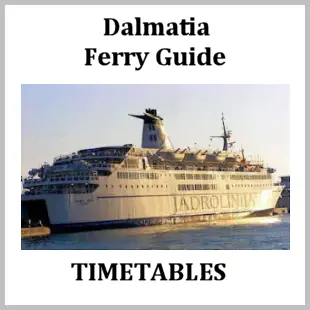 Ferry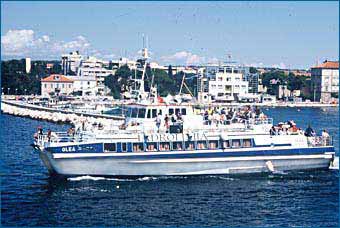 The Olea may be used on this route.

Booking
This ferry is run by Jadrolinija. You can buy tickets online or from any Jadrolinija office on the day of sailing. Click here for booking information.
Split-Dubrovnik Catamaran 2016
02/17/2016

The new timetable is finally here for the Split-Brac-Hvar-Korcula-Mljet-Dubrovnik seasonal catamaran. More.

BREAKING: Pescara Ferries Cancelled!
02/05/2016

A spokeswoman for SNAV just confirmed to Croatia Traveller that the passenger ferry that connected Pescara, Italy with Croatia will not run this summer. But there are alternatives! More.

Online Booking for Car Ferries
06/16/2015
This is really big news. Jadrolinija and other ferry companies began online booking for catamarans last year but a spokeswoman told Croatia Traveller then that online booking for car ferries posed technical issues that would take time to resolve. Here's what you need to know: More.

Gazenica: Zadar's New Port
04/02/2015

It was years in the making and isn't quite finished but Zadar's new port at Gazenica is now receiving its first car ferries. Located 3km southeast of the Zadar's Old Town, the new port sprawls over nearly 1.5km of coastline and can accommodate large cruise ships as well as ferries. More.

Subscribe to Croatia Ferry News
Questions? Comments?
©CroatiaTraveller 2005-2016 All rights reserved