Bale is one of the most delightful hilltop villages in Istria and well worth a stop if not a prolonged stay. Medieval streets lined with 14th and 15th century houses wind in a circle around the hill, creating an urbanscape of arresting beauty. Most appealing are the occasional galleries, shops and taverns that give the town a relaxed, artsy vibe.
Only 15km southeast of Rovinj and at an altitude of 140m, Bale makes an easy day trip and a refreshing break from the coast. Yet, it's only 8km away from the coast and the Colone Cove beaches.
History
It was at the aforesaid Colone Cove that a rich trove of dinosaur fossils were found. Intrigued? Stop by the Ulika gallery in Bale's town hall to view the old bones.
One km east of Bale town traces of neolithic habitation were found. In the early Bronze age, a new settlement sprang up on the site of current Bale town that may or may not have existed at the same time as the older settlement. Fragments of pottery were found from the middle Bronze age that are currently on display in the museum of Rovinj. Most traces of this settlement were erased in the Middle Ages.
The Romans constructed a fort here with the aim of protecting the vital trade link between Pula and the interior. As early as the 10th century Castrum Vallis or "valley fort" was mentioned and over the succeeding centuries a walled settlement developed.
At some point the powerful Soardo family built a powerful citadel that became a residence in the 14th century. The Soardo-Bembo Citadel is now the highlight of Bale with a striking gothic-renaissance facade.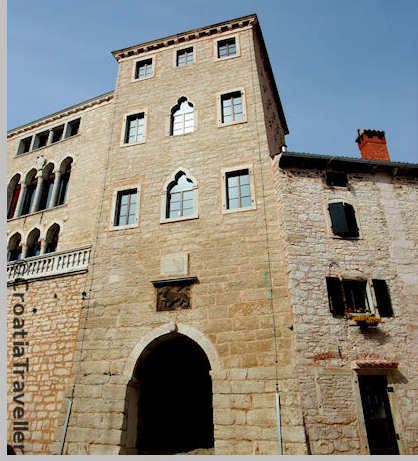 The town was mostly deserted by its Italian inhabitants after 1945 but a steady trickle of savvy tourists is reviving interest in its development.
What to See
Entrance to the old town is via an arch next to the Soardo-Bembo Citadel. Stroll along the narrow, arched alleys until you come to St Elizabeth's church in the central square. Although built by then-mayor Bembo in the 19th century, this elegant neo-baroque structure houses fragments of a much-earlier church inside. In fact, it is the fifth church built upon this site! Also inside is a wooden statue believed to have once brought rain to the town.
A more modest contruction is the 15th-century church of Holy Spirit was built in the 15th century. The humble exterior masks an explosion of colorful frescoes inside depicting scenes from the life of Christ.
As a civic building, take note of the handsome town hall built in the 14th century when Bale was under Venetian rule.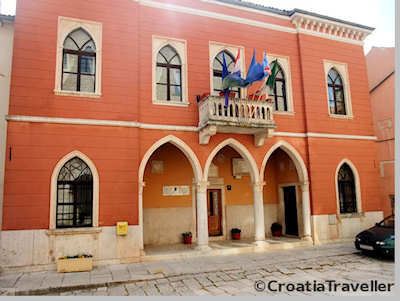 Where to Eat
There are some excellent local dining spots in Bale where you can tickle your tastebuds without spending a fortune.
Bembo
(052-824 500)
It's known for it's Istrian steak as well as homemade sausages.
Istra
(052-824 396)
Close to the bus stop and town entrance, this local tavern is the place to try fuzi and truffles. See my review.
Kod Kancelira
(052-824 445)
Just outside the old town, this place specializes in homemade pasta, venison with beef and homegrown chicken.
Where to Stay
Bale is not the place for sprawling resorts or international chains but if it's boutique-style you're looking for, Bale is the place for you. The best is the four-star Hotel Meneghetti outside town in the rolling Istrian countryside. In town are some wonderful, homey B & Bs.
Getting to Bale
From Rovinj bus station, there are buses to Bale every hour or so and the trip takes 15 minutes. For the schedule and online booking see Arriva. It's also a quick drive with easy parking right outside the old town.
Related Pages
Further Resources
Istria Travel News
Best Outdoor Destinations in Croatia

With eight National Parks and nearly a dozen protected Nature Parks not to mention islands, rivers, mountains, rolling hills and placid seas, Croatia is a paradise for active travellers. Here are the very best destinations to experience the great outdoors. More.

Croatia Music Festivals 2018

Croatia has become an unmissable stop on the summer festival party circuit, hosting some of Europe's very best music festivals. Croatia's relaxed live-and-lets-dance-under-the-stars vibe coupled with (in some cases) stunning beaches and an international roster of the latest acts is sure to make the summer of 2017 one to remember. More.

Autumn in Croatia: Top Ten Trip Ideas

Autumn is a wonderful time to participate in local life and experience the Croatia that tourists never see. Here are the top ten events, destinations and activities this autumn. More.

Keeping Cool in Croatia
As a heatwave smothers the Croatian coast, here's how to stay chill in Split, Dubrovnik and Istria. More.

Great Deals on New Hotels in Croatia

Get great value on new and renovated accommodation in Zadar, Hvar, Istria and the northern Adriatic. More.

Recommended Tours
More from Croatia Traveller
Questions? Comments?
©CroatiaTraveller 2005-2018 All rights reserved