Get Started
About Croatia
Essentials
Croatia Map
Croatia Photos
Guidebooks
When to Go
Top Sights
Accommodation
Transport
Car Rental
Croatia Ferries
Ferry Guide
Money
Adventure
Sailing
Cruises
Tours
Itineraries
Special Interests
Dalmatia

Dubrovnik

Islands

Istria

Kvarner
Split
Zadar
Zagreb
News Blog
Newsletter
Traveller Tips
About Me

Advertising
Trip Planning
Contact
Privacy Policy

Search Site
Site Index
Great deals on
Split Holidays


Split's four-star hotels are mostly brand-new establishments and are about equally divided between those that focus on business travellers and those that focus on leisure travellers. The business-centered establishments are less centrally located in order to give maximum parking space (a big problem in Split's historic centre). The decor is modern and no-nonsense and conference facilities are well-developed.
All the four-star hotels in Split are equipped with fitness centres, non-smoking rooms and a sauna. The five-star luxury hotels in Split have more elaborate wellness centres.
Hotel Authentic
Located near Bacvice beach in a quiet, residential neighbourhood, this small family-run hotel offers the comforts of a fine hotel and the personalised service of private accommodation.
Hotel Cornaro
Just a few minutes walk north of Split's old town, this five-star establishment opened in 2014. The terrace is a comfortable spot for relaxing and the hotel bar is known for its selection of Croatian wines. More.
Hotel Dalmina
This is another new hotel that offers remarkably reasonable prices for remarkably comfortable rooms. It is 2km from the centre, however, which is not a problem if you have your own wheels but may not be attractive to leisure travellers. Road warriors will like the free internet access and great conference facilities.
Hotel Globo
This is another good choice for road warriors with large, comfortable rooms, free parking and free wireless access.
Hotel Jupiter
Located in an historic building right inside Diocletian's Palace, the Hotel Jupiter boasts a free sauna for guests and iPod docking stations inside each room in addition to eye-popping design. More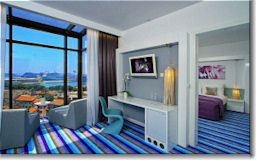 Hotel Luxe
This beautifully designed hotel hopes to stand out from the pack with top-level service. The shiny amenities are all present and accounted for and the location places you within an easy walk to the Old Town, the ferry port and the beach. Delightful.
Hotel Marmont
Four-star travellers have such a selection now. This hotel, opened in 2008, boasts a wonderful mixture of the traditional and the modern. The location is excellent--right in the town centre--and you can gaze over Split and the sea from the hotel's rooftop terrace.
Palace Judita Heritage Hotel
This stunning new hotel is right in the heart of Split's Old Town on Narodni trg. Housed in a 16th-century palace, you can live life as a Venetian aristocrat.
Piazza Heritage Hotel
In central Split, just outside Diocletian's Palace, this hotel is decorated in Art Nouveau style which is both stylish and soothing. More.
Royal Suites
Just outside the Old Town, these new, highly appointed suites offer 3-meter high ceilings, free Wifi and free local calls. There's only six units so you can count on peace and quiet.
Radisson Blu Resort Split
This stunning overhaul of the former Hotel Split provides a full resort experience replete with spa, wellness, pool and top-notch restaurant. Plus, there's the full range of comforts associated with the popular Radisson chain.
Villa Marjan
The fresh air and village-like ambience of Marjan hill is a welcome relief after downtown Split. Plus, in this familial hotel in the Veli Varos neighbourhood, you're only a short walk along the harbour to central Split.
Hotel Vestibul Palace
Stylish and exclusive, the Hotel Vestibul Palace has quickly become the trendiest hotel in town. And it is in town. The hotel is literally a part of Diocletian's Palace. (You can see the old Roman walls on the left).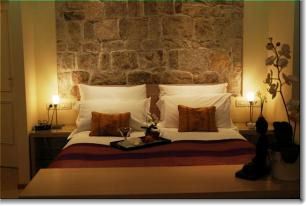 Boutique Hotel Zephyrus
The Australian managers have done a bang-up job of restoring and decorating this traditional building. In addition to the indoor and outdoor swimming pool plus a terrace, you can even rent one of the hotel's yachts for a day of sailing.
August in Croatia
08/02/2016
New rules in Split, Dubrovnik and Plitvice, a new World Heritage Site and two new design hotels. More.

Great Deals on New Hotels in Croatia
06/30/2016
Get great value on new and renovated accommodation in Zadar, Hvar, Istria and the northern Adriatic. More.

Best Accommodation in Croatia
04/11/2016
From luxury spas to rustic villas and chic hostels, why not go for the best? More.

10 Best Hostels in Croatia
09/25/2015
A new generation of hostels has emerged that is redefining the hostel experience. When it comes to location, comfort, design and staffing, here are the best hostels in Croatia. More.

15 New Hotels on the Croatian Coast
06/09/2015
Where to stay in Dubrovnik, Rovinj, Porec, Pula, Korcula, Sibenik, Split, Pula, Opatija, Mali Losinj? Here are the best new hotels of 2015: More.

Subscribe to Croatia Hotel News
Questions? Comments?
©CroatiaTraveller 2005-2017 All rights reserved