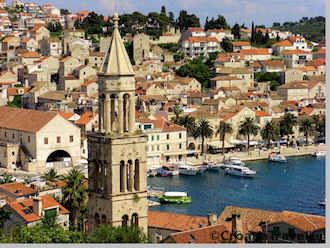 Hvar Town
(more photos of Hvar)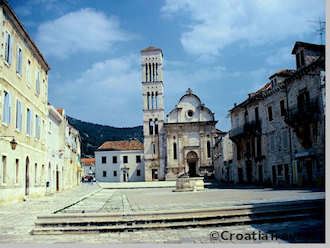 Trg Sv Stjepan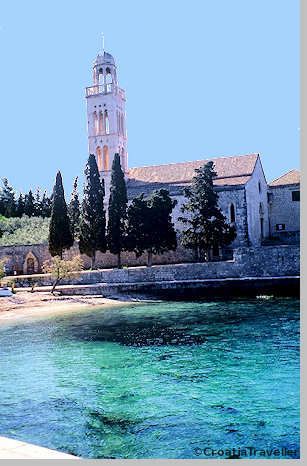 Franciscan Monastery
The intricately carved Venetian architecture and wide, welcoming seaside promenade of Hvar Town has helped make Hvar Island the chicest and most visited of southern Dalmatian islands. It's a top sight in Croatia and one of the country's most romantic spots. side promenade of Hvar Town has helped make it the most visited of southern Dalmatian towns. It's a top sight in Croatia and one of the country's most romantic spots. By day, it's a short stroll to one of the pebbly coves that open onto the sparkling sea with a view of the verdant Pakleni Islands just offshore. When the sun is about to sink into the horizon, the bars and cafes along the harbor swing into action, providing tropical drinks and ambient music throughout the night.
A word of warning: Hvar is hot now and I don't mean the temperature. From yachties to movie stars to gap year Aussies, everyone comes to Hvar. Consequently it is one of the more expensive towns in Croatia and in the height of the summer season it is a real scene. You won't be bored!
Sights
Katedrala Sv Stjepana
This 16th-century cathedral lies the head of the superb Renaissance square of the same name that sprawls over 4500 sq meters. It's the largest square in Dalmatia and it was here that official announcements were made when Hvar was under Venetian rule. The style is typical of piazzas built under the Venetian empire. Notice the 16th-century well at the northern end of the square. Now, the square is lined with cafes and small businesses but the impressive architecture is intact.
The cathedral was erected on the foundations of a gothic sanctuary and elegantly marries Renaissance and baroque styles. Although damaged by a Turkish raid in 1571, it was rebuilt in the 16th and 17th centuries. The stone is from Korcula and certain elements of the facade recall the celebrated cathedral of Sibenik with a trefoil gable and oculus. The interior contains a number of Italian paintings, the best of which is a Flagellation of Christ by Giorgio da Sebenico. Opening hours are 30 minutes before the twice daily mass, longer in summer.
Bishop's Palace
Lying behind the tower, the highlight of this museum of church treasures is a richly embroidered liturgical cloak, replete with flying angels, apostles and saints. Although its origins are unclear, probably dating back to the 16th century, the crimson velvet garment is a stunner. There are also various liturgical vessels and religious paintings. Opening hours are 9am-noon and 5-7pm.
Hanibal Lucic Summer Residence
Behind the Bishop's Palace is the restored summer villa of one of Croatia's greatest poets, Hanibal-Lucic-Lucio who wrote the first drama to be written in the Croatian language, La Schiava. His residence is a beautiful example of Dalmatian Renaissance architecture and contains paintings, furnishings, a collection of medals and a portrait of the poet. The residence also contains the Natural History Cabinet of one Doctor Bučić, a strange and eclectic collection of preserved plants, fossils, photos and old books on the natural history of Hvar. Opening hours are 9am-1pm and 5-11pm in summer only.
Benedictine Monastery
The benedictines of Hvar became expert in creating fabric from agave leaves. Extremely detailed lace from agave leaves are on display here. Opening hours are 10am-noon and 5-7pm Monday to Friday.
Franciscan Monastery
Easily recognizable by its high bell tower, this 15th-century monastery is about a 5-minute walk south of Riva. According to legend, its construction was financed by a Venetian naval officer who escaped from a shipwreck. Maybe. But it's known that the admiral of the Venetian fleet, Piero Soranzo, also had a lot to do with it. The most striking feature of the facade is the stone relief carved by Nikola Firentinac in 1470 showing half-figures of the Virgin and Child Adored by Angels. Inside the church is a complex and beautiful rood screen with a triptych and polyptych by Francesco Santacroce. Notice too the two magnificent altarpieces by Leandro Bassano (1557-1622). The striking Last Supper in the refectory is said to be from Matteo Ponzoni, a Dalmatian master. In the convent is the carved, wooden Winged Dragon which came from the prow of a ship at the famed battle of Lepanto in 1571. The church interior is known for its excellent acoustics and hosts classical concerts each summer.
Theater
Just over the Arsenal, this Renaissance jewel was the first public theater in Europe. Opened in 1612, the inscription over the entrance recalls that the year corresponds to the second year of Hvar Peace and equality among the citizens. Open to all classes the theater was nonetheless for men only until late in the 19th century when women were permitted to enter. Plays have been staged here for centuries but only for small audiences as the ancient building is too fragile for crowds. Opening hours are 10am-noon and 5-7pm. Enter through the adjoing Gallery of Contemporary Croatian Art.
Nightlife in Hvar Town
For nightlife, you can't do better than Hvar town which boasts the best nightlife on the Adriatic. As soon as the shadows lengthen, the sleek and chic head to one of the harbourside cafe-bars, sipping tropical cocktails and comparing tans. Carpe Diem is the center of the harbourside scene; Hula-Hula Bar is just a short walk away and Veneranda overlooks it all on the top of the hill. Off-season, Hvar quiets down considerably and if you head to Jelsa or Stari Grad you'll find a less hectic pace. Get the details on Hvar nightlife here.
Accommodation in Hvar Town
Most of the hotels in Hvar Town were built during the Tito era when bigger was better and biggest was best. In the last decade they have been completely overhauled and are now palaces of luxury and refinement. There are a number of hotels around the harbour, only steps from the water, offering a complete resort experience and several in the town center. See my tips and recommendations for Hvar hotels.
There's also plenty of private accommodation as vacation apartment construction crawls steadily uphill. By the way, "uphill" may not necessarily be where you want to be. See more tips and recommendations for private accommodation in Hvar.
No matter which you choose, book as far in advance as possible for the July-August summer season. The entire island can and does get booked out.
Dining
The two crops that define Hvar cuisine have been grown since Illyrian times in the 6th-century BC: wine and olive oil. Plavac mali is the wine grown on Hvar's southern slopes and it accompanies many a meal. Fish and seafood are staples of the local diet and are served either grilled and seasoned with olive oil and herbs or in stews. Look for gregada, a fish stew slow simmered with onions.
Restaurants in Hvar turn out wonderful but basic dishes, predominantly of fish, seafood and pasta but the menus can be monotonous as they cater to conservative local tastes. There's more variety in hotel restaurants that serve an international clientele.
See Hvar restaurant recommendations.
Getting To Hvar Town
Most people travel to Hvar Island by ferry. Stari Grad and Sucuraj receive car ferries and Hvar Town receives passenger boats. Buses meet most ferries landing in Stari Grad; buses do not meet the car ferry in Sucuraj.
There are passenger boats from Split to Jelsa all year and from Jelsa there are frequent buses to Hvar town although buses do not meet every ferry. There's a passenger boat from Split to Hvar Town that runs all year (although more frequently in summer) and goes on to Korcula.
There is no direct ferry from Dubrovnik to Hvar Town. Find out more about getting to Hvar Island and getting around Hvar Island.
History of Hvar
Already occupied by the Illyrians, Hvar developed further under the Greeks from Paros island. The Romans soon followed and brought vines and wine cultivation which blossomed into a major industry for the island. The Venetians arrived in the 14th century, moving their capital from Stari Grad to Hvar town because of the sheltered harbour. Although they offered protection from the pirates of Omis, they were widely despised. Violent clashes and uprisings occurred periodically and were ruthlessly suppressed. Nevertheless, most of the town's beautiful Renaissance architecture dates from the 16th and 17th centuries when the town was under Venetian rule. See more on the history of Hvar Island.
Tourist Information in Hvar Town
The Hvar tourist office (tel 021-742 977) is in the Arsenal building just steps from the harbour.
More from Croatia Traveller
About Croatia
Quick Facts
Travel Questions
From electricity to money, costs & weather; all you need to know to plan a successful trip

Croatia Maps
Find out where you're going using this map collection
Planning
When to Go
Spring, summer winter, fall plus a month by month guide

Top Sights
See what everyone is raving about.
Accommodation
Find out where to stay and how to get the best deal
Transport
Get around by car, ferry, plane, train & bus
Inspiration
Adventure
Outdoorsy? Here are some ideas.
Itineraries
How to fit it all in and make your trip work
Questions? Comments?
©CroatiaTraveller 2005-2015 All rights reserved