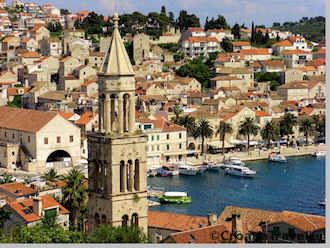 Hvar Town
(more photos of Hvar)

The intricately carved Venetian architecture and wide, welcoming seaside promenade of Hvar Town has helped make Hvar Island the chicest and most visited of southern Dalmatian islands. It's a top sight in Croatia and one of the country's most romantic spots. By day, excursion boats head out to one of the pine-wooded offshore Pakleni Islands of Stipanska or Jerolim where naturists have their own private coves.
Travel Tip
Hvar is hot now and I don't mean the temperature. From yachties to movie stars to gap year Aussies, everyone comes to Hvar. Consequently it is one of the more expensive towns in Croatia and in the height of the summer season it is a real scene. You won't be bored!
For nightlife, you can't do better .At night, the sleek and chic relax in one of the harbourside bars, sipping tropical cocktails and comparing tans. Off-season, Hvar quiets down considerably and if you head to Jelsa or Stari Grad you'll find a less hectic pace. See more on Hvar nightlife.
Most of the hotels in Hvar Town were built during the Tito era when bigger was better and biggest was best. There are a number of hotels around the harbour, only steps from the water and plenty of private accommodation. Find out more about Hvar hotels and Hvar private accommodation.
Most people travel to Hvar Island by ferry. Stari Grad and Sucuraj receive car ferries and Hvar Town receives passenger boats. Buses meet most ferries landing in Stari Grad; buses do not meet the car ferry in Sucaraj. There are passenger boats from Split to Jelsa in summer only and a passenger boat from Split to Hvar Town that runs all year (although more frequently in summer).There is no direct ferry from Dubrovnik to Hvar Town. Find out more about getting to Hvar Island and getting around Hvar Island.
Already occupied by the Illyrians, Hvar developed further under the Greeks from Paros island. The Romans soon followed and brought vines and wine cultivation which blossomed into a major industry for the island in the Middle Ages. Most of the town's beautiful sculpture dates from the Renaissance. See more on the history of Hvar Island.
Tourist Information in Hvar Town
The Hvar tourist office (tel 021-742 977) is in the Arsenal building just steps from the harbour.
What did you think of this article? Do you have a suggestion?
©CroatiaTraveller 2005-2013 All rights reserved