Get Started
About Croatia
Essentials
Croatia Map
Croatia Photos
Guidebooks
When to Go
Top Sights
Accommodation
Transport
Car Rental
Croatia Ferries
Ferry Guide
Money
Adventure
Sailing
Cruises
Tours
Itineraries
Special Interests
Dalmatia

Dubrovnik

Islands

Istria

Kvarner
Split
Zadar
Zagreb
News Blog
Newsletter
Traveller Tips
About Me

Advertising
Trip Planning
Contact
Privacy Policy

Search Site
Site Index
Great deals on
Split Holidays


International Ferries to Split
Split's only international ferry connections are to Ancona. Ancona ferries run all year and are highly reliable. Naturally, there are extra Ancona ferries in summer to handle the influx of tourists. Only a very strong Adriatic storm causes the cancellation of a ferry and that is most likely to occur in winter.
Local Ferries
Split is the main embarkation point for dozens of ferries to the Dalmatian islands, including Hvar, Brac, Vis and Korcula. Most ferries are car ferries run by Jadrolinija but there are also passenger ferries that can whisk you out to the islands of Hvar, Vis and Korcula.
Local Ferry Timetables
Split-Supetar (Brac) Car Ferry
Split-Stari Grad (Hvar) Car Ferry
Split-Solta Car and Passenger Ferries
Split-Bol-Jelsa Passenger Ferry
Split-Vela Luka-Ubli Car Ferry
Split-Vis Car Ferry
Split-Hvar-Vis Catamaran
Split-Hvar Catamaran
Split-Hvar-Korcula Catamaran
Split-Brac-Hvar-Korcula-Mljet-Dubrovnik Catamaran
Local Ferry Map
Here you can see the routes of all car ferries, catamarans and ships in the Split region.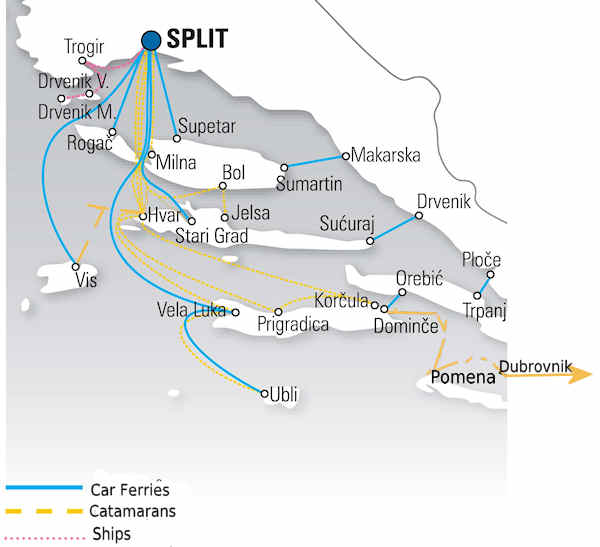 Reserving Local Ferries
It's important to note that local ferries to Split may not be reserved online. To reserve a place on a local car or passenger ferry, you must buy directly from a local Jadrolinija or travel agency. In the height of the summer season, it's wise to buy tickets on car ferries to the most popular islands as soon as possible. Passengers can always get on board but space for cars can fill up! See more about booking ferries in Croatia. Download all Split local ferry schedules with prices and booking information.
Split Port
Split port is mammoth and busy. In purchasing a ticket make sure to ask the number of the berth and the name of the boat. It's easier to spot the boat from afar if you know the name. In the map below, notice that there are four docks: Lukobran; Sv Duje; Sv Petra; Sv Nikole. Cruise ships are at Lukobran, which is currently being enlarged and deepened to accommodate mega-cruisers. Sv Duje accommodates international ferries from Ancona and the rest of the local passengers and car ferries are between Sv Petra and Sv Nikole.
Map of Split Port

Click for a larger version
From Split Airport to Split Port
The cheapest and easiest way to go from Split Airport to Split Port is to take an airport bus which leaves you off at Obala Lazareta, just a short walk from the ferry port. Be aware it's not necessarily straightforward to find your boat. If you're pressed for time or travelling with a lot of luggage and you already have your ticket, it may be best to take a taxi from the airport directly to your boat (the taxi driver will know where to go). The coast is about 250Kn. See more on ground transport from Split Airport.
Split-Dubrovnik Catamaran 2016
02/17/2016

The new timetable is finally here for the Split-Brac-Hvar-Korcula-Mljet-Dubrovnik seasonal catamaran. More.

BREAKING: Pescara Ferries Cancelled!
02/05/2016

A spokeswoman for SNAV just confirmed to Croatia Traveller that the passenger ferry that connected Pescara, Italy with Croatia will not run this summer. But there are alternatives! More.

Online Booking for Car Ferries
06/16/2015
This is really big news. Jadrolinija and other ferry companies began online booking for catamarans last year but a spokeswoman told Croatia Traveller then that online booking for car ferries posed technical issues that would take time to resolve. Here's what you need to know: More.

Gazenica: Zadar's New Port
04/02/2015

It was years in the making and isn't quite finished but Zadar's new port at Gazenica is now receiving its first car ferries. Located 3km southeast of the Zadar's Old Town, the new port sprawls over nearly 1.5km of coastline and can accommodate large cruise ships as well as ferries. More.

Subscribe to Croatia Ferry News
Questions? Comments?
©CroatiaTraveller 2005-2017 All rights reserved