Get Started
About Croatia
Essentials
Croatia Map
Croatia Photos
Guidebooks
When to Go
Top Sights
Accommodation
Transport
Car Rental
Croatia Ferries
Ferry Guide
Money
Adventure
Sailing
Cruises
Tours
Itineraries
Special Interests
Dalmatia

Dubrovnik

Islands

Istria

Kvarner
Split
Zadar
Zagreb
News Blog
Newsletter
Traveller Tips
About Me

Advertising
Trip Planning
Contact
Privacy Policy

Search Site
Site Index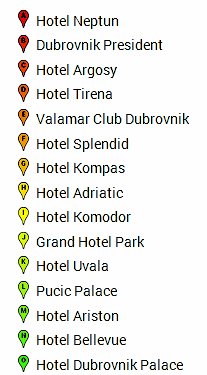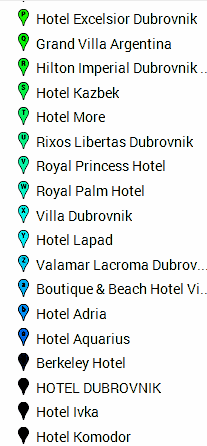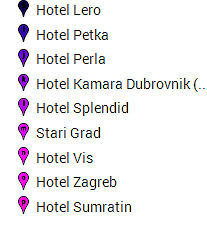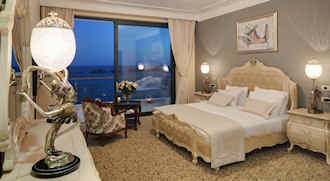 Royal Princess: For princes too!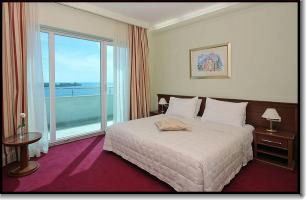 Hotel Ariston: A seaside location and a
touch of class make this a top choice.
Dubrovnik's deluxe five-star hotels are on par with the finest international standards. Rooms are spacious and comfortable with king-size beds. The large bathrooms might have two sinks, a bathtub and come equipped with the best toiletries. There's a minibar of course and satellite TV with English-speaking channels and fast, free wifi.
Wellness is the word for the public areas. Spa facilities with sauna, massage, exercise equipment and either an indoor or outdoor pool are standard features at this level of luxury.
Location is an important consideration when you make your choice.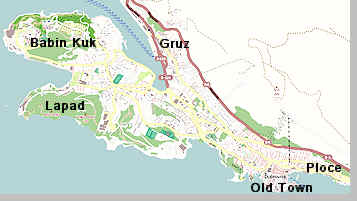 (See more on where to stay in Dubrovnik; see a map with hotels)
Recommended Luxury Five-Star Hotels in Dubrovnik
Babin Kuk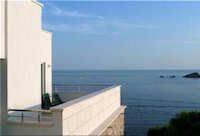 Hotel Ariston
Location: Babin Kuk
Newly refurbished and with a full complement of wellness facilities, this luxury resort is part of the prestigious Importanne Group. Book now.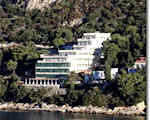 Hotel More
Location: Babin Kuk
This classy hotel has 33 luxurious rooms and two suites, most of which have sweeping sea views. The unique "cave bar" is a popular spot with locals and the "beach" area is beautifully arranged with comfortable lounge chairs. Book now.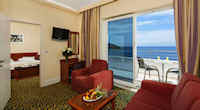 Royal Palm Hotel
Location: Babin Kuk
Indoor and outdoor pools and balconies with sea views in every unit make the Royal Palm an outstanding choice. Nearby is a beach area with lounge chairs and umbrellas. Book now.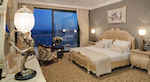 Royal Princess
Location: Babin Kuk
This stunning hotel is perfect for a quiet, relaxing holiday. "We stayed in Dubrovnik at the Royal Princess which was absoltelutly wonderful. Our suite overlooking the Adrian sea was perfect. The service of the staff was outstanding. We loved the location in between a number of wonderful restaurants." (Sally Barre) Book now.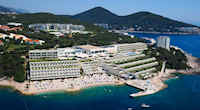 Valamar Dubrovnik President
Location: Babin Kuk
A 2014 overhaul made a good hotel even better. Well-located in front of a bus stop, this is the only hotel on Babin Kuk to boast its own private, pebble beach. Book now.
Ploce
Grand Villa Argentina Hotel
read my review
Location:
Ploce
Four
luxury villas
plus a hotel and the full monty of fitness plus indoor and outdoor pools. The villas offer an unbeatable level of privacy for honeymooners.
Book now.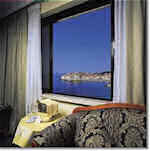 Hotel Excelsior read my review
Location: Ploce
With a casino and a renowned restaurant and a wellness centre, the Excelsior is a palace of pampering. It also has the best view of the Old Town from the hotel seafront terrace. Book now.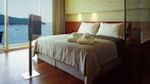 Villa Dubrovnik
Location: Ploce
The three-year renovation has made magic here. Of the Ploce hotels, this is the furthest from town but still only a 20-minute walk. Plus, there are free boat transfers! The architecture and design are subtle but elegant and the wellness amenities are first-rate. This is perfect for honeymooners. Book now.
Old Town
The Pucic Palace read my review
Location: Old Town
In a traditional baroque building overlooking Dubrovnik's most beautiful square is this ultra swanky boutique hotel. The interior leans toward cutting edge contemporary design. Book now.
Hotel Hilton Imperial
Location: outside Old Town
Visitors report kind, attentive service in this brilliant restoration of the 19th-century Hotel Imperial. Voted Croatia's Leading Hotel in 2012.Book now.
Lapad
Palace Hotel Dubrovnik
Location: Lapad
This acclaimed hotel has been completely overhauled by the Croatian design company, 3LHD, which has worked to highlight and complement the views of the Adriatic sea and nearby Elaphiti Islands. 3LHD worked with a number of contributors to make this refurbishment a real Croatian design product - mobile furniture and lamps are the work of the successful studio Grupa, artist Mara Šuljak created bespoke wallpaper with Mediterranean motifs, and the choice of fabrics, curtains and bedspreads was entrusted to Croatian design duo I-GLE.  The refurbishment took six months but it is now the ultimate in sophisticated design. Book now.
Bellevue Hotel
Location: Lapad
Not only are there incredible views from every room but it's on the very edge of Lapad and a short walk to the Old Town. Book now.
Hotel Kazbek
Location: Lapad
A recent addition to Dubrovnik's hotel scene, this extends the concept of "boutique hotel" to a new level. The 13 rooms are in a 16th-century castle.Book now.

Hotel Rixos Libertas
Location: Lapad
This 254-room establishment has been voted Europe's Leading Casino Resort. How would you like your own private terrace overlooking the Adriatic? Book now.
Outskirts
Radisson Blu Resort & Spa
Location: Orasac
Only 17km from central Dubrovnik, this brand-new resort on a beach offers a vast array of sports opportunities including diving, a climbing wall, tennis and a state-of-the-art fitness center. The interior and exterior are breathtaking. Book now.
August in Croatia
08/02/2016
New rules in Split, Dubrovnik and Plitvice, a new World Heritage Site and two new design hotels. More.

Great Deals on New Hotels in Croatia
06/30/2016
Get great value on new and renovated accommodation in Zadar, Hvar, Istria and the northern Adriatic. More.

Best Accommodation in Croatia
04/11/2016
From luxury spas to rustic villas and chic hostels, why not go for the best? More.

10 Best Hostels in Croatia
09/25/2015
A new generation of hostels has emerged that is redefining the hostel experience. When it comes to location, comfort, design and staffing, here are the best hostels in Croatia. More.

15 New Hotels on the Croatian Coast
06/09/2015
Where to stay in Dubrovnik, Rovinj, Porec, Pula, Korcula, Sibenik, Split, Pula, Opatija, Mali Losinj? Here are the best new hotels of 2015: More.

Subscribe to RSS headline updates from:
Powered by FeedBurner
Questions? Comments?
©CroatiaTraveller 2005-2017 All rights reserved