Need a hotel in Dubrovnik? Lowest prices guaranteed.
Dubrovnik's deluxe five-star hotels are on par with the finest international standards. Rooms are spacious and comfortable with king-size beds. The large bathrooms might have two sinks, a bathtub and come equipped with the best toiletries. There's a minibar of course and satellite TV with English-speaking channels and fast, free wifi.
Wellness is the word for the public areas. Spa facilities with sauna, massage, exercise equipment and either an indoor or outdoor pool are standard features at this level of luxury.
Location is an important consideration when you make your choice.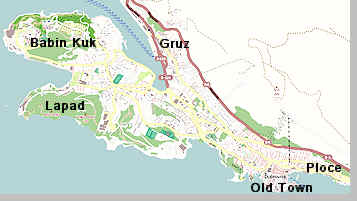 (See more on where to stay in Dubrovnik; see a map with hotels)
Luxury Five-Star Hotels in Dubrovnik
Outskirts
August in Croatia
08/02/2016
New rules in Split, Dubrovnik and Plitvice, a new World Heritage Site and two new design hotels. More.

Great Deals on New Hotels in Croatia
06/30/2016
Get great value on new and renovated accommodation in Zadar, Hvar, Istria and the northern Adriatic. More.

Best Accommodation in Croatia
04/11/2016
From luxury spas to rustic villas and chic hostels, why not go for the best? More.

10 Best Hostels in Croatia
09/25/2015
A new generation of hostels has emerged that is redefining the hostel experience. When it comes to location, comfort, design and staffing, here are the best hostels in Croatia. More.

15 New Hotels on the Croatian Coast
06/09/2015
Where to stay in Dubrovnik, Rovinj, Porec, Pula, Korcula, Sibenik, Split, Pula, Opatija, Mali Losinj? Here are the best new hotels of 2015: More.

Subscribe to RSS headline updates from:
Powered by FeedBurner
Questions? Comments?
©CroatiaTraveller 2005-2017 All rights reserved