Dubrovnik's Babin Kuk peninsula at the northern end of the Lapad peninsula has five luxury hotels, three four-star hotels, two three-star hotels and a good selection of apartments and guesthouses. It's even possible to rent a mobile home.
Carpeted with shrubs and trees, this quiet peninsula provides more of a resort experience than a cultural or urban experience. Babin Kuk is great for familes as there's plenty of woodsy space for kids to work off energy and the three star hotels are child-friendly. Couples looking to pamper themselves in a five-star hotel, laze on the beach and take romantic walks will also enjoy Babin Kuk.
Rubbing shoulders with the locals however, is not part of the Babin Kuk experience. As there are few residences and even fewer restaurants and cafes, hotel guests must either use the hotel facilities or hop on one of the very frequent local buses for a trip to Dubrovnik's Old Town.
Beaches on Babin Kuk
The southern end of Babin Kuk contains Dubrovnik's longest beach, the Copacabana, a pebble beach that is well-equipped for a day of sun and sea. There are snacks, drinks, meals and ice cream on offer, plus a wealth of water sports activities. It's also convenient to have showers and changing rooms, umbrellas and beach chairs. Bring change though! Showers are 2Kn for 30 seconds.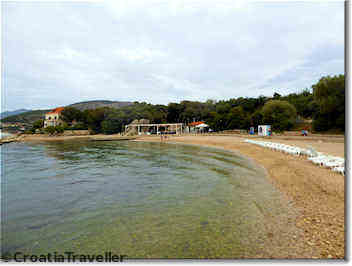 Those looking for a more upscale beach experience should head to the nearby Coral Beach Club, one of Croatia's best beach clubs. This trendy new establishment looks out at Daksa island and is known for its cocktails.
For a different view, try Solitudo Beach a short walk east of Copacabana.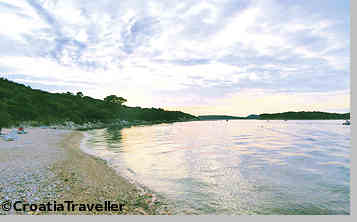 Solitudo Beach
See more on Dubrovnik beaches.
What to do in Babin Kuk
Besides going to the beach? Not a great deal. There is a lovely coastal walk around the eastern side of the peninsula that ends around the Orsan Yacht Club (an excellent dining choice, by the way) at the foot of Lapad. The walk is particularly enchanting at sunset.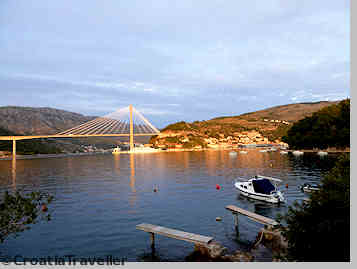 Getting to Babin Kuk
It's convenient although not obligatory to have your own wheels if you stay in Babin Kuk (see more on car rentals in Dubrovnik) but the city bus lines do serve the neighbourhood. Buses 5, 6 and 7 stop in front of the Hotel President. See more on local buses in Dubrovnik.
Airport buses do not come out to Babin Kuk. Coming from the airport, get off the bus at Pile and take the number 6 bus to Babin Kuk.
Hotels in Babin Kuk
Recommended five-star luxury hotels in Dubrovnik--fine dining, spa treatments, pools
Recommended four-star hotels in Dubrovnik --large, modern, comfortable and right on the beach.
Recommended three-star budget hotels in Dubrovnik --pools, games, water sports and entertainment.
Babin Kuk on a Map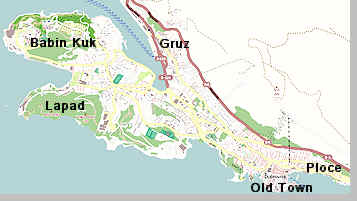 Other Dubrovnik Neighbourhoods
Questions? Comments?
©CroatiaTraveller 2005-2017 All rights reserved