In Dubrovnik private apartments provide the best value for your accommodation budget. There's an enormous quantity of lodging from which to choose and prices, though rising in recent years, are still somewhat cheaper than staying in a hotel with the same comforts. Demand for accommodation rises in summer of course but so does the supply as many Dubrovnik residents double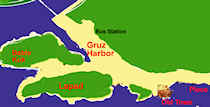 up with relatives or friends in order to rent out their apartment. Most lodging is in Lapad, Gruz or the Old Town; each has their own benefits (see more on where to stay in Dubrovnik). At the height of the season, you'll get a better deal if you stay at least three nights though. For a one-night stay it may make more sense to stay in a hotel.
Note that in Dubrovnik Old Town elevators are forbidden because of its status as a UNESCO World Heritage Site. Buildings achieve a maximum height of three floors and, in some parts of town, there are one or two flights of stairs to get to the entrance to the building. (See getting around Dubrovnik on foot) Those with walking difficulties should think about staying in Lapad or Babin Kuk where the buildings are lower and the hotels have elevators.
Why Private Accommodation?
Private accommodation in Dubrovnik offers a more personal experience. If you rent a room, you may be sharing the house with the owner which provides a great opportunity to mix with the local culture.  
Apartments can offer luxury and privacy at a better price than hotels. Apartment rentals are no longer for amateurs. The business has attracted hospitality professionals who use top-flight designers and offer the very latest in amenities.
Renting an apartment can be an economical choice for groups and families as the cost is usually much lower than renting a few hotel rooms. You can also save money on food since apartments will include a kitchen, cutlery, dishes,and a few pots and pans. Apartments also include satellite TV, helpful for relaxing after a long day of sightseeing. Free Wifi is standard.
BUT!! (There's always a but) in most cases you cannot pay with credit cards.
How to Find Private Accommodation
Private accommodation can be found when you arrive in Dubrovnik but it's better to reserve in advance, especially if you come in the summer when every place fills up.
You may be met at the bus station or harbour with offers of accommodation (although this is becoming less common). Be very careful about committing yourself until you get an exact idea of the location and the price. Some unscrupulous owners will take you to accommodation in the middle of nowhere leaving you with the option of either renting it or finding your own way back to town.  Because Dubrovnik is bordered by steep hills, it means nothing if someone tells you your lodging is 500m from the Old Town. So what? It could be a very steep climb, particularly in Gruz or Ploce. (See more on getting around Dubrovnik on foot.)
Best Private Accommodation in Dubrovnik
My selection of rooms and apartments below are the best in Dubrovnik, based upon guest reviews on booking.com of each establishment. Unlike various hotel review sites, these guests have actually stayed in the place. Guaranteed! You can read the reviews yourself. There are no booking fees or service charges so reserve now while you still can!
Fresh Sheets Bed & Breakfast
New and shiney in a traditional house
Bed and Breakfast Andio
Rooms and suites in a modern style
St Joseph's Guesthouse
Just gorgeous with rain shower bathrooms and an included breakfast.
City Walls Chic
Lovely decor
Apartments Nivic
Non-smoking studios
Apartment Maris
Design, comfort, parquet floors
Nije Presa Apartments
Beautifully furnished apartments.
Apartments Festa
Stylish rooms, apartments and studios
Old Town Ivory Apartments
Antique furniture and chandeliers
Dubrovnik Luxury Residence--L'Orangerie
Steps from the beach and with a balcony in each exquisite apartment
Dvori Lapad
Quiet apartments with balconies and free parking.
Orka Apartments
Simple furnishings in rooms & apartments; fab views, garden and barbecue.
Villa Mia
Well-outfitted rooms & apartments and near a beach
Cosmopolitan House
Overlooks Lapad bay with cheerful furnishings
Apartments Sandra Solitudo
Near the beach with free parking and attentive hostess.
Villa Antea
Elegant, classy four-star apartments
Villa Katarina
Right near the sea
Apartments Aura
Rooms with balconies, a terrace and small pool.
Bed & Breakfast Villa Klaic
With a small pool
Apartments Laus
A 15-minute walk to town, rooms with balconies or terrace.

Best of Pile
Old City Apartments

Steps away from the Old Town
Villa Leoni
Near Banje beach, some rooms have Old Town views.
Peric Rooms
Rooms and apartments with balconies and sea views.
Guesthouse Fontana (Mlini)
100 metres from the beach.
Villa Panorama (Plat)
Apartments near the bus stop
For more rooms and apartments in Dubrovnik Old Town click Dubrovnik Apartments