Dubrovnik's deluxe five-star hotels are on par with the finest international standards. Rooms are spacious and comfortable with king-size beds. The large bathrooms might have two sinks, a bathtub and come equipped with the finest toiletries. There's satellite TV with English-speaking channels, free wifi, bathrobes, slippers and scrumptious breakfast buffets.
Wellness is the word for the public areas. Spa facilities with sauna, massage, exercise equipment and pools (indoor, outdoor or both) are standard features at this level of luxury. Each five-star hotel has at least one restaurant, sometimes more, and the quality is excellent.
The location of these hotels is convenient, either near a beach, near the old town or within easy access of each.
[See more on where to stay in Dubrovnik; see a map with hotels]
Luxury Five-Star Hotels in Dubrovnik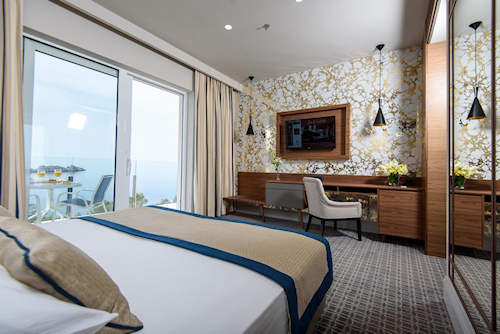 Hotel Ariston
Newly refurbished and with a full complement of wellness facilities, this luxury resort is part of the prestigious Importanne Group. The 115 carpeted rooms offer five categories: Standard; Luxury with Garden View; Luxury with Sea View; Romantic; Superior. There are a minimum of 27 square metres with a choice of twin or double beds. All have a seating area, minibar, electric kettle, free coffee & tea, an array of fine toiletries, wake-up service and more. Nearby in the Importanne resort are three excellent restaurants, a seaside swimming pool and private beach. Private parking is available.

Book now.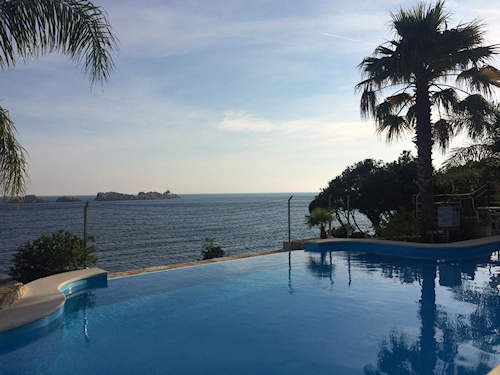 Royal Palm Hotel
Also part of the Importanne resort, this recent five-star hotel offers luxury rooms and suites with sea or garden views. In addition to the room amenities of the Ariston above, the Royal Palm offers balconies in every room, most with sea views. The spa and wellness center includes an indoor swimming pool for fitness and relaxation while the outdoor pool overlooks the sea. Nearby is a beach area with lounge chairs and easy sea access.

Book now.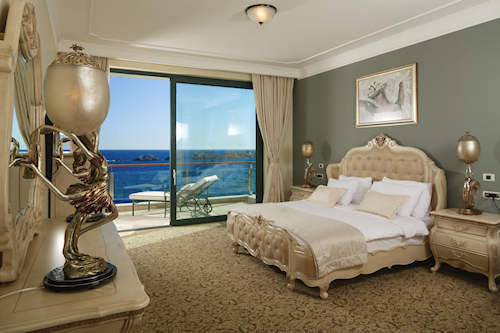 Royal Princess
This stunning Importanne hotel is perfect for a quiet, relaxing holiday. The sea views are particularly outstanding at this hotel. There are deluxe King rooms and suites with garden or sea views with all the proper amenities and an outdoor pool. "We stayed in Dubrovnik at the Royal Princess which was absoltelutly wonderful. Our suite overlooking the sea was perfect. The service of the staff was outstanding. We loved the location in between a number of wonderful restaurants." (Sally Barre)

Book now.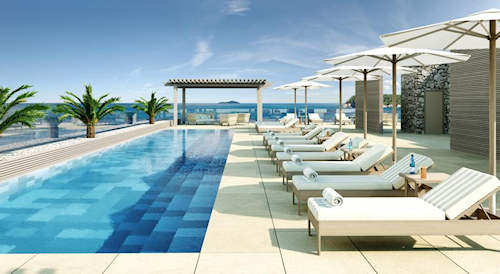 Royal Blue
It's the newest Importanne venture and its claim to fame is the rooftop swimming pool with spectacular views. There are also indoor and seaside swimming pools as well as a rock platform with loungers and sea access. All of the 81 rooms have a balcony and are beautifully furnished in smooth, refreshing sea colors. At 35 to 45 square meters, the rooms are exceptionally large and comfortable.

Book now.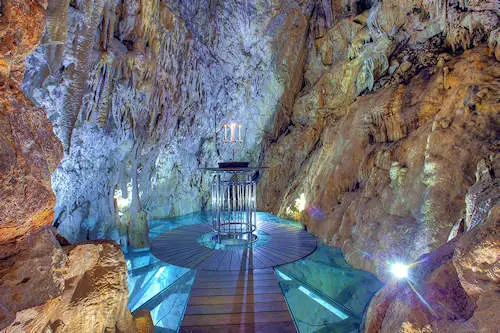 Hotel More
This  classy hotel has 33 luxurious rooms and two suites, most of which have sweeping sea views. The unique "cave bar" is a popular spot with locals and the "beach" area is beautifully arranged with comfortable lounge chairs. The hotel is seaside and along a promenade that winds along the coast to Lapad. It makes a lovely stroll. There's also a spa center, outdoor pool and jacuzzi.

Book now.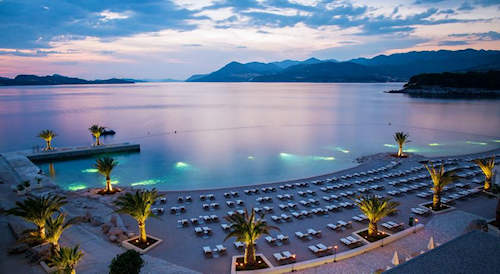 Valamar Dubrovnik President
A 2014 overhaul made a good hotel even better. Well-located in front of a bus stop, this is the only hotel on Babin Kuk to boast its own private, pebble beach. As it's a private beach, it's never too crowded plus its standards of cleanliness have merited Blue Flag recognition. The spacious rooms cleverly employ subdued whites and gentle pastels to create a halo of soft light. The decor is contemporary without being overdesigned. (You don't need a manual to turn on the lights). Even better are the immense terraces that stretch out from  each room to the sea which leave you with the feeling that you're alone with the sea and the sky. (see my review)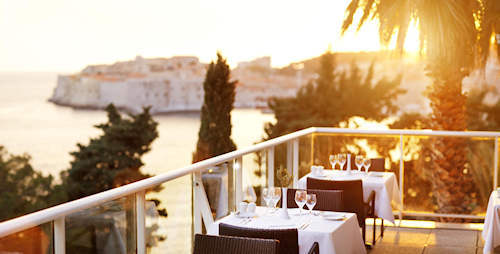 Grand Villa Argentina Hotel
Four luxury villas plus a hotel and the full monty of fitness plus indoor and outdoor pools make this iconic hotel special. The villas offer an unbeatable level of privacy for honeymooners.

Book now.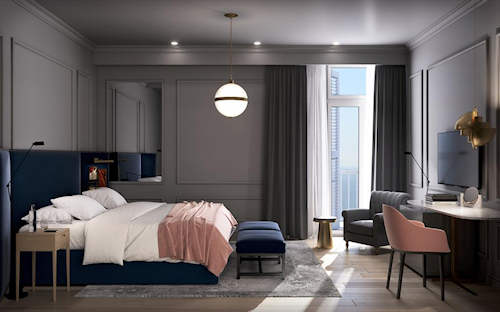 Hotel Excelsior
With three restaurants and a wellness centre, the Excelsior is a palace of pampering. It's also good to know that you can dine to you heart's content on excellent food in the hotel restaurant, the Abakus, and then work off your cellulite in the 850m spa. There's also Thai dining and a seaside restaurant. Housed in a turn-of-the-century villa, the Excelsior is an old classic so romantic that Richard Burton once wooed Elizabeth Taylor there. Don't miss the unforgettable view of the Old Town from the hotel seafront terrace. A total overhaul in 2017 kept the Excelsior right up to date in amenities and comforts.

Book now.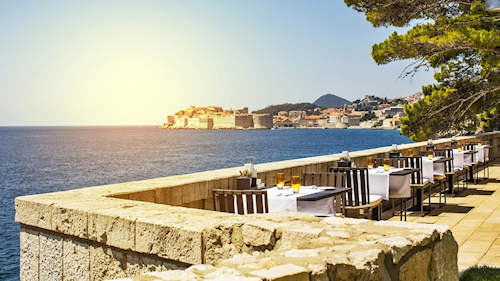 Villa Dubrovnik
A recent three-year renovation has made magic here. Of all the Ploce hotels, this is the furthest from town but still only a 20-minute walk. Plus, there are free boat transfers! The architecture and design are subtle but elegant and the wellness amenities are first-rate. The Villa Dubrovnik has a romantic setting, perfect for honeymooners.

Book now.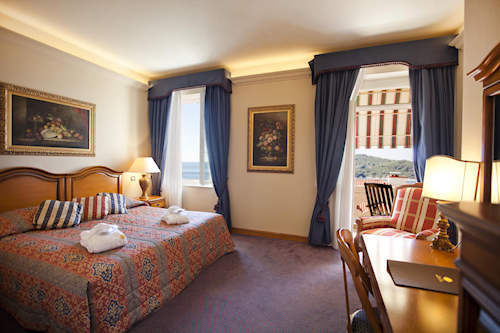 Villa Glavic
The facilities of the Grand Villa Argentina, available for all guests of the Glavić, include a private beach, an outdoor salt water swimming pool, an indoor swimming pool, a wellness centre and a gym, as well as a café, a restaurant and lounge bar and a spacious restaurant terrace.

Book Now.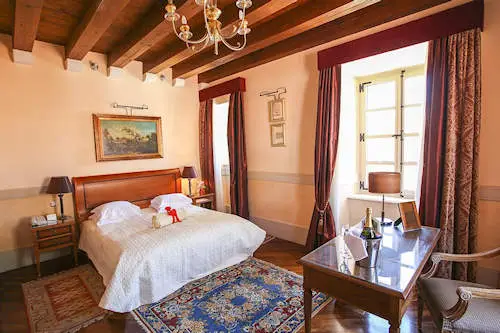 The Pucic Palace
In a traditional baroque building overlooking Dubrovnik's most beautiful square is this ultra swanky boutique hotel. The interior melds cutting edge contemporary design with the high ceilings and spaciousness that characterize old Dubrovnik.

Book now.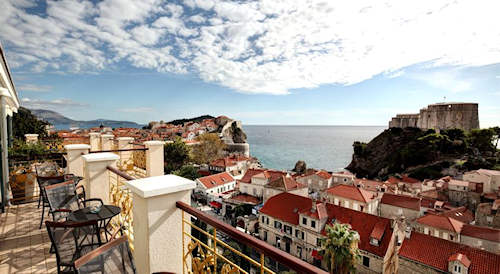 Hotel Hilton Imperial
Visitors report kind, attentive service in this brilliant restoration of the 19th-century Hotel Imperial. Voted Croatia's Leading Hotel in 2012, the location right outside Pile Gate is perfect for visiting the sights of Dubrovnik and then retiring to comfort and calm.

Book now.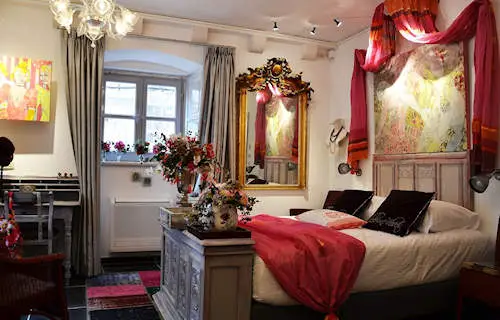 Prijeko Palace
This splendid new hotel is located in a 16th-century palace just off Stradun and each room is decorated with extraordinary style and originality. Some even have private balconies.

Book now.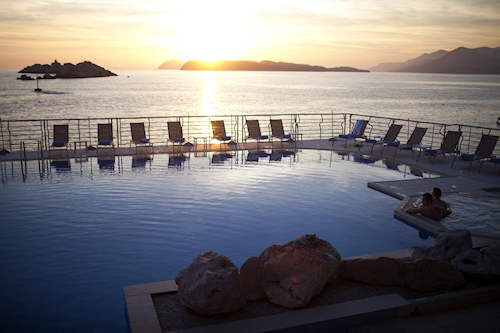 Palace Hotel Dubrovnik
This acclaimed hotel has been completely overhauled by the Croatian design company, 3LHD, which has worked to highlight and complement the views of the Adriatic sea and nearby Elaphiti Islands. 3LHD worked with a number of contributors to make this refurbishment a real Croatian design product - mobile furniture and lamps are the work of the successful studio Grupa, artist Mara Šuljak created bespoke wallpaper with Mediterranean motifs, and the choice of fabrics, curtains and bedspreads was entrusted to Croatian design duo I-GLE.  The refurbishment took six months but it is now the ultimate in sophisticated design.

Book now.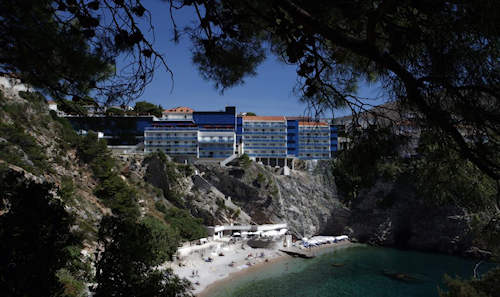 Bellevue Hotel
Not only are there incredible views from every room but it's on the very edge of Lapad and only a short walk to the Old Town. The secluded private beach is perfect for relaxing away from the crowd.

Book now.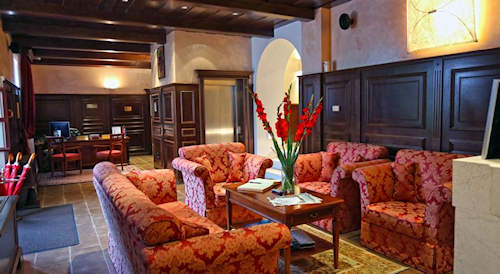 Hotel Kazbek
A recent addition to Dubrovnik's hotel scene, this extends the concept of "boutique hotel" to a new level. The 13 rooms are in a 16th-century castle and are decorated in accordance with the hotel's illustrious history.

Book now.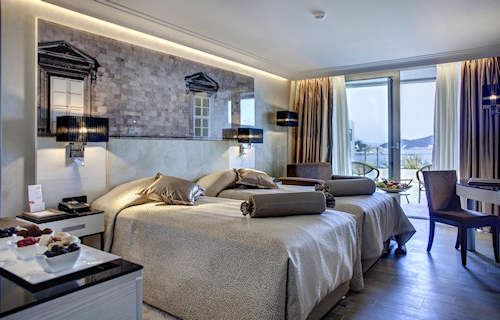 Hotel Rixos Libertas
This 254-room establishment has been voted Europe's Leading Casino Resort. How would you like your own private terrace overlooking the Adriatic?

Book now.  
Outskirts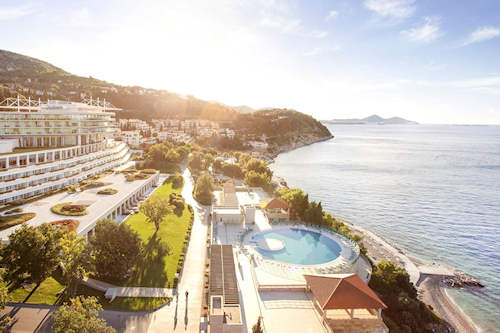 Radisson Blu Resort & Spa Dubrovnik Sun Gardens
Only 17km from central Dubrovnik in Orasac, this new resort on a beach offers a vast array of sports opportunities including diving, a climbing wall, tennis and a state-of-the-art fitness center. The interior and exterior are breathtaking. The standard of excellence has propelled the resort into the prestigious Leading Hotels of the World group.

Book now.