Split-Rogac (Solta) Car Ferry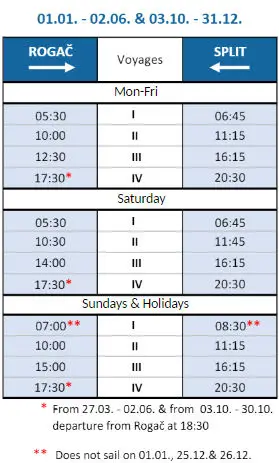 The Split-Rogac car ferry provides a vital link to the nearby island of Solta, a popular getaway spot for the locals. As the duration of the trip is only one hour, it's easy to use this ferry to make a day trip to Solta.
Booking
The Split-Rogac car ferry shuttle is run by Jadrolinija.You can buy tickets online, at any Jadrolinija office or go to the port at least 1/2 hour in advance, buy your ticket at a stall and put your car in the waiting line. Click here for general information about booking ferries in Croatia.
Recommended Tours
More from Croatia Traveller
Questions? Comments?
©CroatiaTraveller 2005-2018 All rights reserved