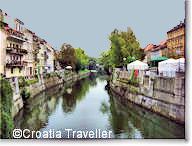 Daily buses from Ljubljana
Find Car Rentals
Getting to Croatia by bus is generally the cheapest option to travel to Croatia. It's also a great way to meet people especially if you're travelling solo. Of course sleeping on a bus is in no way comparable to sleeping on a train. At a minimum you'll need a device and earphones! The good news is that most buses now have WiFi connections.
Booking
Many buses are now bookable online at getbybus.
Buses from the UK to Croatia
National Express Eurolines runs night buses on Monday and Friday from Victoria Station to Zagreb, Rijeka, Zadar and Split. The trip takes 15 hours. Book here.
Buses from Italy to Croatia
From Venice to Istria
Padova, Venice, Trieste to Rovinj, Pula etc.
Schedule: Daily
See schedule.
From Trieste to Istria

There are numerous buses from Trieste to Pula, Porec and Rovinj but check the schedule carefully. Some buses are summer only and some only run on weekdays. You can book online at busradar.com.
Trieste to Rijeka
There are four daily buses from Trieste to Rijeka from where you can catch other buses down the coast. See all Rijeka schedules here where you can book online.
Trieste to Dubrovnik
There's a daily overnight bus between Trieste and Dubrovnik. You can check the schedule and book online here.
Trieste to Dalmatia
There are two daily buses between Trieste and Split, stopping at Zadar. See the schedule and book online here.
Buses from Slovenia to Croatia
There are daily buses from Ljubljana to Zagreb and Ljubljana to Istria. Check schedules and book online at busradar.com. See more about getting to Croatia from Slovenia.
Buses from Austria, Hungary to Croatia
Eurolines has regular buses from Vienna and Budapest to Zagreb but a train is quicker.
Last updated July 10, 2018
Recommended Tours
More from Croatia Traveller
Questions? Comments?
©CroatiaTraveller 2005-2018 All rights reserved