Getting to Croatia by bus is generally the cheapest option to travel to Croatia. With the arrival of low-cost bus companies such as Flixbus and Ouibus there are now more routes than ever linking Zagreb and other large Croatian towns to cities across Europe. It's such a cheap and flexible way to travel that intercity train routes are gradually dwindling.
In addition to the obvious environmental benefits of bus travel, it's a great way to meet people especially if you're travelling solo. Then there's the pleasure of watching scenery roll by as you relax, listen to music or read. All long distance buses now have WiFi and USB chargers but WiFi data use is often capped. It's wise not to count on streaming video.
Sleeping on an overnight bus is less comfortable than a couchette in a train but roomier than spending the night in economy class on a plane. A neck pillow, eye mask and ear plugs are essential.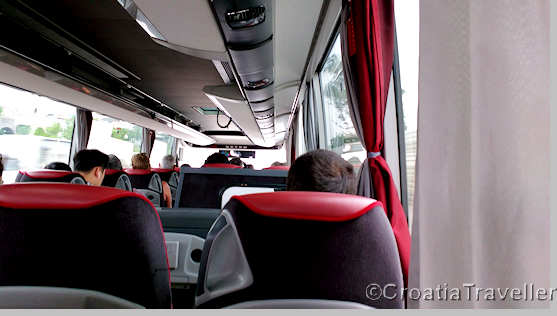 Inside a Zagreb-bound Flixbus
Long distance buses have toilets (try not to sit next to one) and also make rest stops every few hours. The stops are usually long enough to grab a bite to eat but it's a good idea to stash away water and snacks.
Buses from the UK to Croatia
There's a Saturday bus from London to Zagreb with a change in Paris that takes 33-35 hours. Check schedules, compare prices and book with Omni.
Buses from Italy to Croatia
Northern and central Italy are extremely well-connected by bus with Croatia. Buses leave Venice, Milan and Trieste daily for Rijeka, Pula, other Istrian towns and Zagreb where it's easy to rent a car or pick up a connection to other coastal destinations. Note that there are many more buses available in summer but Trieste to Rijeka, Zadar and Split and Venice to Pula run all year. Flixbus is usually the cheapest and Infobus is often the fastest. Compare schedules, prices and book through Omni.
[See more about getting to Croatia from Italy]
Buses from Slovenia to Croatia
From Ljubljana, there are several dozen daily buses to Zagreb that take about 2 1/2 hours. It's a highly competitive route with prices as low as €9 through Omni.
A daily bus leaves Ljubljana at 8.30am and arrives in Pula at 3.50pm stopping in Zagreb. The return leaves Pula at 1pm and arrives in Ljubljana at 8.20pm. Book through Omni.
[See more about getting to Croatia from Slovenia]
Buses from Austria, Hungary to Croatia
There are a dozen or so daily buses from Vienna to Zagreb that take anywhere from 4 1/2 to seven hours. There are about a half-dozen daily buses from Budapest to Zagreb that take about 4 1/2 hours. Compare schedules, prices and book through Omni.
Buses from Serbia to Croatia
The fastest of the many connections between Belgrade and Zagreb takes 5 1/2 hours. Book at busradar.
Last updated April 4, 2019
Recommended Experiences
More from Croatia Traveller
My Favorite Travel Accessories
©CroatiaTraveller 2005-2021 All rights reserved