From Zagreb to Dubrovnik in 15 days, this itinerary takes you to Croatia's top highlights. Start in Croatia's dynamic capital, visit the stunning waterfalls of Plitvice and enjoy Istria's unique culture before heading to the Dalmatian coast and zany Zadar. Get a taste of Roman, Venetian and Dalmatian style in Sibenik, Trogir, bustling Split and the gorgeous islands of Hvar and Korcula. Wrap it up in unmissable Dubrovnik.
A car is recommended for this journey, at least up to Zadar. From there, public transport in the form of buses and passenger ferries will take you the rest of the way.
Duration: Two weeks
Start: Zagreb
Finish: Dubrovnik
Day 1 Arrive Zagreb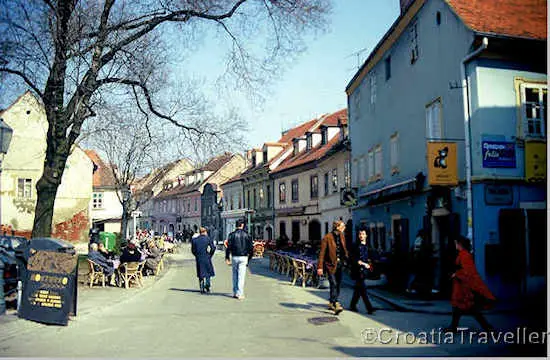 Croatia's capital city is one of Europe's most unheralded treasures. Zagreb's upper town is a medieval village spread across two hills while the lower town is bisected by a leafy park. The dining is first-rate, there are a bevy of unusual museums, the nightlife offers something for every taste and there's even a hipster neighborhood of quirky bars and shops. More about Zagreb.
Recommended Hotel: Esplanade Zagreb Hotel ***** "Wonderful!"
Day 2 Explore Zagreb and surroundings

There's more than enough to do in Zagreb (see things to see in Zagreb) but try to squeeze in time to see the baroque town of Varazdin (above; 2 hours) or fetching little Samobor (30 minutes). Each is easily accessible by public transport.
Day 3 Plitvice lakes national park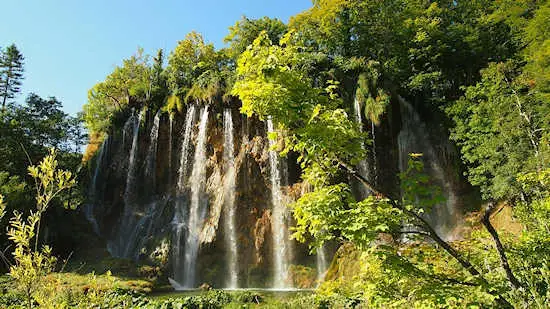 Plitvice Lakes National Park is a drop-dead gorgeous watery wonderland of lakes and waterfalls. Word of Plitvice's magic has spread throughout the world however, and its wooden walkways can be crammed with visitors. To fully experience the park's splendour, I recommend an overnight although a visit can be done as a day trip from Zagreb (more on getting to Plitvice). Staying overnight within the park gives you free admission for the second day. More on where to stay.
Recommended hotel: Hotel Jezero *** "Very good"
Day 4 Rovinj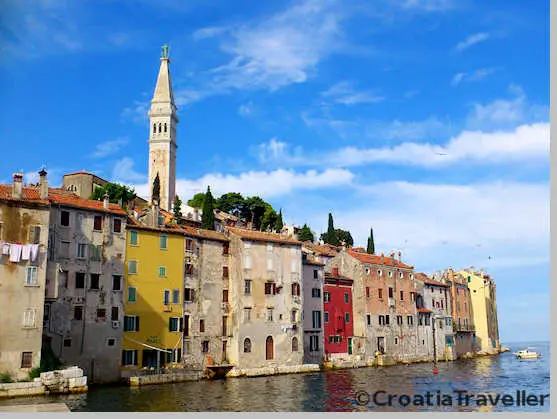 Whether coming from Zagreb (easy by bus) or from Plitvice (driving is best), count on a 3 to 4 hour journey to Rovinj. This eye-catching town and port makes a great base for visiting Istria or just enjoying the relaxed Istrian lifestyle. Explore the offshore islands, dine in a fine restaurant or enjoy a cocktail by the sea. See more on things to see in Rovinj.
Recommended Hotel in Rovinj: Hotel Monte Mulini "Exceptional"
Day 5 Explore Rovinj and surroundings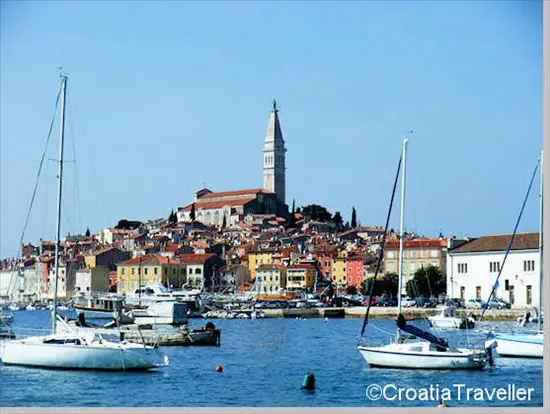 Visit the town of Rovinj, climbing the old streets to admire the Cathedral of St Euphemia. Take a short boat ride to Crveni Otok or rent a bike and pedal around Zlatni Rt, stopping for a swim.
Day 6 pula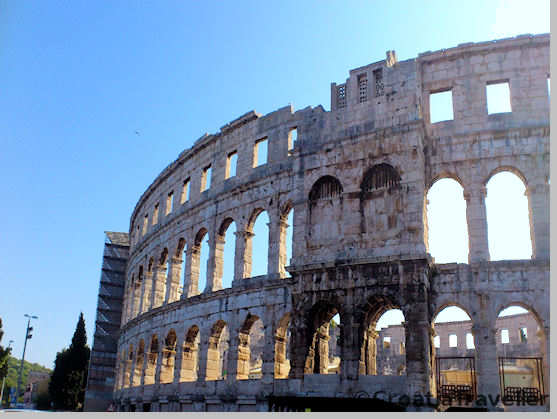 Pula is a short drive from Rovinj and well-worth a visit for the impressive amphitheatre and other Roman ruins. Locals head outside the town centre to the beaches and resorts of the Verudela peninsula, perched on the rocky Istrian coast. More on things to see in Pula.
Recommended Hotel in Pula: Park Plaza Histria Hotel "Excellent"
Day 7 zadar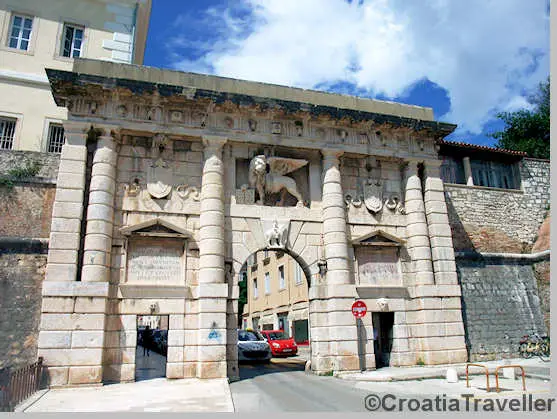 Zadar is a dazzling combination of antiquity and contemporary style. Zadar was vital to the Romans and to the Venetians who constructed unique walls that have recently been recognized as a world heritage site. Pula has lengthy bus and passenger ferry connections to Zadar or you can drive it in about 4 1/2 hours.
Recommended Hotel in Zadar: Bastion Heritage Hotel **** "Wonderful"
Day 8 Explore Zadar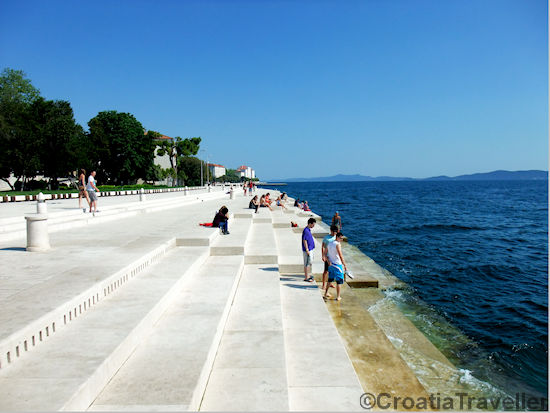 In addition to the Venetian walls, Zadar has Roman ruins, elaborate churches, spectacular sunsets and two highly original art installations: a sea organ (above) and sun salutation. See 22 things to do in Zadar.
Day 8 sibenik, Trogir and Split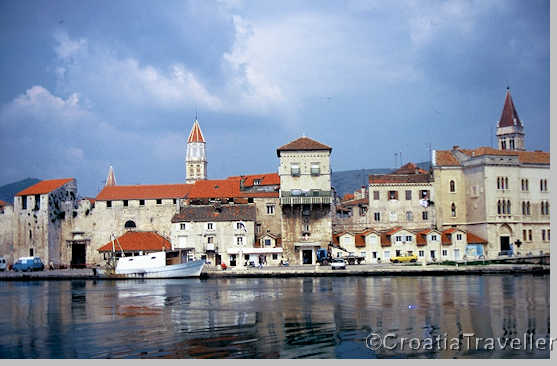 The drive or bus ride from Zadar to Split is a great way to get a sense of the winding, indented Dalmatian coast and its offshore islands. Along the way, make a stop in Sibenik for a look at the Cathedral of St James (Sv Jakov) and then to Trogir (above) a jewel of the Dalmatian renaissance that resembles an outdoor sculpture garden.
Recommended Hotel in Split: Piazza Heritage Hotel **** "Exceptional"
Day 9 Explore Split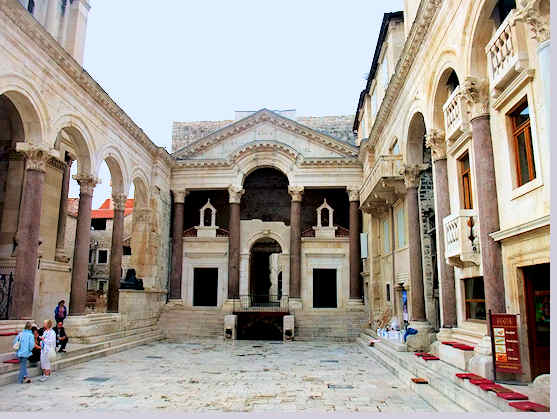 Dynamic Split is one of the Adriatic's most vibrant port cities. Diocletian's Palace (above) is the highlight and recalls the days when the Roman Emperor Diocletian was the terror of early Christendom. After marvelling at the Palace, wander Veli Varos, browse the markets, climb Marjan hill and sample Split's great nightlife and dining.
Day 10 Hvar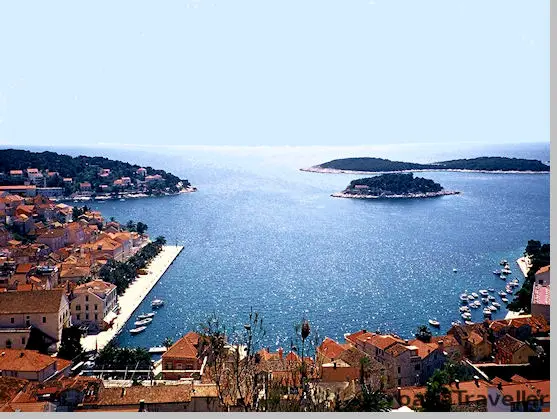 Lush and beautiful Hvar island stretches along the sea like a beckoning siren. The island's jewel is Hvar town (above) which is easily reached by passenger ferry spring through fall. Or, take a car ferry to Stari Grad which runs frequently all year. See more on getting to Hvar.
Recommended Hotel: Holiday Home City Walls **** "Exceptional"
Day 11 Explore Hvar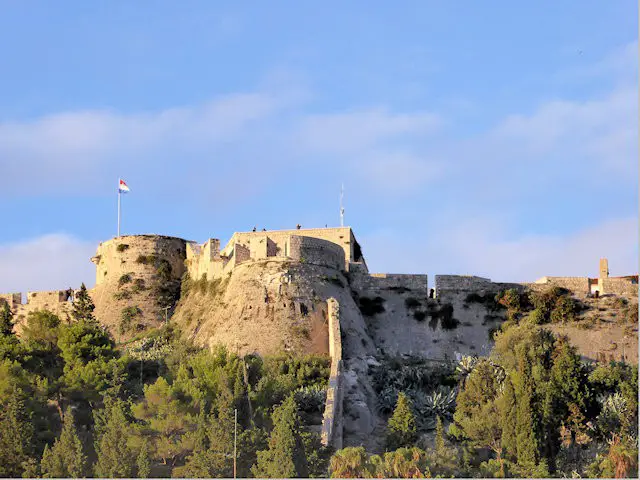 Stroll Hvar's yacht-studded harbour, admire the Venetian churches and squares and climb up to Fortiza (above) for the sweeping views. Take a short boat ride to the unspoiled Pakleni Islands for sun and sea.
Day 12 Korcula town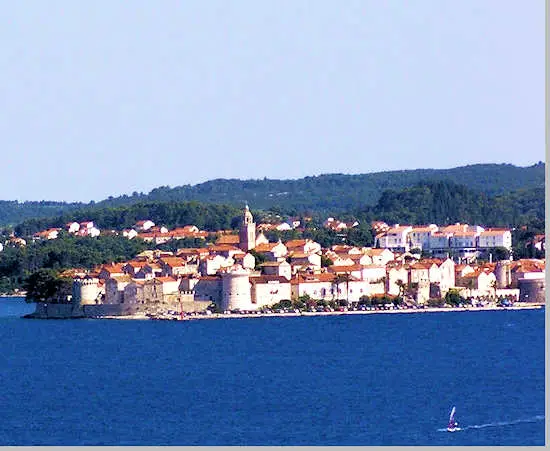 While Hvar is built around the open arms of its harbour, Korcula town is a walled peninsula of winding streets and stone churches. It's  fascinating contrast. During the season there are direct passenger ferries that link Korcula and Hvar. Otherwise car ferries connect the two islands with the mainland. See more on getting to Korcula island .
Recommended Hotel: Hotel Korsal **** "Very Good"
Day 13 dubrovnik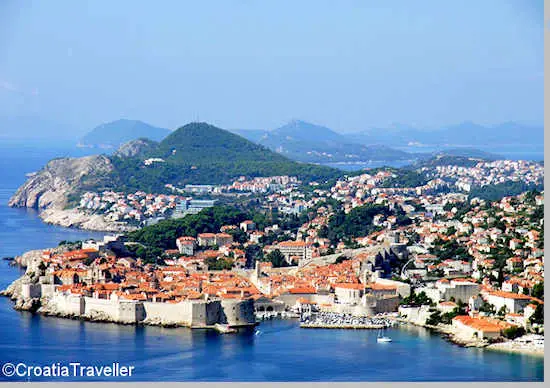 What better way to wrap up a Croatia trip than the "pearl of the Adriatic"? Dubrovnik has it all: architecture that whisks you back centuries; world-class resorts; tranquil islands just offshore. Drive to Dubrovnik via the Peljesac Peninsula, visiting its renowned vineyards and stopping for lunch at Ston. No car? Take the daily Korcula-Dubrovnik bus, or the seasonal passenger ferry (see getting to Dubrovnik).
Recommended Hotel: Prijeko Palace ***** "Wonderful"
day 14 explore dubrovnik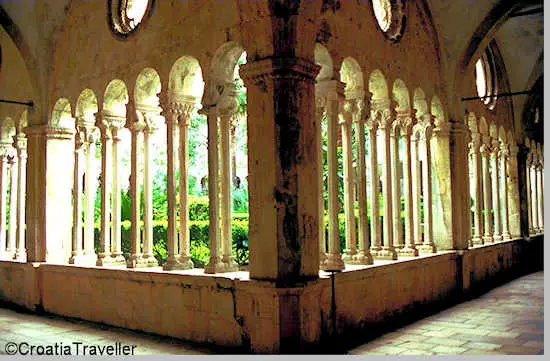 Walk Dubrovnik's famous walls and explore the old town, visiting the Franciscan Monastery (above), Rector's Palace, and Dominican Monastery. Toast the end of your Croatian adventure with a cocktail by the sea.
Day 15 Depart Dubrovnik