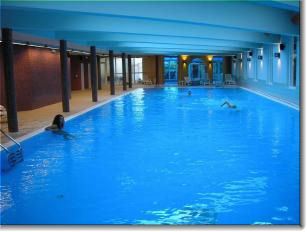 Istarske Toplice indoor pool
Croatia is about more than sun-basking on one of the islands! Wellness happens all over the country. The woodsy Croatian interior is liberally sprinkled with thermal and mineral water springs that were once great favorites of the Romans. Today, many of the springs have become renowned health and wellness centres replete with hotels, giant pools, fitness centres and a variety of curative treatments.
Now, if you want to pamper yourself in the lap of luxury with first-rate restaurants, impeccable service, cutting-edge design and the latest in relaxation techniques, you may want to head for a luxury hotel spa resort. The Croatian coast and islands are liberally sprinkled with these pamper-palaces. See more.
Generally, the thermal spas are in northern or eastern Croatia and are simpler and cheaper with plenty of options for the kids. Here's a selection of my favorite thermal spas, chosen for their facilities and beautiful surroundings.
Istarske Toplice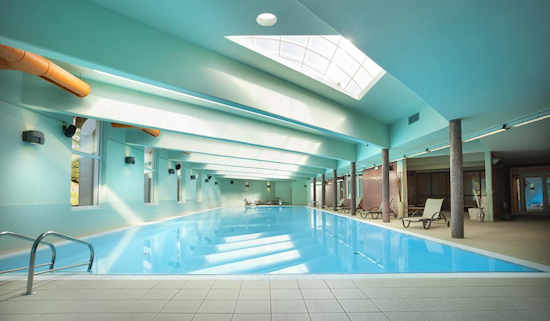 Huddled under a 100m high cliff in central Istria, this ancient thermal spa is built around a huge outdoor pool that can reach 36°C (97°F). Indoors, there's another thermal pool plus a variety of beautifying and health-giving treatments like massages, aromatherapy, mud baths and a solarium. Stay in the Hotel Mirna Light All-Inclusive or the Sveti Stejpan All-Inclusive. The surrounding greenery is crisscrossed with hiking and biking trails and there are excursions to nearby Motovun.
Terme Tuhelj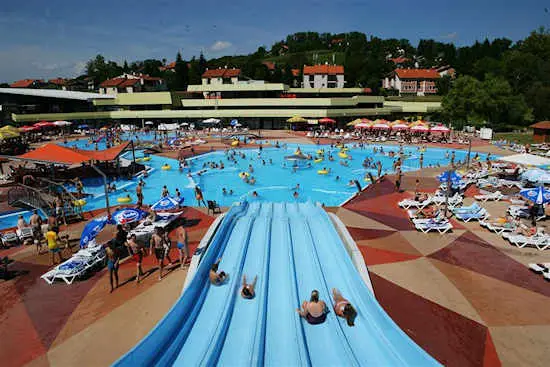 I've been a big fan of Croatia's Zagorje spas and they deserve to be better known. Some are in need of makeovers but Terme Tuhelj makes me drool. Saunas, ice caves, ice pools, relaxation rooms, mud massages plus an aquacentre with waterfalls, geysers, glaciers (no, I made that up) and all in the green, rolling Zagorje interior. I feel well-er already.
With six outdoor pools in this thermal spa only 40km from Zagreb, you have a wide choice of watery styles and activities. It's the largest swimming pool complex in Croatia. Kids will love the pool with four tall slides or the one with a castle in the middle. Stressed-out adults can relax in pools with hydro-massage, a wave pool, or a pool with waterfalls. Stay in Terme Tuhelj Hotel Well which has recently been overhauled and offers all comforts including a huge sauna, a solarium, indoor pool and a full range of wellness programs. It offers an all-inclusive package. Or, stay nearby in Kaj Lux apartments.
Varazdinske Toplice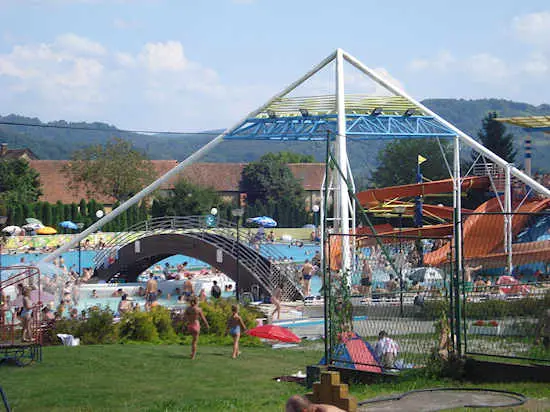 By Silverije, CC BY-SA 4.0
You won't be shivering in the sulfurous springs here that can reach a temperature of 58°C (136°F). There are three indoor and two outdoor pools plus an array of wellness treatments in a relaxing, woodsy setting. Minerva Rehabilitation Center handles the arrangements. Near Varazdin, the spa is part of an attractive village and there are remains of a Roman settlement nearby. For accommodation, try the four-star Park Boutique Hotel, Bernarda Guest House, Apartment Pokos, or Apartments Dajcic.
Krapinske Toplice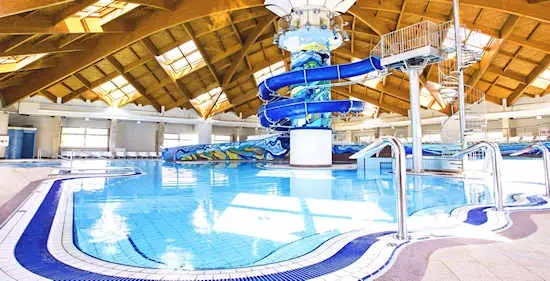 In the heart of beautiful Krapina-Zagorje county, 45km northwest of Zagreb, the thermal waters here are among the top ten in Europe. There are indoor pools open all year and outdoor pools fed with thermal springs that are open in summer. The elaborate aquapark is a hit with all ages. Plus, there's a new four-star hotel, Villa Magdalena, named the best hotel in continental Croatia. In addition to an excellent gourmet restaurant, there are thermal hot tubs, saunas, pools and a jacuzzi in every room.
Other thermal spas include Stubicke Toplice also in Krapina Zagorje county, Daruvar Toplice in Bjelovarsko-Bilogorska county,and Bizovacke Toplice in Osijek-Baranska county, Sveti Martin Thermal Springs in Medimurska county, Lipik thermal baths in Pozesko-Slavonska county, and Topusko in Sisak-Moslavina county