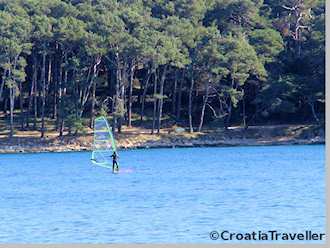 The rise of windsurfing in Croatia paralleled the rise of sailing. The winds sweeping up and down Croatia's coast have created ideal conditions for windsurfing and the sport has been growing in popularity for the last 20 years. From Istria in the north to Dalmatia in the south, the coastline is dotted with wonderful windsurfing locations. Most of them have windsurfing schools. If you've never hit the waves before, you'll want to take a course.
Here are some of the best windsurfing destinations in Croatia:
Premantura Peninsula in Istria.
Just south of Pula, the northeasterly bora winds can blow up to 40 knots on the Premantura peninsula. Kamenjak is a popular spot. And there are some desolate beaches lining the shore for the non-surfing set.
Ravni in Istria
Savudrija in Istria
Near Labin, you'll be pulled along by the northwesterly maestral winds.
Preluk in Kvarner
This sheltered bay between Rijeka and Opatija is easily reached from either place. The northerly tramontana winds is best in the early morning (too bad for clubbing in Rijeka)..
Baska on Krk Island
It's a northeasterly bora wind and Baska is one of the best beaches in Croatia.
Bol on Brac Island
One of the best windsurfing spots on the coast with the mild maestral blowing gently in the morning (great for beginners) and more fiercely in the afternoon.
Viganj on the Peljesac peninsula
Another must for dedicated windsurfers, this place, near Orebic, has hosted windsurfing championships. There are a number of windsurfing schools. I recommend Maritimo Center.
Outdoors News
Beat the Heat on the Croatian Coast

It's hot out there! The Croatian coast from Istria to Split and Dubrovnik is sweltering in a heat wave but here are 12 cooling ideas to get you through the summer. More.

Best Outdoor Destinations in Croatia

With eight National Parks and nearly a dozen protected Nature Parks not to mention islands, rivers, mountains, rolling hills and placid seas, Croatia is a paradise for active travellers. Here are the very best destinations to experience the great outdoors. More.

Autumn in Croatia: Top Ten Trip Ideas

Autumn is a wonderful time to participate in local life and experience the Croatia that tourists never see. Here are the top ten events, destinations and activities this autumn. More.

Subscribe to Croatia Outdoors News
Recommended Tours
More from Croatia Traveller
My Favorite Travel Accessories
©CroatiaTraveller 2005-2019 All rights reserved