Ferries IN Croatia connect the Croatian coast with all inhabited islands. Ferries TO Croatia connect Croatian ports with Italy. (See more about ferries TO Croatia)
Local Ferry Companies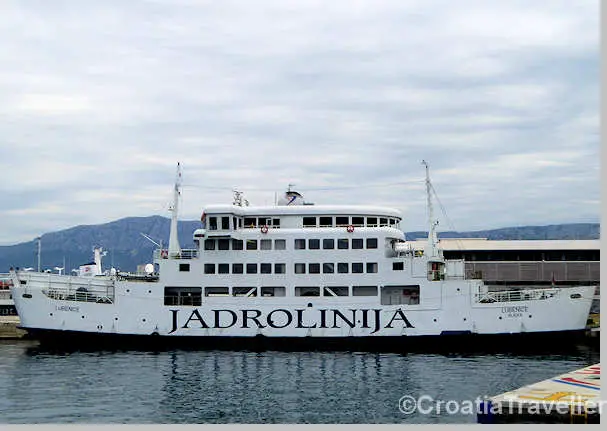 Jadrolinija
the state-owned company that runs all car ferries in Croatia, and many passenger ferries helped by a few private ferry companies. Local Jadrolinija ferries connect all islands to the mainland. Ferry services from one island to another are much spottier. Don't assume that there "must be" a ferry from one island to another. Service is year-round on most routes although a few are summer only. Ferries are generally much more frequent in the summer.
Buraline
runs a summer catamaran between Trogir, Slatine and Split.
TP Line
runs catamarans from Dubrovnik to the Elaphiti Islands, Mljet Island, Korcula and Lastovo. Service to Mljet, Korcula and Lastovo are summer only.
G&V Line Jadera
The company handles routes from Zadar to Sali and Zaglav on Dugi Otok. Timetables and online booking available on the website.
Krilo
runs useful passenger ferries connecting Split and Dubrovnik with Hvar, Korcula, Brac and Mljet islands as well as Pula to Zadar.
Krilo Shipping Company
runs passenger ferries from Split to Rogac and Milna and from Split to Bol
Rapska Plovidba
handles car ferry services to and from Rab Island.
Miatours
operates local catamarans from Zadar to Pula, Premuda, Silba and Olib islands.
Vrgada r.p.z.
connects Vrgada with Biograd and Pakostane
Book Ferries Online
All Dalmatia Ferries
Following are all ferries running between Split and Dubrovnik. Click for the 2023 schedules.
Car Ferries (All run by Jadrolinija)
Dubrovnik-Mljet (Polace)-Sipan Korcula TP-Line
Dubrovnik-Korcula-Hvar-Bol-Split  Jadrolinija
Dubrovnik-Mljet (Pomena)-Korcula-Hvar-Brac (Milna)-Split  Krilo
Split-Bol-Makarska-Korcula-Sobra-Dubrovnik Krilo
Dubrovnik-Elaphiti Jadrolinija
Komiza-Bisevo Nautika
Orebic-Korcula GV Zadar
Split-Bol-Stari Grad-Jelsa Jadrolinija
Split-Milna-Hvar-Vis Krilo
Split-Hvar-Korcula Krilo
Split-Rogac-Milna Krilo
Split-Hvar-Vela Luka-Lastovo Jadrolinija
Split-Hvar Jadrolinija, Krilo
Dubrovnik-Korcula-Lastovo TP Line
Split-Bol Krilo Shipping Company
Reserving Local Ferries
You can now buy tickets for local ferries online at the company website or at a Jadrolinija outlet or at a local travel agency. Passengers can always get on board but reserve ahead if you're bringing a car, especially in the busy summer season. Even if you buy a ticket in advance you must still wait in line to board for most car ferries.
[See detailed advice about booking local ferries in Croatia ]
For shuttle car ferries that connect the mainland with several island ports such as:
Drvenik to Sucuraj on Hvar Island
Valbiska (Krk Island) to Merag (Cres)
Jablanac to Misnjak (Rab Island)
Ploce to Trpanj (Peljesac peninsula)
Orebic to Domince (Korcula Island)
Show up at least 1/2 hour in advance (two hours in the summer), park your car in the queue, collect your ticket from the nearby stall (if you don't already have your ticket) and wait. On the above routes, ferries run from four to eight times a day, depending on the season, and cost about €10.50 for a car and driver for the 30-minute run.
[See more about booking local ferries in Croatia.]
About local ferry schedules
To see it all, rent a car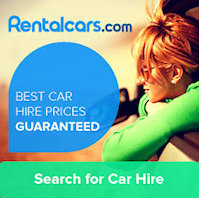 Compare 783 companies
Check the local ferry schedule carefully! Many routes from the coast to the islands are designed to bring islanders to coastal cities to work which means that they leave the island early in the morning and return late afternoon. That's exactly the opposite of what tourists are looking for to make a day trip to an island.
Ferry Services
Services on board Jadrolinija's ferries vary wildly depending on the boat. I've taken 1/2 hour trips on modern, well-equipped boats and suffered through seven-hour trips on dreary and aged buckets. The best idea is to plan ahead: bring something to eat and drink and a very absorbing book for longer ferry rides! See more about Jadrolinija onboard services.
Last Updated September 21, 2023