Lying midway between Zagreb and Zadar in the Lika region, Plitvice Lakes National Park is 19.5 hectares (48 acres) of wooded bliss. Sixteen sparkling lakes are connected by countless waterfalls and bubbling streams in a watery wonderland. From the wild and forested upper lakes to the luminescent lower lakes nestled beneath towering cliffs, the landscape is thrillingly beautiful.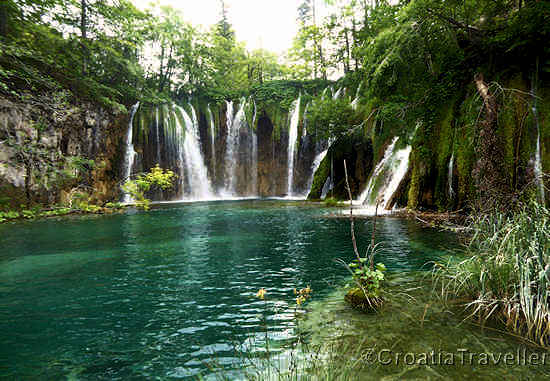 Visiting Plitvice Lakes National Park is an unforgettable experience and in these pages you'll learn everything you need to know to maximize your visit.
Overview
Plitvice maintains a pristine environment that is nearly primeval in its beauty. The unique ecology of the lakes is fascinating. The travertine that has evolved over the ages provides a home for endemic plant species while the vast forested areas are alive with birds, flowers, mammals  and insects. With 120 species of birds, Plitvice is a paradise for ornithologists. You might even spot a bear, wolf lynx or wildcat in the forest but those animals are shy. Deer, badgers and fox are more visible in the outer reaches of the park.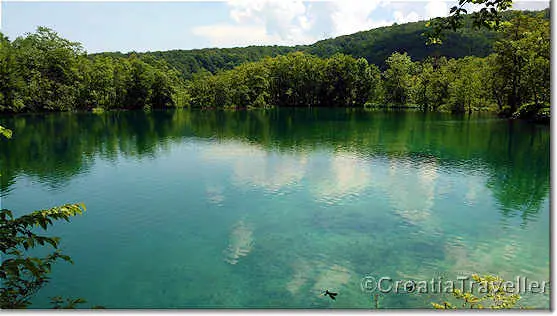 [More on the travartine, plants and animals of Plitvice]
The lakes are supplied with water from three rivers called the Crna and Bijela (Black and White) rivers and the Rjecica. The largest of the rivers is the Black River. A number of subterranean sources also feed the lakes as well as a web of above ground brooks, tributaries and springs. After tumbling over waterfalls the lake waters flow into the Korana river.
The unique and delicate ecology of the park was recognized as far back as 1893 when a society was formed to safeguard the lake environment. It was declared a national park for the first time in 1928 and in 1949 its legal status was formalized. In 1979 Unesco named Plitvice Lakes National Park a World Heritage Site and it became a popular tourist attraction in former Yugoslavia.
Unfortunately the park was situated in a conflict zone when the war in former Yugoslavia broke out. In March 1991 rebels seized control of the park headquarters and retained control of Plitvice for four years. At the end of the occupation the park infrastructure was in tatters but the natural beauty was intact. Plitvice Lakes is now one of Croatia's most popular and visited sites.
How Much Time to Visit the Park
The park's shortest walk, which includes only a quick look at a few lakes, takes two to three hours. Out of season, it could be completed in a brisk two hours but allot three hours in summer. To visit all the lakes and waterfalls, count on at least six hours. There are several mapped walks that can be chosen according to the amount of time you have.
The lakes can be visited in one day but there's more than just the lake system! On your second day, take a hike through Plitvice's wonderful forests. The silence and serenity is refreshing and there's a cornucopia of wildlife.
When to Go
There's no wrong season to visit Plitvice Lakes.  In winter the frozen falls are magnificent; in summer the lush greenery is relaxing; in spring and fall the water volume is highest. Bear in mind that Plitvice Lakes has a "transitional" climate between the continental climate of Zagreb and the coastal climate of Split. The weather is most predictable in summer which is when you'll get the most sunshine and an average midday temperature of 24°C. Summer is also when most visitors arrive.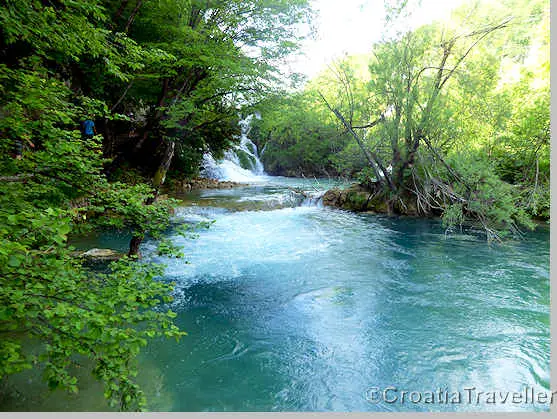 Visiting the park in spring and autumn is a more tranquil experience but it can be rainy, particularly in November. Winter is cold! Bundle up and get ready for some snow. January is the coldest month (-3°C) while February is a dryer month before the spring rains.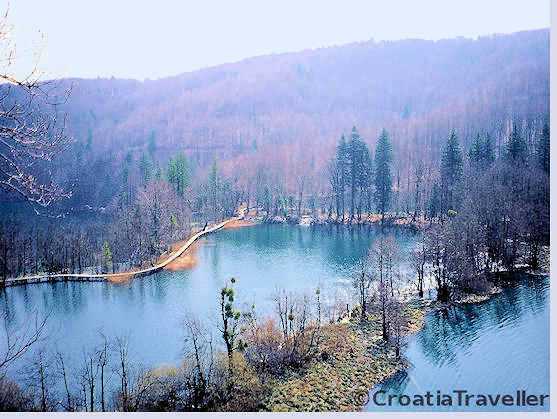 Note that from November to mid-April only Entrance 1 is open and there is no train or boat service.
[See details, photos and a suggested walk through Plitvice's lakes and waterfalls]
How to Visit Plitvice
The sixteen lakes are divided into "upper" and "lower" lakes based on their altitude. The upper lakes are surrounded by dense forest and contain the park's largest lakes. It is here that you're likely to hear birds and toads while carp and trout dart through the luminescent water.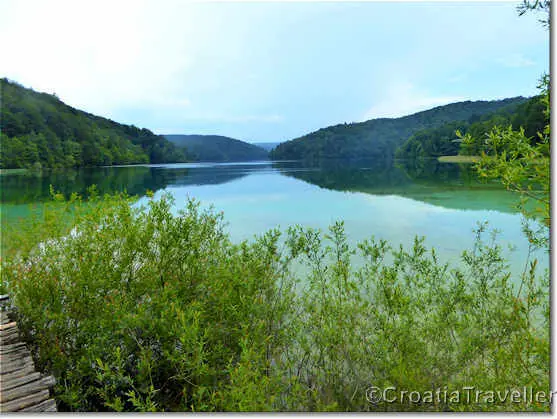 Proscansko lake
The upper lakes are a little less crowded than the lower lakes but the waterfalls are just as spectacular and the paths pass closer to the lakes and falls.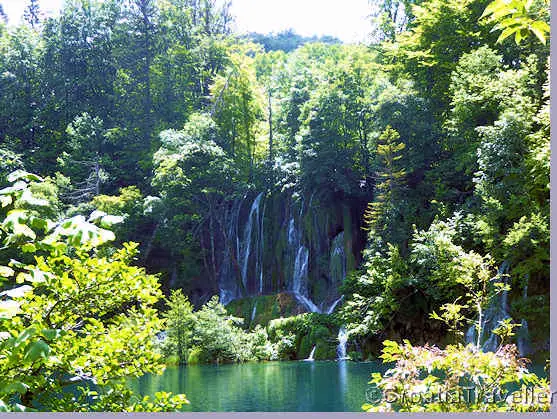 The lower lakes sparkle at the bottom of dramatic limestone cliffs.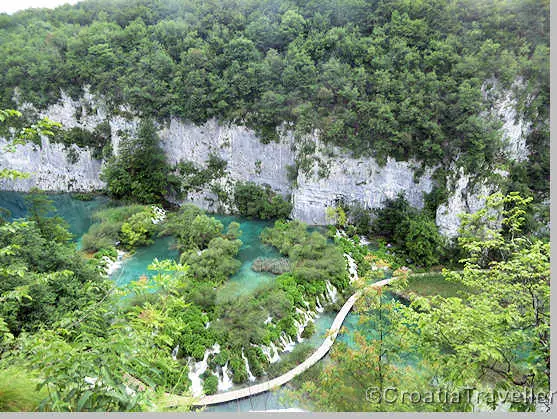 Here is where you'll find the highest and most impressive falls: Sastavci and Veliki.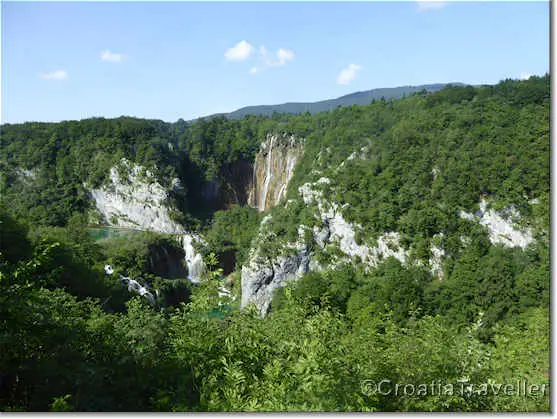 [See a recommended walk through Plitvice's upper and lower lakes]
So how do you visit the lakes and waterfalls? A well-laid out system of wooden walkways, paths and trails allows you to pass all around and sometimes underneath the waterfalls. There are two main entrances and one auxiliary entrance (Flora) to Plitvice Lakes National Park with a tourist office at each main entrance which will provide you with your tickets and a map. Entrance 1 is the north entrance and Entrance 2 is the south entrance. Flora entrance is between the two. Buses stop at both the main entrances.
There are a series of walks of varying durations mapped out from either entrance and all include a boat ride across Kozjak lake and an electric "train". The train (actually a bus) runs along a road on the eastern side of the lakes, starting from Entrance 1 up to Kozjak lake (S2) and then up to Lake Okrugljak (ST3) in the upper lakes.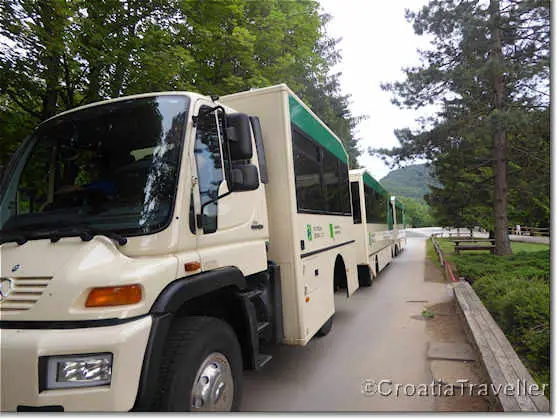 At ST2 is a boat that crosses Kozjak lake.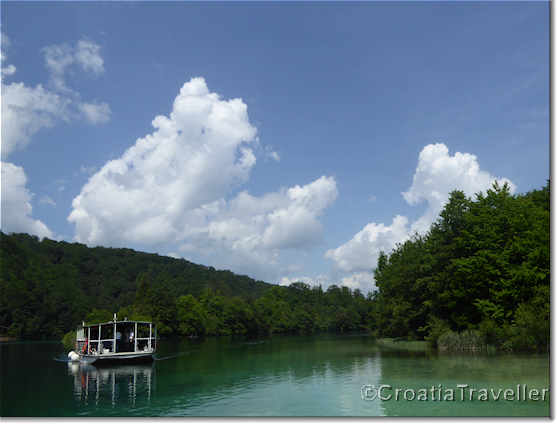 The walks recommended by the national park are distinguished by letter and color. To maximize your time, I strongly recommend choosing your walk before you arrive. The walking trails are clearly signposted making it easy to get around and impossible to get lost. Note that walks can take longer than the recommended time in summer when the trails are crowded and lines are long to board the boat.
[See more tips on visiting Plitvice Lakes]
Here are the signposted walks:
A Beginning from Entrance 1, this is the shortest walk and can be completed in about 2-3 hours. It includes only the lower lakes and is an easy stroll through 3 1/2 km of level walkways. The highlight of this walk is the Great Falls (Veliki Slap) which serves as a backdrop for many thousands of selfies.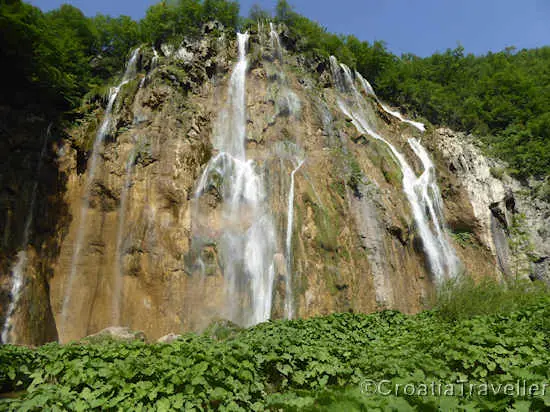 width="550" height="412">
Veliki Slap
B The B walk is slightly longer (3-4 hours) and also begins at Entrance 1. Unlike walk A this walk is a circle. It includes all the sights of walk A plus a boat ride across Lake Kozjak and a close look at Sastavci falls.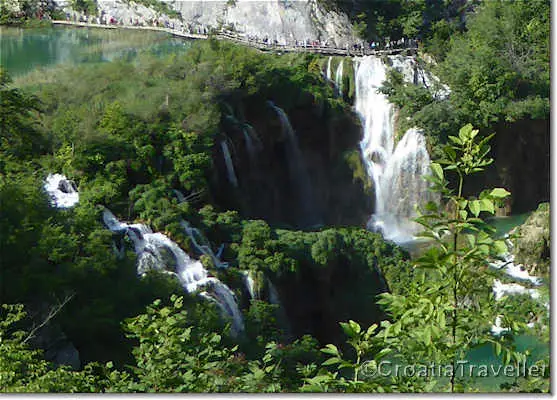 Sastavci Falls
C Also from Entrance 1, the C walk includes a walk through the lower lakes and some of the upper lakes. It takes 4-5 hours and includes the magnificent Prstavci Falls. This is a highly popular route with a potentially long wait for the electric boat.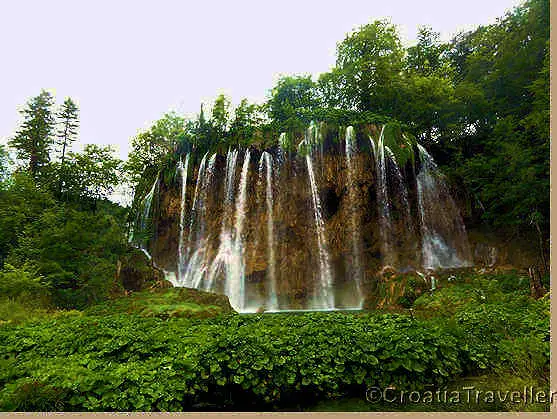 Prstavci Falls

E The E walk (there is no D walk) begins from Entrance 2 and includes only the upper lakes. It's a quickie that can be completed in 2-3 hours. There's a short boat ride along Lake Kozjak and then a walk up to Lake Proscansko at the top passing all the other upper lakes and falls.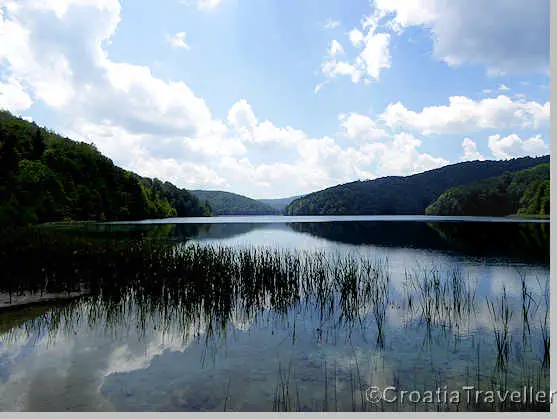 Lake Proscansko


H The H walk allows you to visit all the upper and lower lakes. It begins at Entrance 2 and takes 4-6 hours, stretching over nearly 9km. This is a good walk to take if you're arriving at peak hours as you visit the less-crowded upper lakes first and hopefully arrive at the lower lakes when the crowds begin to thin. With liberal use of the buses and boat, this walk is easy on the feet.
[Get full details of the H walk here]
K The K walk can be done from either Entrance 1 or Entrance 2. It's a long one (6-8 hours) with limited use of park transport. As it covers over 18km, it helps to be in reasonably good shape and well-prepared.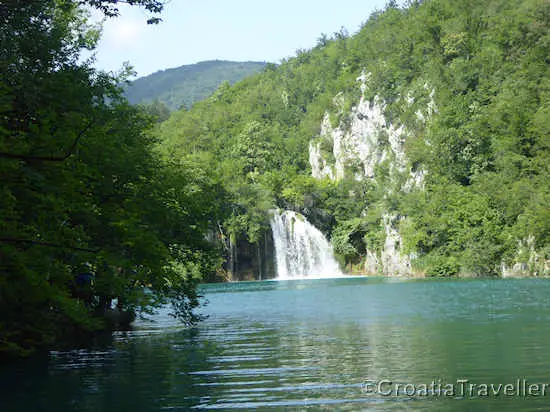 For maps and details of all the walks, see the National Park site.
Avoiding Crowds
The truth is that Plitvice Lakes is one of Croatia's most visited sites and it can become unbearably crowded at the height of the summer season. If you're dreaming of communing with nature in a peaceful environment, I would recommend Paklenica, Risnjak or northern Velebit national parks. The paths that link the lakes and waterfalls can be elbow-to-elbow and waits for the sightseeing boat can be long. Leave ample time.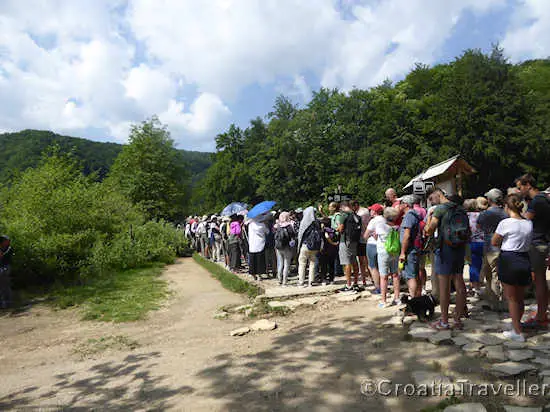 The busiest hours are between 10am and 2pm. Avoid those hours if possible. In July and August it is now common for the park to close admissions between those hours. Note also that there is a cheaper admission price after 4pm. Either arrive and queue up before the park's opening time or wait and start the visit in mid or late afternoon.
[See more essential tips for visiting Plitvice Lakes]
The situation is a quieter on the trails which weave through the forest away from the crowded lake area. There are five well-marked hiking trails and two "instructional" trails with panels explaining the flora and fauna, habitats and cultural points of interest. Also relatively unvisited is Golubnjaca Cave in the Lower Lakes area.
Eating and Drinking
Fueling up is not a problem in Plitvice as restaurants and snack stalls are plentiful. Yet it's best to bring food and drink in order to avoid lines at the eateries. Otherwise, there are a few stalls near Entrance 1 to buy local delicacies (the strudel is particularly good), drinks, ice cream and snacks. There are a few picnic tables scattered about and some lovely picnic spots near the trails.
The two largest restaurants are Poljana near Entrance 2 and Licka Kuca opposite Entrance 1. Both are open long hours, have open hearth fireplaces and serve up meaty regional dishes to individuals and large groups. Kozjacka Draga Buffet and Kupalista Buffet offer more casual snacking along the shores of Kozjak lake. Hladovina Buffet is another casual open-air snack place near Entrance 2 while Slap Cafe offers a similar menu at Entrance 1. There are a couple of cafe-bars at ST1 and ST2 train stops.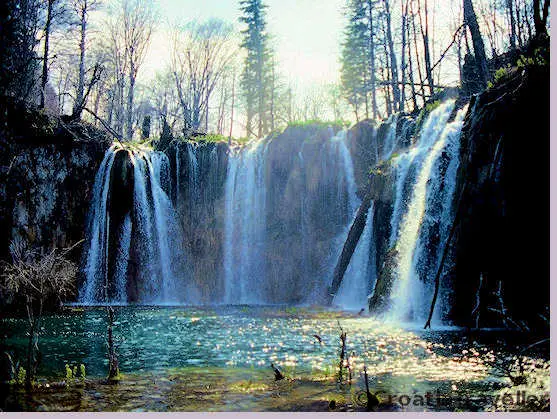 Plitvice Lakes National Park Map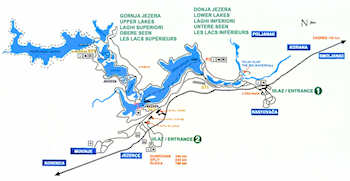 Click the map for a larger version
Hiking Trails
As the lake and waterfalls district only comprises 1% of the park, there's a great deal to explore if you have the time. Getting away from the crowds allows a full appreciation of the park's incredible biodiversity and even the possibility of glimpsing one of the rarer animals. The park has mapped out several hiking routes with instructive panels explaining the habitats. For more of a workout, try the trails leading to the Medvedak peaks east of the lake district. The trails lead from Entrance 1 to Entrance 2 and the views over the lakes are unforgettable.
Another trail system explores the Corkova Uvala primeval forest. There are two possible hikes: one of 21km and one of 9km. For all hikes, it's important to have the appropriate gear and adequate water. Pick up maps of the hikes at the tourist office.
Cycling
There is no cycling within the national park but there are a number of trails around the park. Korenica or Rastovica are good starting points. More information here.
Nothing beats an overnight stay in or near the national park if beating the crowds is a priority. Within the park itself there are only three hotels but you can save money on your admission ticket if you stay in one. Find out more.
Plitvice is on the main road between Zagreb and Zadar. There are regular buses from both places and you can book online at bookaway. Combining a visit to Plitvice with a stay along the Croatian coast is possible but I don't recommend it unless you can stay overnight as the round-trip driving time is a minimum of four hours.
Concerned about flight chaos?
Travel insurance brings peace of mind
.
Find out more
Another spectacular national park with waterfalls you can conveniently visit on the Croatian coast is Krka Waterfalls National Park. Plitvice does make a stellar day trip from Zagreb however and, with your own car and an early start, you can spend a day in Plitvice on the way between Zagreb and the coast. See more about getting to Plitvice Lakes.
Luggage Storage
So, can you visit Plitvice on your way from Zagreb to the coast or vice versa? Yes! There is free luggage storage at both entrances to the national park. The luggage storage is in the tourist office and available during office hours.
[Read up on getting to and from Plitvice Lakes]
Rules
The unique ecology of the park makes it easy to damage the flora and fauna which is why it is strictly forbidden to stray from the marked trails. As the lakes serve as a reservoir of drinking water for the surrounding communities, swimming, wading and fishing in the lakes are prohibited. Other rules prohibit unleashed animals, campfires, interacting with the animal population, defacing the trees, littering and picking the plants.
 Tourist Information in Plitvice Lakes
The Plitvice National Park tourist office (tel 053-751 015) is just inside entrance #1. There's another information office at entrance #2 where the hotels are and a third auxiliary entrance. There are information centers at each entrance with large panoramic maps displaying the trails and lookout points as well as hotels, restaurants and boarding points for the sightseeing train and boat. In addition to the tourist offices at each entrances, there are information offices at the dock of Lake Kozjak and at Labudovac falls. Another good source of information is the Plitvice Lakes Tourist Board (tel 053 776 798) based in Korenica.
Opening hours
In peak summer season the national park is open from 7am to 8pm with ticket sales closing at 6pm. Off-season the park opens at 8 or 9am and closes around dusk.
Buying Tickets
All tickets for Plitvice should be purchased online in advance not less than one day prior to arrival. Management has taken steps to limit visitors to the park on an hourly basis. Once that limit is reached, visitors without prepaid tickets will have to wait. Possibly for a long time.
In order to purchase tickets, visit the Plitvice ticketing service or book with Viator (entrance 2 only). Notice you must select the date and hour of your visit. You will receive a voucher after payment which you must print out. Then you may exchange the voucher for a ticket at one of the entrances no later than 30 minutes before your visit. Changes and cancellations of the ticket are possible only up to two days before arrival. Within the 48-hour period  cancellations and changes are prohibited except in case of hospitalisation, public transport cancellation (bus lines, flights, boat and ferry lines, closed roads), traffic accident or death.
It is also possible to buy tickets at the entrance. This link shows the tickets still available for purchase at each entrance.
For a two-day ticket, the second day must be immediately after the first day.
Visitors who stay at a hotel within the park may visit the park a second day at no extra charge. The new rules do not affect that arrangement.
Admission Prices 2023
1 Jan - 31 Mar and
1 Nov - 31 Dec **
1 Apr - 31 May and
1 Oct - 31 Oct
Adults
€10
€23.50
Students with
ID
€6.50
€14.50
Children and teenagers 7 -
18 years
€4.50
€6.50
| | |
| --- | --- |
| | 1 June- 30 September |
| Adults | €39.80(until 4pm (€26.50 after) |
| Students with ID | €26.50 until 4pm (€16.50 after) |
| Children and teenagers 7 - 18 years | €15.90 until 4pm (€9 after) |
**Electric train and boat not operating
If you stay within the national park, you can save on the admission. More.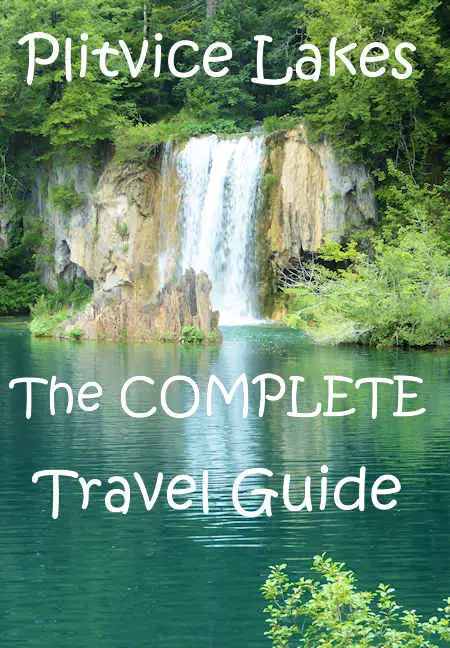 Last Updated January 12, 2023->