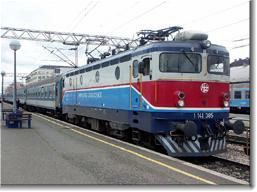 Croatia has a clearly defined tourist season that begins around April and ends around the beginning of October. Plan to visit Croatia during this season and you'll have a wealth of direct international flights and more frequent ferries from Italy. Come off-season and your flight is likely to involve one or more changes and could be pricey. At the height of the summer season--July, August--it's usually more efficient to take a flight or a ferry rather than driving in order to avoid long lines at the border and jammed roads. Trains maintain frequency throughout the year but the train network within Croatia is limited. Buses run all year but some are more frequent in summer.
See more on:
Driving to Croatia
Ferries to Croatia
Flights to Croatia
Trains to Croatia
Buses to Croatia
The principal points of entry to Croatia are:
Other points of entry--principally in Istria and the islands of Dalmatia--are only available by ferries in summer. See more on ferries to Croatia.
For European points of departure, try this handy tool.
To find the best travel option to Croatia see the following chart which outlines the best and cheapest ways to get to Croatia:
If you're coming from...
You should. . .
Northern Europe

take a flight to Croatia
because: there are now a wealth of low-cost carriers flying directly to the coast.

North America

take a flight to Croatia
but: there are limited direct flights to Croatia. You'll need to book a flight to a gateway city such as London.

Italy
take a ferry, bus, car,train, or flight
because: there are very few year-round
Italy-Croatia flights although there are some in summer.
More on getting to Croatia from Italy.
Austria
take a train, car or bus
because: connections are excellent to Zagreb and flights to the coast stop at Zagreb anyway.
Slovenia

take a train, car or bus
because: there are no Slovenia-Croatia flights
More on getting to Croatia from Slovenia


Hungary
take a train, car or bus
because: connections are good and there are no year-round Hungary-Croatia flights.
Serbia
take a train, car or flight
but: flights are summer only and direct to the coast
Last Updated November 29, 2018
Recommended Tours
More from Croatia Traveller
Questions? Comments?
©CroatiaTraveller 2005-2018 All rights reserved